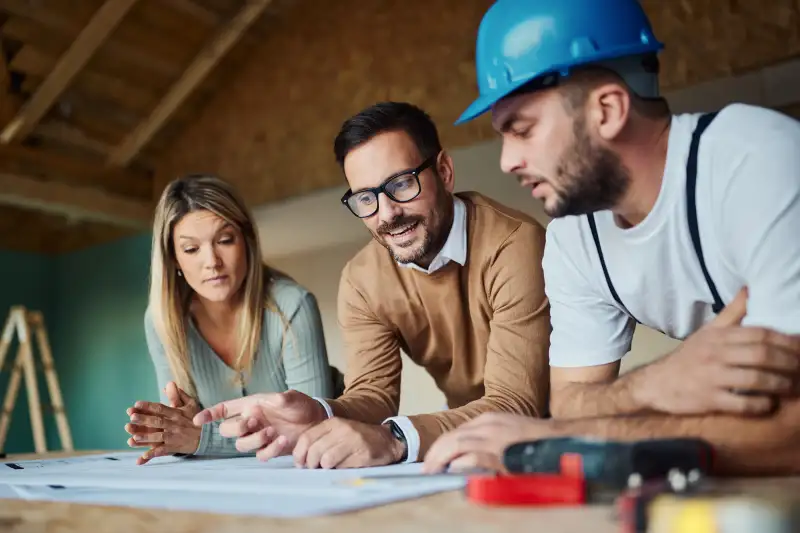 *Content includes branded mentions of our sponsor ZipRecruiter.
If you have a renovation idea but need an extra pair of hands to execute it, you might be wondering how to hire a contractor. A general contractor is someone who plans, organizes, oversees and executes renovation projects, often completing the work themselves or with the help of hired subcontractors.
Independent contractors can be a major help to homeowners and business owners alike in completing projects. However, hiring a bad contractor can result in a poorly-done project or a major financial loss. Read on to learn how to hire independent contractors you know you can trust, and use ZipRecruiter to find the right contractor for your project.
What can you hire independent contractors for?
Independent contractors, also known as remote contractors, can be hired for a wide range of work within homes and business spaces. The constraints of what type of remodeling projects independent contractors are allowed to work on depend on their specific licensing.
Generally, contractors can take on most renovation projects in residential or commercial buildings. Whether you're conducting a full-scale improvement project or need to change your flooring, a contractor can be of great help.
While general contractors deal with overseeing complete projects, independent contractors who are specialized can work on more specific projects. These specialty contractors include roofers, landscapers, carpenters and electricians, among others.
What are the advantages of hiring contractors?
A poorly done DIY renovation can have devastating results. You risk causing structural damage to the property or making costly mistakes if you attempt renovations without the help of a professional. It's also a time-consuming process that can drag out as you try to balance it with your day-to-day responsibilities. For these reasons, contractors are invaluable.
Contractors tend to be knowledgeable about building codes and also know when a project requires pulling permits. This knowledge can save time and money when it comes to passing inspection. Hiring a good housing contractor to handle your project can reduce stress and even costs, as good contractors can try to minimize the costs of materials and labor.
What steps should you take when hiring a contractor?
Once you've decided to hire a contractor to take on your project, you'll need to start actually finding one. To avoid a negative experience, take a few extra steps to vet your potential contractors.
Determine the type of contractor you need
For bigger projects that involve several different trades, you may want to hire a general contractor. General contractors handle the whole process for you including administrative tasks such as hiring subcontractors, handling building permits, coordinating the schedule and timeline of the project, coming up with fair and accurate cost estimates and using the best construction project management software. In addition to acting as the overall project manager, they also lend their own skills, knowledge and experience to the project.
For smaller projects focused on specific improvements to your space, you'll want a specialty contractor. For example, if you need your roof redone, hiring a roofer will be your best bet. If you're looking to change a light fixture, you may opt for an electrician.
Once you decide what type of contractor you need, the next step is to find some options to shortlist. Ask friends or colleagues who have also worked with contractors for word-of-mouth referrals, check social media, look on review sites or post on the best job sites — such as ZipRecruiter. The process of finding contractors is similar to how to find employees — look at their credentials, interview them, discuss rates and sign a contract.
Read online reviews to check reputation
Take a look at online reviews of your prospective contractor. Are people generally satisfied with their services? If there are negative reviews that stand out, identify what exact grievances the previous client had. Was it a one-time mistake, an undesirable pattern of behavior or just a particularly disgruntled customer?
It's rare to find contractors with perfect reviews, so think about the compromises you are willing to make. Reading reviews can be one of the most important parts of finding good contractors who won't bail on a project or leave you in a worse situation than when you started.
Ask all the right questions
You want to know that you're hiring someone you can trust. When deciding how to interview someone for the job, consider the following factors:
their schedule
their experience
their price quote
what concerns you have about the project
your desired working relationship
any unique needs you may have for your project
Use these considerations to come up with the questions you want to ask and this way you'll get a strong sense of the contractor's work style.
Meet them over the phone and in person
Make sure you take the time to get to know your contractor. An initial consultation or interview can certainly be held over the phone, but before you move forward with hiring, you'll want to meet the contractor in person. Bring them to the project space and talk through your needs and expectations. Be open to input, as contractors can impart valuable perspectives you hadn't considered.
Narrow your top options
Once you have a few solid options, make a short list of contractors you are considering. Ask them for a list of references if you haven't already. A glowing reference might make a candidate stand out from others.
When narrowing your options, consider experience, reviews, certifications, work style, cost, project timeline and any other specific needs you have in a contractor. Once you have a list, you can start the final vetting process and make your choice.
Check their certifications and training
When hiring a contractor, you'll need to do a little bit of research to determine whether they are legitimate. First and foremost, this means relying on the best background check sites to verify your potential contractor's personal information and any possible criminal record.
Read through their website thoroughly, check social media and read any reviews they may have. If they claim to have received any special education or certifications, verify that these claims are legitimate.
Licensing laws for contractors vary from state to state. Some states require contractors to hold a license if they make over a certain threshold of income, while some states require licensing for specific types of contractors, such as plumbers or roofers, but not general contractors.
You can find information regarding your state's licensing laws on your state's government website or simply search online. Some cities, towns, and counties have their own contractor licensing laws, so even if your state doesn't have any licensing requirements for general contractors, your location might. Always make sure to look to your local contractor licensing authority if applicable and use the search function to try finding general contractor names.
Review their previous experience and completed projects
Legitimate contractors should have a portfolio or some sort of website or online profile with proof of their work, licensing and previous clients for reference. This helps you avoid working with inexperienced contractors who may exaggerate their training or worse, scammers.
Along with a contractor's technical skills, look for soft skills, too. You'll want someone you can enjoy working with, especially as the project gets stressful. Their list of references should be able to give good insight as well.
Reach out to your top picks and get bids
Part of a contractor's job is to estimate the time and cost of a project and provide a quote. Every contractor charges differently — some may give an estimate, some a flat rate, and some may work under a larger company that sets rates on their behalf. Either way, you'll need to consider your budget and what the cost of labor and material will get you.
Discuss payment and come up with a plan
Once you've chosen a contractor and established the payment terms, you'll need to make a plan for the project. This includes deciding on a timeline, work schedule, whether subcontractors will be needed and how they will be hired, materials for the project and final outcome. Have an open and honest conversation with your contractor and make sure you each know what to expect.
Draw up a contract
A clear contract of what both parties in the transaction agree to is imperative. Think about how to choose contractor terms that work for you and request changes if need be. Above all else, make sure that both you and the contractor have the same understanding.
If you're thinking about hiring international contractors, be sure to thoroughly educate yourself on the details of their particular hiring process, as there may be additional tax considerations and currency exchange rates to take into account and be included in the contract.
Review and sign
If at all possible, have an attorney look over the contract. Contracts are there to outline the terms of your agreement with the contractor in case a difficult situation arises, so you need to make sure the terms are enforceable and serve to protect you.
Additional tips
The above recommendations for how to hire contractors should be thorough enough for you to find an adequate hire, but here are a few more considerations.
You get what you pay for
Cheap is not always better. Costs reflect the contractor's experience and the quality of the materials and labor. Consider the whole picture when it comes to deciding payment terms. Renovation projects can be some of the best investments, but poor contractors and scam artists are abundant in the construction industry, so keep your guard up and expect that some discounts may be too good to be true.
Get more than one estimate
On the other hand, you should also avoid overpaying for a job. One way to determine the market value of the project is to get a wide range of quotes from different contractors. Looking for contractor rates and data online can also be of help, but the most effective course of action to avoid hidden charges and get fair estimates is to simply ask around.
Don't rush
When hiring a contractor, it's important that you can trust them to follow through on your terms. Looking for a contractor takes time, so you should start as soon as possible so you don't rush anything in the end.
Allow plenty of time in advance of your project to thoroughly educate yourself on how to hire contractors you can trust and be deliberate in following through. Don't be afraid to ask questions. Renovations and other projects are big investments, and you want the peace of mind of knowing things will be taken care of.
Make sure they're insured
As with any job that involves manual labor, there are physical risks to contractors. Make sure your contractor holds workers' compensation insurance so that they are covered in case of work-related illness or injury.
Find the right contractors to handle your entire project
Learning how to hire contractors can make the process of your renovation much smoother. Having a professional in your corner to deal with costs, labor, execution and completion of the job makes things less stressful for you so you can continue with your life while the work is getting done. Be thorough in your search, and make sure to ask all the right questions. Taking a little extra time in the process can make all the difference.