I Cracked the Code for Finding Designer Deals at T.J. Maxx's Website. Here Are My Secret Strategies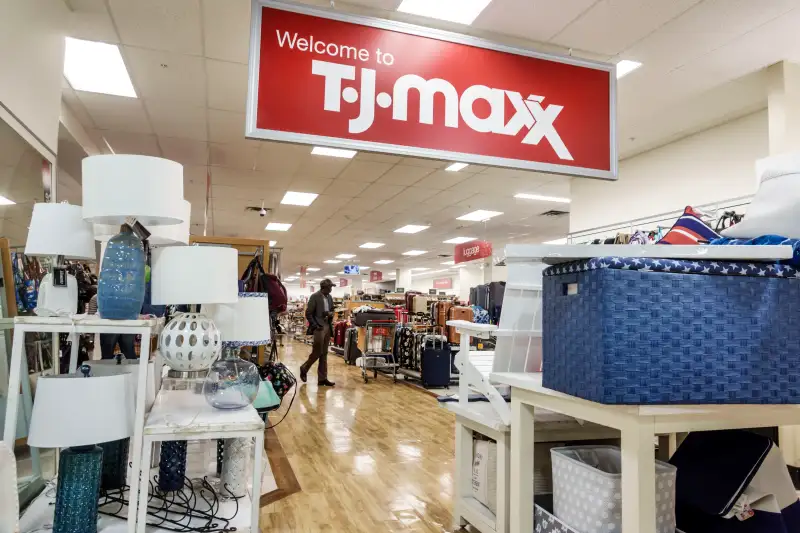 Jeff Greenberg—Universal Images Group via Getty
As a bargain lover, I'm a big fan of discount chain T.J. Maxx. I've found some great deals in stores, of course, and I periodically browse the T.J. Maxx online store since it launched in 2013.
I'm apparently not alone in my devotion to T.J. Maxx; the retailer's corporate parent TJX Companies has won praise from business writers and investors alike for its uncanny ability to thrive in both boom economies as well as lean years. In fact, Money noted earlier this year that TJX added 11 new T.J. Maxx stores in the first few months of 2019 — in spite of the quote-unquote retail apocalypse.
TJX president and CEO Ernie Herman has called the appeal for shoppers a "treasure-hunt shopping experience," and that, in a nutshell, is the crux of T.J. Maxx's success. Even though I write about money for a living, I admit it feels good to stumble across high-end designer item mixed in with more discount goods — and priced similarly.
It's a nearly visceral thrill, and it keeps shoppers coming back. You return because inventory turns over constantly, and the scarcity of items prompts you to impulse-buy. After all, if you don't buy it now, it probably won't be there next time.
That "treasure-hunt" aspect of shopping at T.J. Maxx and its sister stores, Marshalls and Home Goods, is key to the company's sales — the more you browse, the more likely you are to find something else you didn't know you "needed."
The problem is that searching through the T.J. Maxx treasure hunt online is not nearly as fast or easy as most other online shopping experiences. T.J. Maxx deliberately makes it kind of a pain in the neck for would-be fashionistas to search its website for designer-label items at cut-rate prices: You can't shop higher-end and luxury brands by name at the T.J. Maxx online store.
If you're looking for, say, glittery high-top Ugg sneakers ($59.99 at T.J. Maxx, which is about $12 cheaper than Amazon.com) or a studded Christian Louboutin handbag ($470 off the admittedly jaw-dropping $2,070 list price) and put either brand name into the T.J. Maxx website's search box, you get back a cutesy little message about the brands being "shy."
In other words, you're pretty much reduced to the virtual equivalent of sifting through the racks, not unlike the in-store treasure hunt experience. Even if you're searching by category — say, women's activewear — items from brands like New Balance are displayed with a notation that says "Reveal Designer," so you have to stop scrolling and click in order to see the actual brand name.
But in my years of exploring the T.J. Maxx website I've discovered a few tricks that can help you outsmart this blockade if you're looking for a specific item from one of the "hidden" designers on TJMaxx.com. By the way, we're putting "hidden" in quotes here because brands or logos are often clearly visible in pictures of the items, even when the names are obscured in the text. It's all kind of a cat-and-mouse game, but I've cracked the code for how to play — and win.
Here's what to do to find designer brand items at the T.J. Maxx website:
Search By Item Name
A lot of brands, especially more expensive ones, name their products the way carmakers have model names (like the way Toyota has the Camry, the Corolla, etc.). In many cases, the non-hidden copy included in the item listing on the T.J. Maxx site will include that name.
For instance, this workout-friendly fleece jacket from Marmot — one of the apparel and gear brands I swear by for running in lousy weather — won't turn up if you try to search for "Marmot." But if you saw the jacket on another site and know that it's called "Torla," you're good to go. Type that into the search box, and presto! It will deliver the goods. The gray is probably a discontinued color, so at $49.99, it's a serious deal, since this jacket in this season's colors is $120 on Marmot's own website.
If you're not sure if an item you're looking for has a particular name or what it is, your best bet is probably that brand's own website, but you may be able to find it from browsing other retail sites, as well.
Search By Material
This tip tends to be most useful for activewear (a popular category for me to shop, in case you couldn't tell.) Use the search function to find things like activewear made from Under Armour's proprietary "ColdGear" fabric or its sweat-wicking "Breathelux" line. From there, you'll probably have to filter the results by gender, type of clothing, color and so on, but it's way easier than doing an item-by-item scroll through an entire category. And the deals can be awesome: These "Breathelux" Under Armour leggings are just $24.99 — a fraction of the $70.99 you'd pay on Under Armour's own website.
Search By Unique Color Names
If the item you want is "black" or "red," you're out of luck here. But if you know a designer calls a hue "midnight" or "crimson" — something a lot of high-end brands do to help them stand out from the competition — searching those keywords can turn up items in that color.
For instance, we found these fuzzy gray Stuart Weitzman loafers by typing in "dove" because that's what the designer calls the hue. Voila: a $149 price at T.J. Maxx for shoes that had a starting price of $600 on the designer's own site and currently cost $239 there.
Search By Pattern Or Feature
Finally, if you're on the hunt for an item that has a distinguishing pattern or embellishment — think studs, sequins, cable knit, ombre, etc. — that adornment can be the key to finding it.
For example, take these stunning, star-studded booties from couture brand Saint Laurent ($600 off a list price of almost $1,900!). Type "star" into the search box, and then winnow down your results by category. (FYI, narrowing by category is a good idea if you wind up with too many options to scroll through when employing these other search tips, too.) Select "shoes" and you wind up with only a single other item. That's way easier than slogging through the 188 pairs of black ankle boots currently on the T.J. Maxx site.
Is all of this better than browsing in a brick-and-mortar T.J. Maxx store? I admit, I still visit the T.J. Maxx (and Marshalls) near me somewhat regularly — especially since the merchandise in any given store usually is different from what's online. But if you want to shop for designer deals while curled up on your couch in sweatpants, this absolutely is the way to do it.