10 Most Expensive Places to Get Married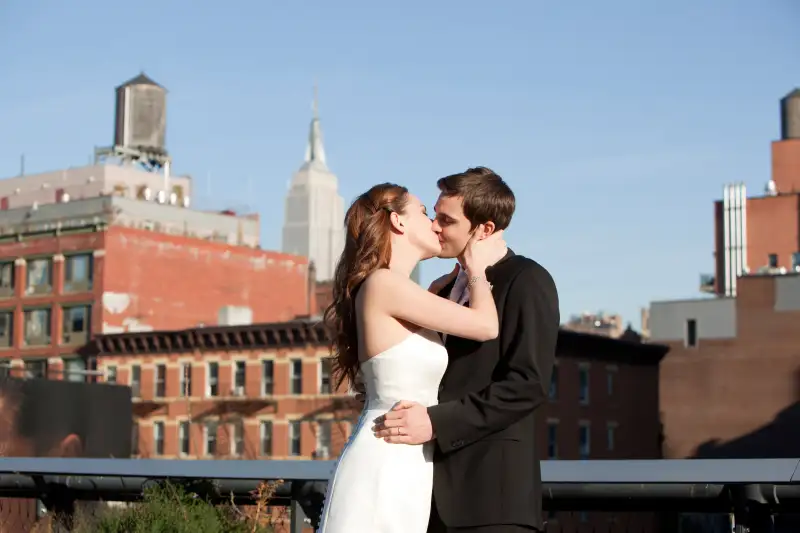 Kristine Foley—Getty Images
As wedding season starts to ramp up, brides across the country are debating the practicality of ball gowns and the lasting implications of lilies versus roses. But even the most budget-concious bride is stuck with one wedding detail she has little control over—location. Only 24% of weddings are "destination" weddings, leaving bride and grooms at the mercy of their local economies.
TheKnot.com's annual Real Weddings Survey—which surveyed 16,000 brides and grooms who got married in 2014— gives us an idea of wedding costs across the country. (One caveat: These are average, not median prices, and the website's membership of dedicated brides almost certainly skews the data higher.)
Still, the regional comparisons are noteworthy. With a few outliers, the Northeast takes the wedding cake for the priciest place to get hitched, while couples in the South and Midwest have a little more wiggle room in their budgets. Venues are by far the biggest expense; in all but one of the top ten locales, the room costs more than $20,000. And brides in Idaho are the most budget-concious about dresses; Manhattan brides spend nearly three times as much on their gowns.
Top 10 Most Expensive Places to Get Married
New York - Manhattan $76,328

Venue: $30,401
Photographer: $4,591
Floral & Decor: $4,682
Catering (cost per head): $181
Dress: $2,914

New York - Long Island $55,327

Venue: $25,671
Photographer: $4,285
Floral & Decor: $3,384
Catering (cost per head): $116
Dress: $2,137

New Jersey - North/Central $53,986

Venue: $25,501
Photographer: $3,693
Floral & Decor: $3,043
Catering (cost per head): $129
Dress: $1,881

New York - Westchester/Hudson Valley $52,954

Venue: $24,287
Photographer: $3,870
Floral & Decor: $3,188
Catering (cost per head): $126
Dress: $1,995

Chicago $50,934

Venue: $21,803
Photographer: $3,093
Floral & Decor: $3,014
Catering (cost per head): $109
Dress: $1,794

New York - Outer Boroughs $49,781

Venue: $24,362
Photographer: $3,641
Floral & Decor: $2,900
Catering (cost per head): $121
Dress: $1,826

Philadelphia $44,090

Venue: $20,351
Photographer: $3,306
Floral & Decor: $2,718
Catering (cost per head): $109
Dress: $1,668

Rhode Island $41,914

Venue: $22,371
Photographer: $3,101
Floral & Decor: $2,486
Catering (cost per head): $97
Dress: $1,486

San Francisco/Greater Bay Area $39,690

Venue: $18,381
Photographer: $3,105
Floral & Decor: $2,561
Catering (cost per head): $77
Dress: $1,595

New Jersey - South $39,191

Venue: $21,417
Photographer: $2,927
Floral & Decor: $2,094
Catering (cost per head): $99
Dress: $1,428
Venue: $30,401
Photographer: $4,591
Floral & Decor: $4,682
Catering (cost per head): $181
Dress: $2,914
Venue: $25,671
Photographer: $4,285
Floral & Decor: $3,384
Catering (cost per head): $116
Dress: $2,137
Venue: $25,501
Photographer: $3,693
Floral & Decor: $3,043
Catering (cost per head): $129
Dress: $1,881
Venue: $24,287
Photographer: $3,870
Floral & Decor: $3,188
Catering (cost per head): $126
Dress: $1,995
Venue: $21,803
Photographer: $3,093
Floral & Decor: $3,014
Catering (cost per head): $109
Dress: $1,794
Venue: $24,362
Photographer: $3,641
Floral & Decor: $2,900
Catering (cost per head): $121
Dress: $1,826
Venue: $20,351
Photographer: $3,306
Floral & Decor: $2,718
Catering (cost per head): $109
Dress: $1,668
Venue: $22,371
Photographer: $3,101
Floral & Decor: $2,486
Catering (cost per head): $97
Dress: $1,486
Venue: $18,381
Photographer: $3,105
Floral & Decor: $2,561
Catering (cost per head): $77
Dress: $1,595
Venue: $21,417
Photographer: $2,927
Floral & Decor: $2,094
Catering (cost per head): $99
Dress: $1,428
Top 10 Least Expensive Places to Get Married
Utah - $15,257

Venue: $5,346
Photographer: $1,650
Floral & Decor: $1,044
Catering (cost per head): $33
Dress: $1,135

Arkansas - $18,031

Venue: $6,101
Photographer: $1,882
Floral & Decor: $1,766
Catering (cost per head): $36
Dress: $1,213

North Dakota/South Dakota - $18,314

Venue: $6,095
Photographer: $2,087
Floral & Decor: $1,533
Catering (cost per head): $29
Dress: $1,050

Oklahoma - $18,629

Venue: $7,214
Photographer: $1,802
Floral & Decor: $1,924
Catering (cost per head): $41
Dress: $1,019

Idaho - $19,040

Venue: $6,446
Photographer: $1,915
Floral & Decor: $1,800
Catering (cost per head): $34
Dress: $982

Oregon - $19,205

Venue: $7,136
Photographer: $1,985
Floral & Decor: $1,262
Catering (cost per head): $45
Dress: $1,017

Illinois - Central $20,210

Venue: $7,926
Photographer: $2,063
Floral & Decor: $1,500
Catering (cost per head): $35
Dress: $1,054

Mississippi $20,601

Venue: $7,625
Photographer: $2,045
Floral & Decor: $2,667
Catering (cost per head): $35
Dress: $1,138

West Texas - $20,905

Venue: $6,864
Photographer: $1,771
Floral & Decor: $1,770
Catering (cost per head): $37
Dress: $1,177

West Virginia - $20,671

Venue: $8,856
Photographer: $2,108
Floral & Decor: $1,455
Catering (cost per head): $39
Dress: $1,043
Venue: $5,346
Photographer: $1,650
Floral & Decor: $1,044
Catering (cost per head): $33
Dress: $1,135
Venue: $6,101
Photographer: $1,882
Floral & Decor: $1,766
Catering (cost per head): $36
Dress: $1,213
Venue: $6,095
Photographer: $2,087
Floral & Decor: $1,533
Catering (cost per head): $29
Dress: $1,050
Venue: $7,214
Photographer: $1,802
Floral & Decor: $1,924
Catering (cost per head): $41
Dress: $1,019
Venue: $6,446
Photographer: $1,915
Floral & Decor: $1,800
Catering (cost per head): $34
Dress: $982
Venue: $7,136
Photographer: $1,985
Floral & Decor: $1,262
Catering (cost per head): $45
Dress: $1,017
Venue: $7,926
Photographer: $2,063
Floral & Decor: $1,500
Catering (cost per head): $35
Dress: $1,054
Venue: $7,625
Photographer: $2,045
Floral & Decor: $2,667
Catering (cost per head): $35
Dress: $1,138
Venue: $6,864
Photographer: $1,771
Floral & Decor: $1,770
Catering (cost per head): $37
Dress: $1,177
Venue: $8,856
Photographer: $2,108
Floral & Decor: $1,455
Catering (cost per head): $39
Dress: $1,043