10 Over-the-Top Ways to Propose—and What they Cost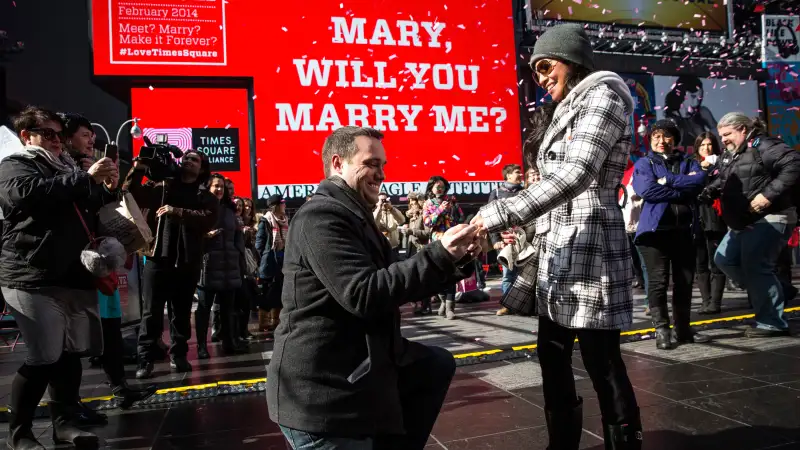 Andrew Burton—Getty Images
In a building with sweeping views of New York's Hudson River, pictures of a couple hang from "cherry blossom trees" that were handmade for the occasion from branches and petals. A harpist strums softly in the background as a woman makes her way down an aisle of rose petals towards a table with an elaborate ice sculpture. Petals spell her name on the floor.
Her family and friends are there too, waiting on another floor to celebrate with a catered dinner followed by a night of dancing.
This isn't a wedding; it is a real-life marriage proposal event. And it cost $43,000.
These days, the traditional "will you marry me?" move—that is, a groom-to-be down on one knee in a restaurant or other romantic location—simply doesn't cut it for many couples. "Everyone is trying to make their proposal unique," says Michele Velazquez, co-founder of The Heart Bandits, a proposal and romantic event planning service that arranged the event in New York. "You don't want to have your girlfriend Google a proposal and see that it's been done a bunch of times."
While $43,000 is an extreme example (the average wedding costs $30,000), Velazquez says the typical proposal planned by her firm ranges from $3,000 and $5,000. That's still a hefty sum, especially when you consider that the proposer also has to buy a ring—$5,600 on average, according to a 2013 survey of grooms by The Knot.
Despite those costs, The Heart Bandits have never suffered from a lack of demand. Velazquez says her business has grown 100% every year since it launched in 2010.
Looking for a really phenomenal way to pop the question? Below you'll find costs for other over-the-top-proposals.
But keep in mind the top tip that Velazquez offers her clients: "It's not about the money you spend, it's about the personalization." In other words, look for a way that reflects something about your relationship or your future spouse's interests.
What it Costs to Propose With...
A hot-air balloon: About $200 to $400 per person for a 60-minute private ride
The jumbotron at an MLB game: $50 to $2,500, based on data compiled by Swimmingly.com
A skywriter: $1,500 to $2,000, according to nationwide aerial advertising firm FlySigns
An airplane banner: Starting around $500, according to nationwide aerial advertising firm FlySigns
Musicians:$150 to $300 per hour for a soloist hired via a website like gigmasters.com
A glass slipper at Walt Disney World: $375 on top of the cost of admission. Other Disney proposal events and locations range from $15 ("Will You Marry Me?" chocolate slipper dessert) to $500+ (Fireworks boat cruise on private yacht)
Fireworks: $2,500 to $6,000, according to pyrotech.com
A flash mob: upwards of $2,000, as reported by The New York Times
A mock movie trailer: can be around $5,000, according to Drywater Productions in Janesville, Wisc., but the price varies based on video specifics
A professional photographer or videographer: $25 to more than $1,000
More from Money.com:
The Rising Toll of Inequality on Social Security
The Career Mistake You Don't Realize You're Making