The New Prius Hatchback Doubles Its All-Electric Range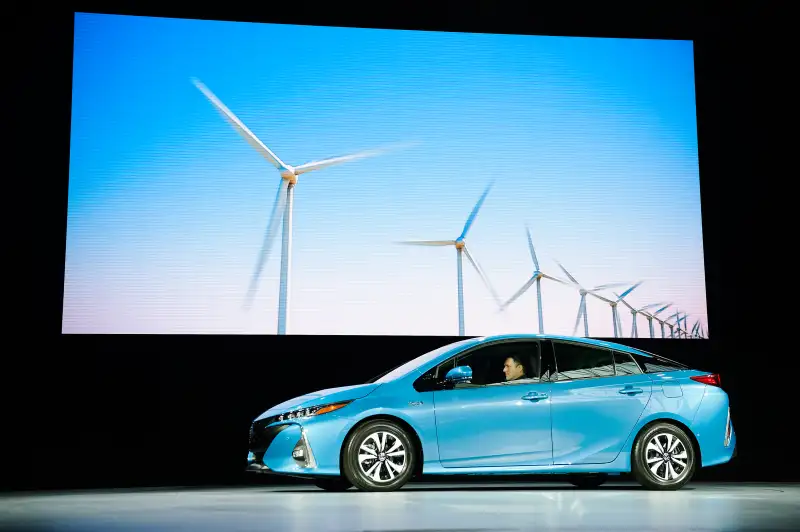 Bryan Thomas—Getty Images
Toyota released details of its compact 2017 Prius Prime on Monday, and there's at least one number that should make Prius fans smile: the hatchback can travel 25 miles solely on electric power from its lithium-ion battery -- more than double the automaker's previous model -- before switching to its gasoline engine, the Detroit Free Press reports. The manufacturer also released the car's price of $27,100 and that it will go on sale next month. With incentives, drivers can shave up to $6,500 off that price.
The car's estimated EPA rating of 55MPG in the city and 53 on the highway is among the best for a hybrid car.
It's all electric range, however, is less impressive, with other hybrid vehicles going up to twice as far as the Prius Prime on electricity. The Chevrolet Volt plug-in, which sells for $33,220 has a 53-mile range, for example. (Pure electric vehicles, on the other hand, get significantly longer ranges, with Tesla's $74,000 Model X traveling up to 265 miles between charges.)
Early reviews of the Prius Prime have been generally positive. Tech review site Engadget calls it "much improved" and Autoblog says "it's more efficient than any other Prius ever made."
The Prius Prime is much cheaper than similar cars by other manufacturers. The hybrid hatchback starts at $27,100, and buyers can get a $4,500 federal tax credit. The advanced model will run you $33,100, and comes with tech perks like a "heads up" infotainment display, heated steering wheel, and upgraded safety features like blind spot warnings and rear cross traffic alerts.
Even at a sweet price point, it's tough to convince consumers to opt for hybrids. Cheap gas has prompted car buyers to opt for larger SUVs, making the cars a tough sell.