8 Gorgeous Vacation Spots to Help You De-Stress in 2018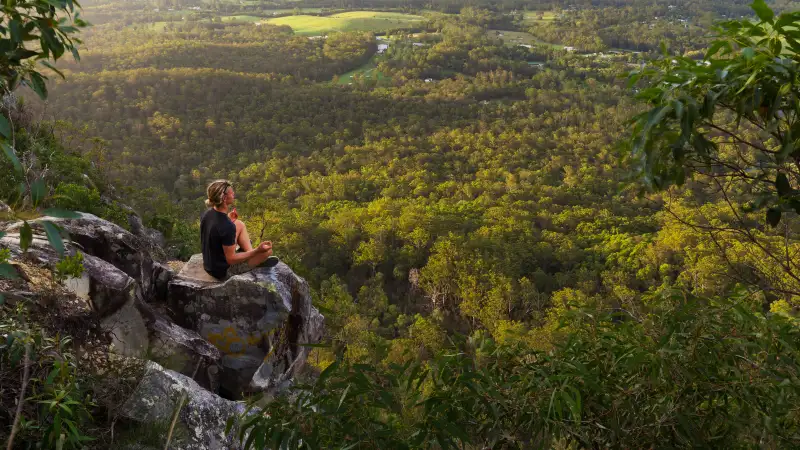 Charlie Blacker—Shutterstock
This year has been a roller coaster for Americans, many of whom are feeling more stressed—particularly about the future of the country—than ever before. If your daily HeadSpace habit isn't enough to bring you peace of mind, it may be time to take a more drastic measure: hopping on a plane.
Travel can be a great way to refresh yourself—especially if you actually put down the phone and truly unplug for a bit. As Kate Douglas Wiggin once wrote in her Rebecca of Sunnybrook Farm series, "There is a kind of magicness about going far away and then coming back all changed."
But which destinations offer the best chance for peace and calm? Lonely Planet's The Place to Be guidebook identified 20 spots that promise to help you find serenity; Money then applied pricing and value information to eight of the most peaceful.
Read on for a short list that may help you choose your next escape.
---
1. Bay of Islands
Matthew Williams-Ellis—Getty Images/Robert Harding World Imagery
Country: New Zealand
Total Cost of a Week for Two: $3,978
Turquoise waters rise up to meet undeveloped beaches in this idyll, located off the northeastern coast of New Zealand. The Bay of Islands encompasses an archipelago of 144 islands, as well as the towns of Opua, Paihia, Russell and Kerikeri.
The region is a mecca for those who love sailing, diving and other water sports. Just off the coast of Paihia lie the shipwrecks of the Rainbow Warrior and former Navy Frigate Canterbury F421 as well as several spectacular reefs that divers can explore. Bottlenose dolphins and wild orcas are regularly spotted by people swimming or sailing in the area's warm, clear waters.
The fastest way to get to Bay of Islands is via a short 45-minute flight from the international airport in Auckland to Kerikeri; flights to Auckland from the U.S. average $1,094 per person, according to airfare prediction app Hopper. But you can also choose to take a more leisurely approach by boat or explore the region by car; the three-hour drive from Auckland will take you through gorgeous scenery. Hotels in Paihia, where Lonely Planet recommends staying, run around $173 a night, according to Trip by Skyscanner.
---
2. Little Corn Islands
Country: Nicaragua
Total Cost of a Week for Two: $1,936
If you're looking for peaceful beaches where you can get away from it all, fly first to Nicaragua, then head about 40 miles off the coast to the Great and Little Corn Islands. The smaller of the two, Little Corn, offers crystal-clear waters and pristine white sand beaches where you can find a quiet spot to let your mind just wander.
It's not the easiest place to reach, but that's good for those looking to disconnect. From Miami, you can fly to Managua and catch a connecting flight to Great Corn Island (with a quick stop in Bluefields). Since Little Corn Island does not have an airport, you'll need to charter a boat for a 30-minute ride to the island's main harbor.
Once you arrive, spend your days soaking up the sun. The north side of the island has the most secluded (and best) beaches, according to Lonely Planet. Since Little Corn Island doesn't allow cars, make your way from beach to beach via walkways that weave under the mango and breadfruit trees. When you're ready to rejoin civilization, head to the one of the island's cafés or bars, like Habana Libre, for dishes including fresh lobster. For about $93 per night, you can stay in your own private bungalow at the Little Corn Beach & Bungalow, according to Booking.com.
---
3. The Cyclades
Country: Greece
Total Cost of a Week for Two: $5,093
If you're looking for a slightly more glamorous destination that will still leave behind the daily hustle and bustle, plan a trip to the Cyclades in Greece. The island group's most famous spots are Santorini and Mykonos, but the Cyclades are actually made up of over 200 islands, many of which feature rugged coastlines dotted with white stucco villages and blue-domed churches.
To find true seclusion, head toward less-frequented islands like Sikinos, Kimolos, and Anafi, suggests Lonely Planet. A 90-minute ferry away from Santorini, Anafi delivers a laid-back lifestyle and quiet beaches. Make time to visit the beautiful but small Monastery Zoodchou Pigis on the east side of the island.
It's worth noting that in the off season (November to April), even hotspots like Santorini can be less overwhelming. If you do stay in Santorini (about $264 on average according to Hotels.com), make sure to check out the tiny port of Ammoudi on the north side of the island. Sprinkled with colorful fishing boats, it lies just 300 steps below the stunning views found in Oia.
---
4. Mallorca
Roetting/Pollex/LOOK-foto—Getty Images
Country: Spain
Total Cost of a Week for Two: $3,497
This Spanish gem may not sound like a peaceful retreat, but once the summer high season (June to August) wanes, you can find plenty of quiet coves and tranquil mountain paths among Mallorca's wide range of landscapes. To the west, the modest mountain range of Serra de Tramuntana holds cliffs and hiking trails. To the north lies pine-fringed bays, and to the east and south are sandy beaches.
To get to Mallorca, fly into Palma (about $1,000 per person, according to Hopper) and spend some time exploring the Catedral de Mallorca in this chic city. The grand scale of this church is inspiring in itself, but it's also worth a look at the interior, designed by Antoni Gaudí.
From there, rent a car to really explore the island's more remote towns and beaches. One scenic beach, Platja des Coll Baix, is only accessible by boat or by foot—and the trail down can be steep and rocky in places. Lonely Planet suggests arriving early or late to see the beach at its most serene.
---
5. Sanibel Island
Country: United States
Total Cost of a Week for Two: $2,618
Sleepy Sanibel Island is for those looking to restore balance without leaving the U.S. About 25 miles south of Fort Myers, the Floridian island has 15 miles of beaches, but no traffic lights—which speaks to its chill vibes and lack of crowds. Clear your head by spending a few hours combing the beach for shells, the island's mainstay. There are about 250 different kinds of shells that wash ashore here.
The J.N. "Ding" Darling National Wildlife Refuge Complex ($5 per vehicle) takes up almost the entire northern side of the island, with 6,400 acres and activities that range from birdwatching to hiking to fishing. Take a stand-up paddleboard tour with Tarpon Bay Explorers ($50) to see the mangrove estuary that surrounds Tarpon Bay; you may see birds, fish, stingrays, and even dolphins.
Hotels on the island average $238 per night, according to Hotels.com. To get to Sanibel Island, fly into Fort Myers for about $238 from other U.S. destinations.
---
6. La Mauricie National Park
Country: Canada
Total Cost of a Week for Two: $2,472
Halfway between Montréal and Québec City is La Mauricie National Park. While not Canada's biggest park, it's easily accessible and affordable (adult entrance fee is roughly $6.50 in 2018), and provides 340 square miles of wilderness to lose yourself in. If visiting in winter, the park offers miles of trails for cross-country skiing. Other times of the year, rent a canoe to get out on the water. The park offers five canoe routes, as well as several rental facilities; Alphonse and Soumire lakes offer more seclusion and a chance to spot some of the local wildlife, including moose.
The park is about a two hour drive from either city, but make charming Québec City your gateway to the park. Flights from the U.S. run about $380 per person, according to Hopper. Either on the way into or out of the park, spend a few days traversing the cobblestone streets of Old Town, one of North America's oldest settlements.
---
7. Noosa
Charlie Blacker—Shutterstock
Country: Australia
Total Cost of a Week for Two: $4,645
Noosa is one of the bigger resort towns on Australia's "Sunshine Coast," and is located near its midway point. As part of the Noosa Biosphere Reserve, the town has miles of pristine beaches and extensive subtropical rainforests to explore. Surfers love the area, known for providing some of best longboarding breaks in the world, along with clear, clean waters. You can bone up on your skills with at a surf school run by former champion surfer Merrick Davis, where a two-hour group lesson starts at about $50 per person.
Fly into Brisbane, about 90 miles south of Noosa; U.S. travelers can generally find flights for around $1,158, according to Hopper. Visit in October to take advantage of the shoulder season prices as the weather starts to warm up.
---
8. Burgundy
Country: France
Total Cost of a Week for Two: $3,277
Known for its famous wines, Burgundy also offers some of France's best scenery and medieval towns. Located in the heart of France, the region is dotted with rivers and canals. Rent a canal boat and meander through the network of waterways, sipping on a chilled glass of simple Bourgogne blanc. One of the more popular routes is along the Canal du Nivernais, which connects the Seine and Loire rivers. A rental suited for three to five people starts at around $880 for a week.
Start your trip in the region's capital, Dijon, where you'll find medieval architecture that was not too badly damaged by the wars. Or check out the ancient walled wine town of Beaune, where you can explore an ancient wine cellar and enjoy traditional boeuf bourguignon.
---
Methodology
Money used its Best in Travel database to price out how much it would cost to spend a week unwinding in these Lonely Planet picks. Airfare prediction app Hopper provided the airfare estimates, while Hotels.com, Trip by Skyscanner and Booking.com helped estimate the hotel rates. Daily costs such as meals and entertainment were collected from ValuePenguin and Numbeo.