This Is the Most Popular Tourist Attraction in Every State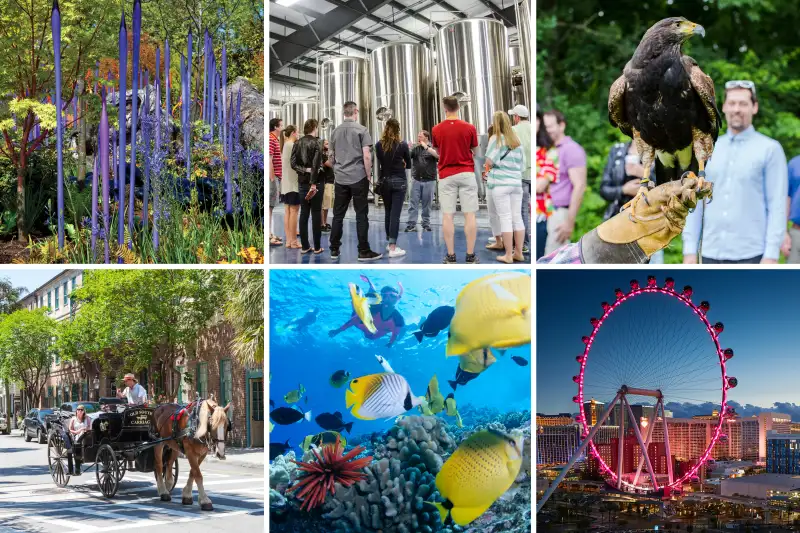 (clockwise from top left) courtesy of Chihuly Garden and Glass; courtesy of City Brew Tour; courtesy of The Greenbreier; courtesy of Caesars Las Vegas; Ed Robinson—Getty Images; Clarence Holmes Photography—Alamy
Whether you've planned a trip or you're making a pit stop on a long drive, a new city has a lot to offer. Between museums, city landmarks and national parks, each U.S. state has its own culture and history tourists can learn from.
That's why Money worked with TripAdvisor to identify the most popular tourist activity in every state. Their data revealed that while landmarks and museums remains most popular attraction for newcomers, tours and trips that reveal something about a particular region's culture—whether it be a living history museum or a brewery bus tour—often outdraw the cultural landmarks.
To come up with the data, TripAdvisor looked at on-site bookings for attractions, tours and activities for all of 2017, and picked the most popular. For the seven states that did not have enough data for TripAdvisor to analyze—Arkansas, Iowa, Kansas, Mississippi, Nebraska, North Dakota, and Oklahoma—Money subbed in TripAdvisor's highest-rated thing to do.
Here are the most popular tourist activities in each state:
---
Alabama
Tour of Mobile
courtesy of Gulf Coast Ducks
Cost per adult ticket: $29
The port in Alabama's historic city, Mobile, played a key role in trading between France and Spain. The most popular way to experience the port is through an tour run by Gulf Coast Ducks, which cost $26 for adults, $16 for kids and $10 for infants.
---
Alaska
Kenai Fjords Wildlife Cruise
Cost per adult ticket: $98
See Alaskan wildlife—including whales, sea lions and puffins—up close on the most popular cruise in Alaska. The five-hour trip starts at noon and covers 55 miles of sea around Kenai Fjords National Park.
---
Arizona
Sedona-Grand Canyon Day Trip
Cost per adult ticket: $179.29
The Grand Canyon is easily Arizona's most visited site, but guided tours from Sedona are the most popular way travelers elect to explore the park. The trip promises tourists in-depth knowledge on the area's history, and includes stops at the Painted Desert and Little Colorado River Gorge.
---
Arkansas
Crystal Bridges Museum of American Art
Timothy Hursley—Courtesy of Crystal Bridges Museum of American Art, Bentonville, Arkansas
Cost per adult ticket: General admission is free, although some special exhibitions require a ticket purchase.
The Bentonville, Arkansas, museum features American art from the colonial era until the contemporary period, with iconic American artists like Norman Rockwell, George Bellows, and Jackson Pollock.
---
California
USS Midway Museum
Mitch Ridder—© Mitch Ridder Photography - All Rights Reserved 2014
Cost per adult ticket: $21
California's hottest ticket is to the longest-serving U.S. aircraft carrier of the 20th century, now docked in San Diego. The museum includes extensive galleries, holds 30 restored military aircrafts, and spans 10 acres of exhibits and displays.
---
Colorado
Denver Mountain Parks
John Leyba—Denver Post via Getty Images
Cost per adult ticket: $90
This trip gets you an in-depth view of both the city of Denver and the surrounding Rocky Mountains in just one day. It includes stops at Red Rocks Park, Bear Creek Canyon and City Park.
---
Connecticut
Mystic Seaport
courtesy of Mystic Seaport
Cost per adult ticket: $28.95
Connecticut boasts the country's largest maritime museum. Mystic Seaport's exhibits include four National Historic Landmark Vessels and hundreds of other historic watercrafts over 19 acres on the Mystic River.
---
Delaware
Cape Water Tours and Taxi

Cost per adult ticket: $27
Catch a glimpse of the East End Lighthouse along the Delaware Bay on this family-friendly water taxi.
---
District of Columbia
Washington, D.C., Hop-on Hop-Off Tour

Cost per adult ticket: $49
The Big Bus tour of Washington, D.C., lets tourists to visit 40 different iconic landmarks, including the Capitol Hill, the Lincoln Memorial and the Washington Monument. Buses come to each attraction every 20-30 minutes, so visitors can spend as much time as they want.
---
Florida
Speedboat Sightseeing of Miami
Cost per adult ticket: $38
The tour operators promise a "Miami Vice-style" experience, as well as views of the multimillionaire and celebrity homes on Miami Beach, Fisher Island and Star Island, on this 45-minute speedboat cruise.
---
Georgia
Savannah Trolley Tour
Cost per adult ticket: $33
Get a glimpse of Savannah's Victorian-style mansions, the American Prohibition Museum, Chippewa Square and more on this day-long trip around the city.
---
Hawaii
Snorkeling in Molokini
Ed Robinson—Getty Images/Perspectives
Cost per adult ticket: $129.95
Snorkel around the ancient volcanic Molokini Crater, on Maui, with sea turtles, manta rays, eels, and 200 species of fish. The price includes snorkel gear, freshwater showers, and Hawaiian breakfast and lunch.
---
Idaho
Historic Downtown Boise Food and Cultural Tour

Cost per adult ticket: $64
Walk around the Old Boise Historic District and Central Downtown while getting a taste of the city's best restaurants and markets. Among the stops: the aptly named Bacon restaurant.
---
Illinois
Chicago Architecture Foundation River Cruise
courtesy of Chicago First Lady Cruises
Cost per adult ticket: $47 for daytime cruises, $52 for twilight cruises
TripAdvisor rated this Chicago River cruise, which passes by many of the city's famed buildings, one of the top 10 attractions in the country. The Chicago Architecture Foundation offers both daytime and evening options; either way, you get a full-service bar and snack bar inside the boat.
---
Indiana
Massachusetts Avenue Food Tour
Jonathan Weiss—Shutterstock
Cost per adult ticket: $39
Travel along Massachusetts Avenue in Indianapolis to sample authentic German cuisine, as well as local brews, Indianapolis's "official sandwich" (a breaded pork tenderloin) and some handmade meatballs. If you're feeling full, note that the trip may also include a few nonfood destinations, such as the world's oldest shoe store.
---
Iowa
Iowa 80 Trucking Museum
courtesy of Iowa 80 Trucking Museum
Cost per adult ticket: Free, but donations suggested
The museum exhibit features classic trucks from as far back as 1910, plus vintage gas pump and oil drum displays.
---
Kansas
Safari Zoological Park
Cost per adult ticket: $14.95
At Safari Zoological Park, you can visit the two white tigers that made headlines after they were adopted and raised by a golden retriever as cubs.
---
Kentucky
Thoroughbred Heritage Horse Farm
Blaine Harrington III—Getty Images
Cost per adult ticket: $36
This three-hour tour around horse farms in Lexington includes a look at the grounds where Seabiscuit was filmed.
---
Louisiana
French Quarter Ghost + Vampire Tour
Julie Dermansky—Corbis via Getty Images
Cost per adult ticket: $20
Experience New Orleans legends of voodoo and vampires while walking around the city's French Quarter at night. The tour lasts about one hour and forty-five minutes, with a walking distance of just under one mile
---
Maine
Portland City Tour
courtesy of the Portland Fire Engine Co.
Cost per adult ticket: $24
Get a narrated tour of Portland's entire peninsula on a vintage Fire Engine. You'll get views of the area's many lighthouses, forts and historic neighborhoods. The fully narrated trip lasts 50 minutes and takes groups of up to 12 people.
---
Maryland
Annapolis City Tour
Sean Pavone Photo—Getty Images/iStockphoto
Cost per adult ticket: $29
This 90-minute trip includes an explanation of the Chesapeake Bay's historic role in American commerce, plus stories from the brief era when Annapolis served as the country's capital.
---
Massachusetts
Boston Old Town Trolley Tour
Michael Blanchard—Michael Blanchard Photography
Cost per adult ticket: $93.90
This two-day trolley pass lets you explore the Theater District, the Boston Tea Party Museum, Cambridge, Copley Square, and other historic landmarks, all at your own pace.
---
Michigan
Detroit City Tour
David Sailors—Getty Images
Cost per adult ticket: $27
This informational tour narrates Motor City's storied history. Stops include Campus Martius Park, General Motors headquarters and the new Rosa Parks Transit Center.
---
Minnesota
Historic Northeast Minneapolis Food Tour

Jeff Wheeler/Minneapolis Star Tribune— ZUMA Wire/Alamy
Cost per adult ticket: $45 on Thursdays and Fridays, $48 on Saturdays
This tour lets you try six acclaimed local eateries and specialty stores—including a Polish deli, Neapolitan pizza joint and authentic Tibetan cuisine—while exploring the historic neighborhoods of Northeast Minneapolis.
---
Mississippi
Tupelo Automobile Museum
Courtesy of the Tupelo Automobile Museum
Cost per adult ticket: $10
Gearheads will enjoy perusing one of North America's largest collection of cars, with luxury and sport vehicles dating back to 1886.
---
Missouri
The Haygoods Show

Beckie Fairchild 2016—TGC Photography
Cost per adult ticket: $42
The most popular show in Branson, Missouri, is run by a six-member team of siblings who perform country, rock, and pop music covers. The venue is in the 1880s-themed amusement park, Silver Dollar City, which sits in one of Missouri's deepest caves.
---
Montana
Yellowstone River Whitewater Rafting

Jonathan Long—Montana Whitewater
Cost per adult: $43
This half-day, 8-mile rafting trip along Yellowstone River passes by the Devil's Slide formation on Cinnabar Mountain, and includes both exciting rapids and stops in the flat stretches for swimming and relaxing. Boats accommodate eight to 12 people, and the price includes wet suit, river shoes and splash gear.
---
Nebraska
Museum of American Speed

courtesy of the Museum of American Speed
Cost per adult ticket: $15
Race car fans will get a kick out of the Museum of American Speed's collection of vintage Indy Cars, NASCAR championship vehicles, and even luxury rides.
---
Nevada
The High Roller

courtesy of Caesars Las Vegas
Cost per adult ticket: $25 during the day, $37 at night
At the world's tallest observation wheel, you can get 360-degree views of the Las Vegas Strip and nearby mountains. There's even a bar cabin with daily happy hours.
---
New Hampshire
White Mountain Tour on an Aerial Tram
Cost per adult ticket: $149
See the White Mountains from an aerial tram on 4,100-foot-high Cannon Mountain. This summertime minivan tour stops along streams and valleys on the Kencamagus Highway before visiting the tram.
---
New Jersey
Whale & Dolphin Watching on the Delaware Bay

John Greim—LightRocket via Getty Images
Cost per adult ticket: $50
See dolphins and whales within just 10 miles of land on this Delaware Bay cruise. The estuary is home to species like humpback whales, manta rays, hammerheads, seals and bottlenose dolphins. The trip, which leaves from Cape May, includes a narrated history of the area from the captain, plus access to local food and beverages at the snack bar.
---
New Mexico
Albuquerque Sunrise Balloon Rides
Cost per adult ticket: $159
Hot air balloon is the most popular way to see New Mexico's Rio Grande Valley and Sandia Mountains. The one-hour flight starts before sunrise and gets visitors in the air just in time to see daylight illuminate the mountain range below. A continental breakfast and sparkling wine toast are included after the hot air balloon ride.
---
New York
Empire State Building

Travnikov Studio—Shutterstock
Cost per adult ticket: Standard pass starts at $37
The main deck on the iconic building's 86th floor is the highest open-air observatory in the city, offering views of the New York skyline, the Hudson River, the Statue of Liberty and more.
---
North Carolina
Comedy Tour of Charlotte

Price per adult ticket: $25
Charlotte's Funny Bus combines an informational city bus tour with a BYOB comedy show. Jokes are similar to what you'd see in an actual comedy club, so the trip is an adult-only way to learn about North Carolina's biggest city.
---
North Dakota
Theodore Roosevelt National Park
Danita Delimont—Getty Images/Gallo Images
Cost per adult ticket: $25 per car
Hiking, horseback riding, camping and fishing are among the ways you can explore the 70,000-plus acres of park in the badlands of North Dakota. Entrance to the park costs $25 per private vehicle, although you can walk or bike in for just $12 per person.
---
Ohio
The Cincinnati Zoo and Botanical Garden

Cost per adult ticket: $19
Home to Internet-famous animals like Fiona the Hippo and Harambe, the Cincinnati Zoo is a favorite among travelers. The second-oldest zoo in the country also features rhinoceroses, gorillas, and a giant salamander.
---
Oklahoma
Oklahoma City National Memorial & Museum

Cost per adult ticket: $15
This memorial site for those killed during the Oklahoma City Bombing in 1995 tops the state's list of most popular attractions. The memorial features the Field of Empty Chairs—168 empty bronze seats, each with the name of a person who died during the attack.
---
Oregon
Multnomah Falls and Columbia River Gorge Waterfalls
Mark C Stevens—Getty Images
Cost per adult ticket: $60
This trip allows tourists to experience the waterfalls of Oregon's Columbia River Gorge—including the 611-foot-tall Multnomah Falls. Departing from Portland, the trip also includes bottled water and commentary on the waterfalls' history.
---
Pennsylvania
Philadelphia Bus Tour
M. Fischetti for Visit Philly
Cost per adult ticket: $28
Stops on the bus tour include landmarks like the Liberty Bell, the LOVE sculpture, and the "Rocky steps" outside the Philadelphia Museum of Art.
---
Rhode Island
Newport Gilded Age Mansions
Gavin Ashworth—courtesy of The Preservation Society of Newport County
Cost per adult ticket: $39
Get a look at extravagant mansions that occupy Newport's Bellevue Avenue Historic District. The tour includes admission to The Breakers, the 70-room, 125,000-square-foot mansion that once belonged to Cornelius Vanderbilt II.
---
South Carolina
Charleston History Tour
Cost per adult ticket: $26
Get a one-hour crash course in Southern history, while surrounded by Charleston's antebellum mansions, churches and gardens. The carriage tour covers 2.5 miles and 30 blocks of historic Charleston.
---
South Dakota
Mount Rushmore & More tour
Steve Cukrov—Shutterstock
Cost per adult ticket: $80
Experience South Dakota's Black Hills region: In addition to the iconic presidential sculpture at Mount Rushmore, this tour also takes in the Crazy Horse Memorial and Custer State Park, and includes a bison chili lunch.
---
Tennessee
Nashville Walking Tour
John Russell—AP/Rex/Shutterstock
Cost per adult ticket: $20
This tour allows visitors to explore Nashville while learning about its rich history, its Civil Rights-era protests, and its role as Music City.
---
Texas
Best of Austin Tour
Cost per adult ticket: $37.90
This two-hour crash course highlights Austin's best sites, including Graffiti Park, the State Capitol, and a food truck that sells "cake on a stick."
---
Utah
Monument Valley Safari
Jeffrey M. Frank—Shutterstock
Cost per adult ticket: $75
A Navajo guide takes visitors through the culturally significant Native American land, with stops at some of the valley's oldest ruins and the Big Chief Monument.
---
Vermont
Burlington Brewery Tour
courtesy of City Brew Tours Burlington
Cost per adult ticket: $90
Experience Burlington's growing craft brewery scene on this tour of four local craft breweries. You'll get to try up to 16 different styles of beer, but the breweries you visit vary on weekends and weekdays, so do your research before you book.
---
Virginia
Colonial Williamsburg
Darnell Vennie—Go Williamsburg
Cost per adult ticket: $40.99
The living history museum features employees dressed and working as people in the colonial era. Attractions include places to eat Colonial-era meals, textile production demonstrations, carriage rides, and a collection of 18th-century British military firearms.
---
Washington
Chihuly Garden and Glass + Space Needle

Terry Rishel—Dale Chihuly, 2013
Cost per adult ticket: $38
Seattle's Chihuly Garden and Glass features colorful glass sculptures from the museum's namesake artist, a Washington native. The popular $38 ticket twofer also includes access to the neighboring Space Needle, where you can see the city from a 520-foot-high observation deck.
---
West Virginia
Greenbrier Beginner Falconry Experience
courtesy of The Greenbrier
Cost per adult ticket: $125
West Virginia's most popular attraction, held at the Greenbrier resort, lets tourists interact with trained hawks and falcons.
---
Wisconsin
Milwaukee City Tour

Mark Herreid—Shutterstock
Cost per adult ticket: $30
This all-day attraction takes visitors to all of the city's most popular food, drink, and culture destinations, including the Harley-Davidson Museum, Lakefront Brewery, and the Milwaukee Public Market in the Historic Third Ward.
---
Wyoming
Grand Teton Wildlife Safari

Chase Dekker Wild-Life Images—Getty Images
Cost per adult ticket: $125 for a public tour
This attraction lets tourists view the elk, moose, bison, grizzly bears, and wolves that frequent Wyoming's Grand Teton National Park. The park hosts a variety of tours, including summer- and winter-only tours, but the most affordable, year-round package is the four-hour dawn or dusk tour for $125.