Buried in Trump's Budget: A New Attempt to Kill a Powerful Consumer Watchdog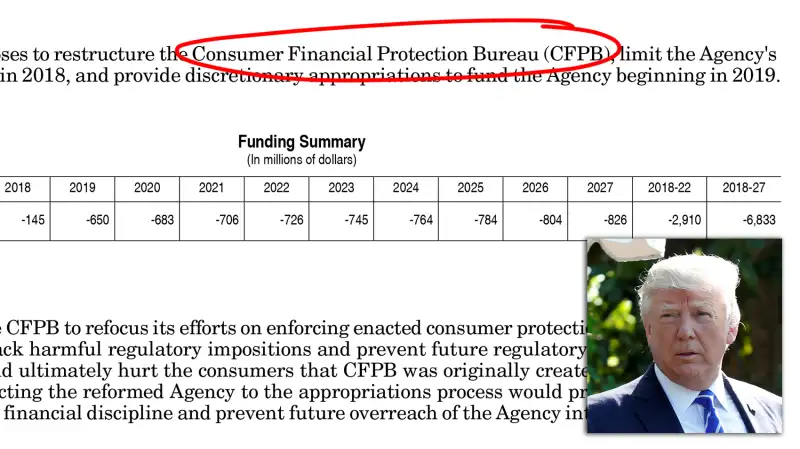 The Republicans appear to be making another move to kill—or at least slash—America's biggest consumer watchdog.
Buried deep in President Donald Trump's 2018 budget request to Congress—specifically, on page 158 out of 159 pages in the supplemental "Major Savings and Reforms" document—is a section headed "Restructure the Consumer Financial Protection Bureau." It appears to be yet another Republican shot across the bow against the embattled consumer protection agency—but in this case, it's an action Congress currently has no authority to implement.
The CFPB, which oversees financial institutions like banks, credit card companies and lenders, has returned $12 billion in restitution for roughly 29 million Americans since it started work in 2011. But the agency has also been under fire since its inception under the Dodd-Frank legislation, largely from Republican lawmakers, who rail against the agency's allegedly "unchecked authority."
Trump's $4.1 trillion budget—which was presented to Congress on Tuesday—proposes to restructure the CFPB, limit the agency's mandatory funding in 2018, and provide discretionary appropriations to fund it beginning in 2019. The budget estimates that this "restructuring" will yield a cost savings of $6.8 billion of the next 10 years. When you consider that the CFPB's budget for the fiscal year of 2016 was roughly $600 million, however—just under a 10th of that amount—such a move sounds more like total elimination.
"Not only are they going to 'save' that money, they're going to do it by cutting the entire thing," says Karl Frisch, executive director of Allied Progress, an anti-Wall Street lobby group.
In justifying the move, the White House calls the move a "necessary first step to scale back harmful regulatory impositions and prevent future regulatory hurdles that stunt economic growth and ultimately hurt the consumers." The budget also notes that the proposed new funding structure would provide additional oversight and prevent future overreach by the CFPB.
But there seems to be a massive assumption baked into this cost savings—either that, or the White House does not understand which agencies are covered by the federal budget. Currently, the CFPB's funding comes from the Federal Reserve, not Congress. So Trump's budget seems to assume that the agency's budget will fall under Congressional control at some point this year.
"We're scratching our heads, especially when you consider the CFPB is not funded by taxpayer money," Frisch says. "I don't know how you can cut something from the budget that isn't in the budget."
So there are two big questions here: What exactly is the White House planning to do and where do they think this money is coming from?
Since the CFPB's inception in 2011, Republicans have floated ideas ranging from transforming the CFPB into a commission to firing its director Richard Cordray or eliminating it altogether. A bill currently waiting for a vote on the House floor, the CHOICE Act, would (among other initiatives) replace the agency's single director with a bipartisan, five-member commission, which in turn would be subject to congressional oversight and funding requests.
"Without exception, the proposals we've seen to de-fund or restructure the Consumer Financial Protection Bureau are about making it less effective at doing its job," says Carter Dougherty, spokesman for Americans for Financial Reform, a nonprofit advocating for financial reform. "All these proposed changes to the CFPB would do is make it easier for Wall Street and assorted predatory lenders to rip people off."
The CFPB declined to comment on the proposed budget. The White House did not respond to Money's request for additional clarification or comments.