Corinthian Colleges Students Set to Get $183 Million Break on Bad Loans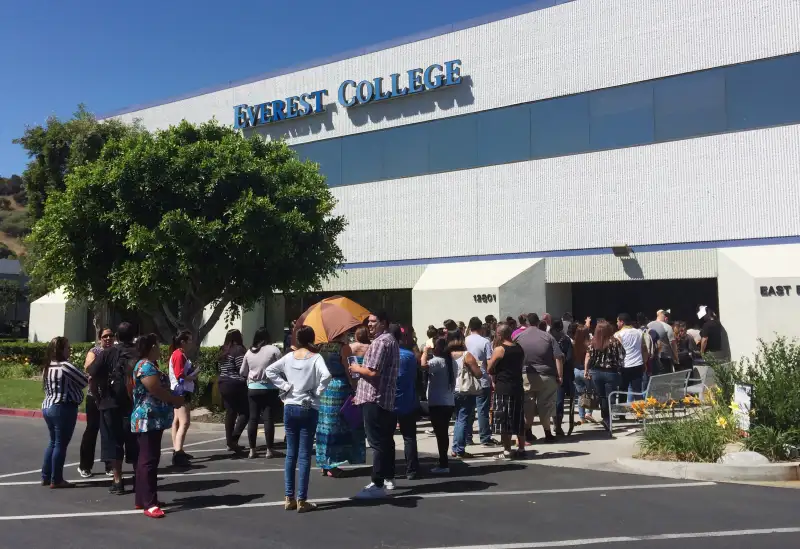 Over 40,000 former students of the defunct Corinthian Colleges may see relief from their student loans.
The Consumer Financial Protection Bureau announced Thursday that it had reached a settlement with Aequitas Capital Management, which allegedly helped Corinthian Colleges carry out its predatory lending scheme.
Corinthian—which operated over 100 for-profit schools under the brands Everest, Heald and WyoTech—folded in April 2015 amid claims that it had used misleading job placement rates to enroll students. The closure left about 16,000 enrolled students, many of whom had taken out big loans to pay for their courses, without recourse.
Current and former students went after the institution, as did regulators. In March 2016, the school was ordered to pay over $1.1 billion for allegedly duping students. The CFPB also gained a $530 million default judgment on behalf of students. However, the students wound up seeing very little money, as the school had already distributed its limited assets through its bankruptcy.
In this latest case, the CFPB claimed that private equity firm Aequitas—which is also winding down its business—had funded or purchased $230 million of high-cost, private "Genesis" loans that both it and Corinthian knew the students could not afford.
Aequitas got in trouble in part by helping Corinthian fudge its numbers to make it seem that those Genesis loans were actually revenue received from students, according to the CFPB. That allowed students at its schools to receive federal aid—dollars that ultimately went to the for-profit educator—under a provision that for-profit schools must get at least 10% of their revenue from a source other than the federal government.
If a federal judge approves the CFPB's proposed settlement, about 41,000 former Corinthian students could be eligible for approximately $183.3 million in loan forgiveness and reduction.
The settlement stipulates that all outstanding Genesis loans will be forgiven for the following groups:
Students who were enrolled in a Corinthian college when the schools closed in April 2015.
Students who had been enrolled but withdrew on or after June 1, 2014.
Students who were enrolled but had not completed their courses at the time Corinthian sold about half of its campuses to Zenith Education Group in February 2015; Zenith subsequently ceased operating the schools under the Corinthian brands.
As part of the deal, Aequitas also agreed to forgive all of the Genesis loans that were in default for more than 270 days as of March 2017.
For any remaining Genesis loans, Aequitas agreed to reduce the principal amount owed as of March 2017 by 55%—and forgive any accrued interest, fees, or charges that were 30 or more days past due as of the end of March.
"Tens of thousands of Corinthian students were harmed by the predatory lending scheme funded by Aequitas, turning dreams of higher education into a nightmare," CFPB Director Richard Cordray said in a statement Thursday. "Today's action marks another step by the Bureau to bring justice and relief to the borrowers still saddled with expensive student loan debt."
This is not the first time the CFPB has attempted to seek debt forgiveness for students saddled with these Genesis loans. In February 2015, the CFPB announced an agreement with ECMC Group—which purchased some of the Everest and WyoTech campuses—that granted former Corinthian students $480 million in debt forgiveness.
And the CFPB's campaign against predatory student lending is not over. Cordray said Thursday that the agency will "continue to address the illegal lending practices of for-profit colleges and those who enable them."