Why Trump Tweets About Jobs Cuts at Ford But Not Macy's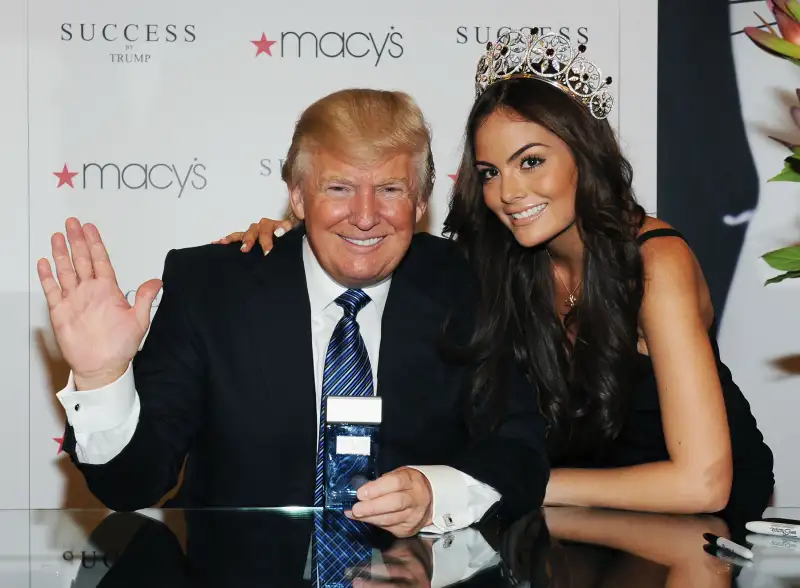 Slaven Vlasic—Getty Images
Donald Trump has promised that he'll be the "greatest jobs president God ever created." He revels in shaming companies on Twitter that are cutting American jobs. Yet Trump has been uncharacteristically silent on a widespread trend that's resulting in tens of thousands of American workers to lose their jobs.
Trump has directed his 140 characters toward the likes of Toyota, Ford, and Carrier in the past for plans to move some plants abroad. But Trump's Twitter thumbs have been muted in light of recent news that Macy's has identified more than two-thirds of its planned 100 store closings, and will eliminate almost 11,000 positions. He has yet to voice concern that big retailers, including Kohl's and Sears in addition to Macy's, are scaling back operations as more shoppers migrate to Amazon.
Why is Trump so outspoken about the losses of some Americans' jobs and not others? While Carrier's decision to move a plant to Mexico would have resulted in a fraction of the job losses that Macy's announced, the narrative that it represented dovetailed with Trump's campaign rhetoric that foreign entities were taking advantage of the American worker. The belief is that by bringing public to bear on outsourcers, Trump can reverse a long-term trend of declining manufacturing employment.
Economists remain dubious that Trump's tweets alone can achieve their desired effect of returning manufacturing to pre-2000 levels. Likewise, tweets directed at Macy's, or even Amazon for upending where Americans spend their money, aren't likely to accomplish lasting change or save jobs on a broad scale. Commenting on social media isn't the same thing as sustained domestic policy.
There's little evidence so far that Trump's tweets have caused caused any businesses to alter their plans. Carrier only announced the decision to keep around 800 jobs in Indiana after receiving millions in tax breaks. Trump's outrage, therefore, is symbolic. The number of people being let go seems to matter less to Trump than the manner in which the jobs are lost.
"The manufacturing jobs are going somewhere else," says T. Rowe Price portfolio manager John Linehan. "Retail jobs being lost aren't going to China."
There are about 5 million fewer manufacturing employees now than there were 16 years ago. Manufacturing took a huge hit in the past two recessions and has only recently begun to moderately tick back up, despite the fact that manufacturing production has rebounded more sharply. FiveThirtyEight has a useful chart that illuminates the point:
"Since the recession ended in 2009, manufacturing output — the value of all the goods that U.S. factories produce, adjusted for inflation — has risen by more than 20 percent, because of a combination of 'reshoring' and increased domestic demand. But manufacturing employment is up just 5 percent." Automation has rendered many low-skilled manufacturing jobs obsolete.
Meanwhile, retail employment hit an all-time high in December, currently employing more than 16 million people, or about 4 million more than manufacturing.
It's difficult not to wonder if gender plays a role in Trump's decisions concerning which businesses to call out and pressure. Women make up half of employees in the retail trade, and only a quarter of manufacturing, according to the Bureau of Labor Statistics. Retail workers make about $8 less an hour than manufacturing employees too. If the situation were reversed, if traditionally female jobs were being sent overseas, or killed by automation, would Trump change his Twitter scorn? Men voted for the president-elect by a margin of 12 points, while women favored Clinton by the same margin.
As Claire Cain Miller recently pointed out in The Upshot several jobs dominated by men are likely to face huge challenges going forward. "The two occupations predicted by the Bureau of Labor Statistics to decline most quickly from 2014 to 2024 are locomotive firers, shrinking 70 percent, and vehicle electronics installers and repairers, down 50 percent," she wrote. "They are 96 percent and 98 percent male." Making America great again, in Trump's vision, seems to mostly mean supporting male employment.
Of course Trump has a well-chronicled tense relationship with Macy's after the retailer rescinded a partnership deal with Trump after made derogatory comments about Mexican immigrants. So maybe that explains a little about why he hasn't said a peep lately about Macy's struggles and its job cuts. Perhaps Trump is focused on saving manufacturing jobs but not retail jobs because he believes some strategically applied pressure can accomplish something with the former but would do absolutely nothing with the latter. Or perhaps Trump is Tweeting about outsourcing but not other kinds of job cuts simply because doing so plays better for him politically.
The truth is that ours is an intricate $19 trillion economy with incalculable number moving parts, rapidly changing technologies, and new business and industries constantly growing and dying. The ability of any individual--even the president--to affect sustained large-scale economic change through social media is minimal. But his decision to target manufactures, rather than retailers, reveals that a job moved elsewhere touches a nerve that a job eliminated doesn't.