The Typical Mortgage Payment Is Up 39% From a Year Ago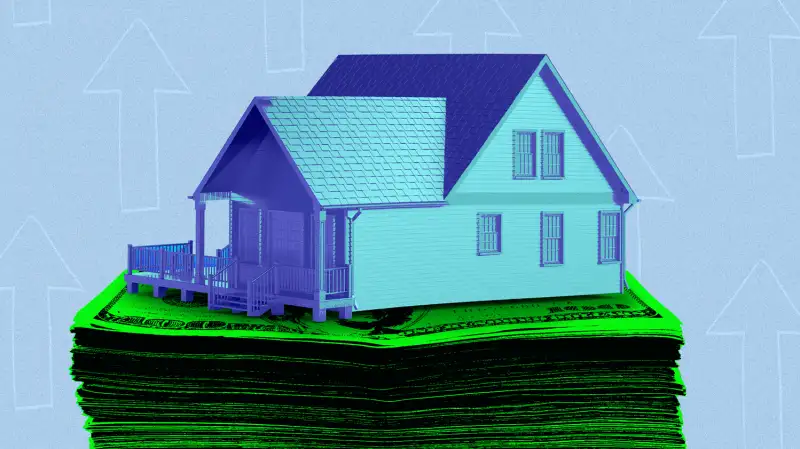 The typical mortgage payment in the U.S. is $664 more expensive compared to a year ago — an increase of nearly 40%.
That's thanks to higher home prices and rising mortgage rates, which together are pushing monthly payments upward at the fastest rate ever recorded by the real estate firm Redfin.
Data released Thursday by Redfin shows that the typical homebuyer's monthly mortgage payment has spiked 39% compared to a year ago. For the four weeks ending on April 24, Redfin found that the monthly mortgage payment on a home with the median asking price of $404,950 was $2,349. That calculation is based on the average rate on a 30-year fixed-rate mortgage, which is now 5.1%.
A year ago, when rates were just shy of 3% and the median home asking price was 16% cheaper, the typical mortgage payment was $1,685. That's an enormous difference ($664) in just one year and the biggest ever spike in Redfin's data, which dates back to 2015.
How rising mortgage rates are affecting the housing market
The spike is part of the reason the homes have become unaffordable for many Americans, and it's causing uneasiness in the market overall.
"Rising mortgage rates are taking a bite out of pending sales as both buyers and sellers take a step back from the turbulent market," Redfin Chief Economist Daryl Fairweather said in a blog post.
In addition to rising rates, home prices have soared roughly 20% over the past year, and experts are forecasting that prices will keep rising in 2022. Between higher prices and higher monthly payments, it's no wonder some people are choosing to wait until the market cools off before they buy or sell.
Fairweather added that while the market on the whole is still extremely competitive (thanks in part to a severe and persistent shortage of inventory), it's still in the "early days" when it comes to the new world of mortgage rates of 5% or higher. "The number of buyers willing to pay such high mortgage payments could evaporate by late summer," she said.
There's already evidence that things are slowing down — at least a little. Data released earlier this week by the National Association of Realtors (NAR) shows that the pace of pending sales has ticked down for five consecutive months. NAR Chief Economist Lawrence Yun attributes the slowdown to rising rates that have driven away some potential buyers. Eventually, that will lead to a less competitive market overall.
"The falling contract signings are implying that multiple offers will soon dissipate and be replaced by much calmer and normalized market conditions," Yun said in a news release.
More from Money:
8 Best Mortgage Lenders of 2022
Housing Market Cooldown: 10 Cities Where List Prices Are Dropping
How Rising Mortgage Rates Explain the Extreme Shortage of Homes for Sale