This University Is Letting Out-of-State Students Pay In-State Tuition Prices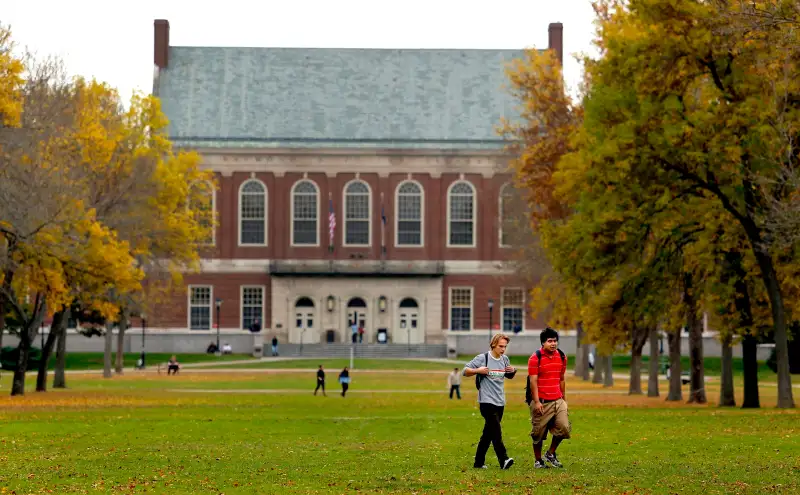 Souza, Gabe—Getty Images/Portland Press Herald
If you're a high school student in the Northeast or mid-Atlantic region, you just got one more option for affordable colleges. The University of Maine, in Orono (just north of Bangor), has announced that it will begin allowing non-Mainers to enroll and pay special in-state tuition rates. The offer represents an enormous discount for students who qualify.
But the special tuition levels don't apply to all out-of-staters. Qualifying students must be from Massachusetts, New Hampshire, Vermont, Connecticut, New Jersey, or Pennsylvania. Also, instead paying the same price as the in-state rates available to people from Maine, students from qualifying states will pay tuition that matches the levels of their home state flagship public university.
For example, a student from Massachusetts could attend UMaine for the same tuition as UMass-Amherst for in-state, $14,141, and kids from Vermont could attend UMaine for the same tuition as they'd pay at UVM, $14,664. Essentially, these students get to cut the cost of going to UMaine in half, since out-of-state tuition normally runs $28,880. Yet it's still not quite as cheap as the in-state tuition price for Maine residents, $8,370.
According to the Boston Globe, the school's strategy is a first for New England universities. The move is viewed as a response to the declining number of Maine high school graduates—the ones traditionally eligible for in-state tuition.
If you don't live in the Northeast, UMaine is still handing out some good deals: $13,000 tuition discounts, for certain students.
To qualify for the in-state tuition deal at UMaine, you have to have a 3.0 and 1050 SAT scores or higher. If you get in and don't make those grades, you can still get a $9,000 discount.