As UPS Workers Prepare for a Massive Strike, Here's How It Could Affect You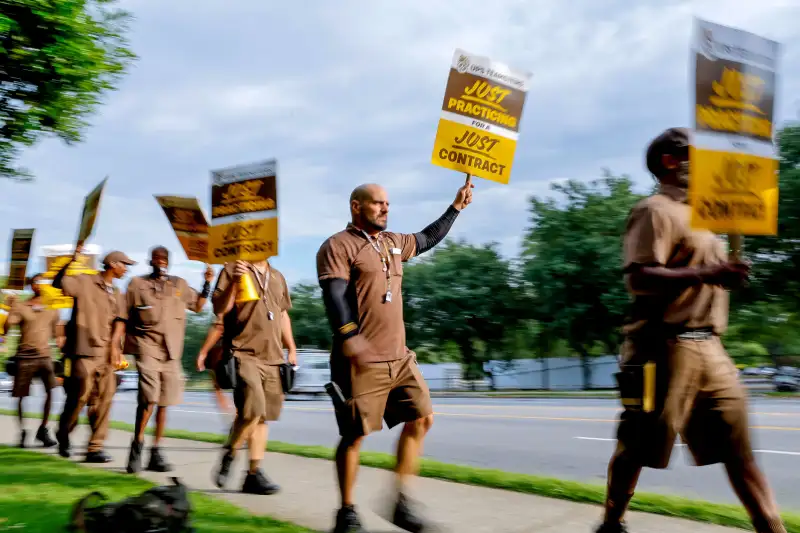 If UPS and the union representing the vast majority of its workforce don't reach an agreement by the end of the month, hundreds of thousands of workers at the shipping giant are expected to go on strike — throwing package delivery, and perhaps the economy at large, into disarray.
About 330,000 of UPS's 443,000-person workforce are represented by the International Brotherhood of Teamsters, a North American labor union with strong ties to the transportation and warehouse workforce in the U.S. Contract negotiations between the Teamsters and UPS broke down last week, and the union has said that its UPS members will strike starting Aug. 1 if no deal is reached by the time their current contract expires (at the end of July).
Last month, UPS Teamsters voted to authorize the strike "by an overwhelming 97%," according to the union. A strike of this magnitude would be the largest of its kind in U.S. history. UPS is the biggest parcel-delivery company in the nation, delivering more than 20 million packages per day and transporting an estimated 6% of the country's gross domestic product.
In emailed responses to Money, UPS spokesperson Jim Mayer says negotiations coming down to the wire create "significant unease among employees and customers and threatens to disrupt the U.S. economy."
Mayer adds, though, that he's confident that they will reach an agreement in time and avert the potentially historic strike.
Why UPS workers might strike
Teamsters union leadership has argued that UPS workers aren't being compensated fairly and that UPS is not meeting their economic demands.
Last year, UPS posted nearly $14 billion in profit, and the union says employees deserve a fair share of those record profits, especially after risking their lives to show up to work throughout the pandemic. (The Teamsters' current contract was originally put in place in August 2018.)
Both sides blame each other for stalled negotiations. Before the communication breakdown, UPS drivers won concessions that included air conditioning in new vehicles and the end of a "two-tier wage" system in which part-timers get a lower hourly rate than full-timers.
At the crux of the current gridlock seems to be pay and benefits in general for part-time UPS union members, which represent the majority of unionized UPS workers. Teamsters say many UPS workers live on low wages that leave them in poverty and, in many cases, don't receive benefits until nine months on the job.
UPS maintains that wages for part-timers average $20 an hour after 30 days. Part-time employees are eligible for benefits like health care and tuition assistance after a "short waiting period," according to UPS.
The Teamsters did not respond to Money's requests for comment.

What happened during the 1997 UPS strike
The only time UPS workers have gone on strike en masse was more than 25 years ago. A 1997 report from the New York Times suggests similar reasons for the strike: pay for part-time workers lagged far behind wages for full-timers.
Some 185,000 UPS teamsters refused to work for 15 days that August, sending the supply chain into turmoil. The strike reportedly cost UPS $850 million.
Today, UPS's workforce is indeed much larger, but its market share in the package-delivery industry is smaller than it was in decades past. It's unclear if the potential upcoming strike would have as much of an impact on the company or economy.
What the UPS strike could mean for you
In the event of a strike — with about 75% of UPS's workforce halting their duties — package delays will be inevitable. During the '97 strike, UPS prioritized essential goods such as groceries, medicine and other medical supplies without much disturbance, while other everyday items were heavily delayed, the Times reported.
When asked if UPS would similarly prioritize certain types of packages during a 2023 strike, Mayer from UPS said "we have contingency plans for all types of situations" but emphasized that there are still weeks left to negotiate.
"The Teamsters themselves have said the contract is 95% done," he says, "so we're confident that we'll get to an agreement."
Would a UPS strike delay your packages?
Amazon Prime Day is in full swing — a time of year where the e-commerce behemoth deeply discounts all kinds of products on its site. UPS delivers some packages on behalf of Amazon, and it's unclear how those deliveries will be affected.
Simultaneously, competitors like FedEx are gearing up to assuage some of the fears of people who are worried about package delays caused by a strike.
FedEx is trying to court as many new customers as it can before the UPS strike begins, according to a recent internal memo from company executives Jill Brannon and Nick Davignon that was shared with Money.
"Over the last six months, we have been actively communicating with current and potential customers and urging them to transition business while capacity is available," the executives wrote.
However, they noted that FedEx alone won't be able to fill the package-delivery void.
"In the event of a market disruption," they warned, "no carrier can absorb all UPS volume."
More from Money:
The USPS Is Hiking Stamp Prices Again
Trendy Student Loan 'Hack' Backfires on Borrowers After Biden's Forgiveness Plan Fails
Rates are subject to change. All information provided here is accurate as of the publish date.