Trendy Student Loan 'Hack' Backfires on Borrowers After Biden's Forgiveness Plan Fails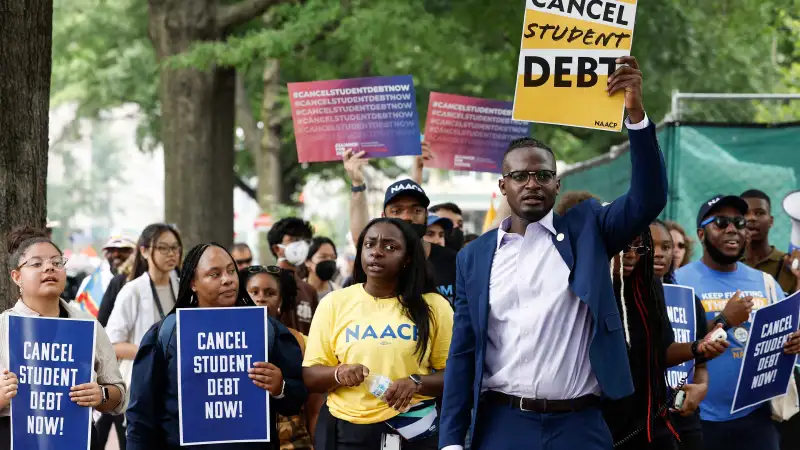 Alex Dwan just wanted to be debt-free. Early in the pandemic, she was doing fairly well financially and decided to pay off her remaining $2,300 in federal student loans ahead of schedule.
For a little while, she enjoyed that elusive debt-free status. Then she took advantage of a trendy student loan "hack," it backfired, and now — thanks to the recent Supreme Court decision striking down President Joe Biden's student loan forgiveness plan — 28-year-old Dwan is financially worse off.
Once again, she's stuck with the debt, and payments are restarting soon.
She's not alone. Data from the Department of Education suggests at least 9 million borrowers are eligible for refunds for the payments they made at any point during the student loan moratorium that's been in place since March 2020 (and is still in effect until the end of August). How many borrowers have actually received refunds remains unclear — but many of those who did were banking on forgiveness, leading them to use the cash for other expenses.
Now that they're on the hook again, that refunded money simply isn't there anymore.
"I was very frustrated that I was once totally debt-free, and now I will have this loan again," Dwan tells Money.

What went wrong

The refund wasn't intended to be used in this manner, according to Persis Yu, the deputy executive director of the pro-forgiveness nonprofit Student Borrower Protection Center.
Initially, the refund process was a lesser-known initiative tucked into the massive $2 trillion CARES Act passed in March 2020. At first, Yu says borrowers likely used it to get refunds for payments that were automatically withdrawn from their accounts as loan servicers scrambled to turn off payments at the start of the loan moratorium.

Then a second usage — the so-called "hack" — emerged. After Biden announced his administration intended to forgive student loans last August, Yu says the refund provisions "gained new life." Last summer and into the fall, many publications started highlighting the refund provision as a sort of loophole. The idea was that, since up to $20,000 of student loan debt was about to be forgiven, why shouldn't borrowers get back (and put to use) any payments they made when they weren't required to?
Dwan says articles about the "hack" turned her on to the idea, but she was still hesitant to chase the refund. However, toward the end of 2022, she decided to take the plunge and request back her $2,300 to help pay for a move from Chicago to Brooklyn.
The refund process, she recalls, was very simple. She made one phone call to her loan servicer, spoke to a representative who assured her she could get a refund and that the reinstated loan balances could ultimately be removed automatically under Biden's initial forgiveness plan.
Within "a month at most," she says, she got her $2,300 and put it to use getting settled in New York. On top of dealing with inflation, she found life in Brooklyn much more expensive than Chicago. The money burned quickly.
Student loan borrowers who have been following the news know how this story ends. At the end of June, the Supreme Court struck down Biden's plan to forgive up to $20,000 of federal student loan debt per borrower, thus nullifying the student loan hack.
Dwan is back to owing the long-gone $2,300 that was once slated for forgiveness.
Borrowers sick of being 'yanked around back and forth'
Experts aren't sure exactly how many borrowers are in Dwan's shoes because the loan payment refund technique — while outlined by the Department of Education — was not technically facilitated by the government agency. Instead, borrowers had to contact their student-loan servicer on their own, so the data is sparse. (The Education Department declined to go on the record after several requests for comment.)
Given that at least 9 million are eligible for a refund and the refund-then-forgiveness technique was popularly recommended, it's clear Dwan's case isn't an isolated incident.
"Candidly, we promoted this as an option that folks can use, too," says Yu, with the SBPC. "It seems like a reasonable choice at the time if the president is telling you that he's going to cancel your loans — and they had a policy in place with an application."
With loan payments restarting as soon as October, folks like Dwan are scrambling to reorient their finances to accommodate payments they already made once in the past.
It feels impossible, Yu says, for borrowers to plan their finances as the political fight over student loan debt rages on. For instance, even though the Supreme Court struck down Biden's first forgiveness plan, he immediately vowed he would cancel an undetermined amount of student debt using a new legal path — and that the Education Department would be lenient with missed loan payments for the first 12 months.
However, the new forgiveness plan is expected to face legal challenges and won't be in place by the time student loan payments restart this fall.
"Borrowers have just been yanked around back and forth," Yu says.
Left to cope with the policy whiplash, Dwan says she feels misled. She emphasizes that she would have never pursued the refund without all the encouragement.
"I'm already struggling. I'm walking dogs on the side on top of my full-time job, so it's annoying and frustrating that I'll have another monthly payment," she says. "It's just another thing that I have to worry about, you know?"
More from Money:
Plan B: Biden Reveals New Student Loan Forgiveness Plan — Here's What Borrowers Can Expect Next
9 Easy Steps to Refinance Your Student Loan
How to Pay Off Student Loans Fast