Why Restarting Student Loan Payments Won't Ruin the Economy After All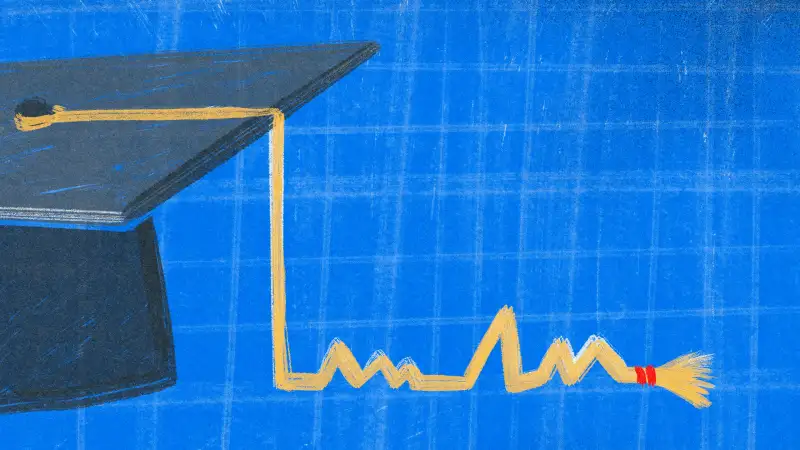 Earlier this year, several economic predictions painted a glum picture about what was likely to happen when federal student loan payments resume for millions of borrowers. Now, though, the economic consensus is looking a lot more optimistic.
Since March 2020, payments and interest accrual for federal student loans have been paused in response to the pandemic. First passed to help households weather the economic turmoil following the COVID-19 crisis, many borrowers have grown used to life without loan payments over the past three years, but the provisions will soon sunset. On Sept. 1, interest will begin accruing again on federal student loans, and in October, the first required monthly payments will come due for the first time in 3 1/2 years.
However, because of new provisions aimed at helping borrowers ease back into repayment, which President Joe Biden unveiled in late June, they'll have a lot of flexibility with paying — or even skipping — their loan bills. As a result, experts are now saying that the broader economic effects might not be so bad after all.
"I actually don't think the end of the payments moratorium will have a very visible effect," says Dean Baker, founder and senior economist at the Center for Economic and Policy Research.
Why are the predictions changing?
Before the end of June — when the Supreme Court struck down Biden's plan to forgive up to $20,000 of federal student debt per borrower — many economic predictions spelled doom for the economy once student loan payments restarted.
As the end of the student loan moratorium crept closer, economists initially began to fear that flipping payments back on for nearly 40 million borrowers would be the straw that broke the economy's back.
Some economists estimated that the return of student loan payments would suck anywhere from $70 billion to $200 billion from the economy annually, as borrowers would have to divert their money from everyday goods, services or other debts back toward student loan payments.
Financial firm Jefferies referred to payments restarting as a "student loan cliff" earlier this spring. And Mark Zandi, chief economist at Moody's Analytics, argued in June that the return of student payments couldn't come at a worse time — as the overall economy looked like it was on a path to a recession following the banking crisis and the fight over the debt ceiling.
But the economy was resilient and proved many forecasts wrong. Today, a growing number of economists say a recession in 2023 isn't likely.
Similarly, with loan payments restarting, the consensus is starting to shift too. The economists and analysts who are in this boat largely point to the Biden administration's recently announced plans to help borrowers ease into repayments as the reason why the economy can withstand the return of loan payments after all.
Easing into repayments
Immediately after the Supreme Court blocked Biden's forgiveness plan, the president announced two measures that are designed to help borrowers start making student loan payments again after more than three years.
One initiative, called the SAVE plan, is a revamped and far more generous income-driven repayment program, meaning borrowers who sign up will have their monthly payments based on their income — and ideally pay only what they can afford. Under the new plan, for example, single borrowers who earn $32,800 or less would qualify for a monthly payment of zero.
Another major change is a measure that will give borrowers leniency with making payments until September 2024. The Biden administration is referring to this period as an "on ramp." During this time, the Department of Education won't place student loans into default or delinquency, nor will it report any missed or late payments to the credit bureaus. In effect, this keeps missed student loan payments from hurting people's credit scores until the beginning of next fall, negating the worst consequences of not making payments (with the exception of interest accrual).

Critics argue that the on ramp is essentially an extension to the student loan moratorium under a separate name, but the White House rejects this framing, and the Education Department has advised students who can afford their student loan payments to make them during this time.
According to the research firm Ned Davis Research (NDR), these two initiatives — in addition to excess consumer savings built up over the pandemic — are why the economy won't be burdened much by student loan payments. It's hard for experts to predict exactly how many borrowers are going to take advantage of the leniency programs as they start making payments again, but any economic harm will certainly be less than flipping payments back on for all borrowers at the same time with no such flexibility for those who may struggle to afford their loan bills.

"For all of these reasons, we do not expect the resumption of student loan payments in October to be a watershed moment for consumer spending or the cyclical performance of the economy," wrote NDR economist Veneta Dimitrova, in a recent research note. "We estimate that it will shave off 0.1% to 0.2% of real GDP growth in Q4."
Jason Delisle, a senior fellow at the Urban Institute who specializes in higher education finance, similarly says that those two new provisions will largely blunt the economic impact of turning student loan payments back on.
"We're returning to student loan repayment but in a system where payments should, on average, be lower than they were before the pandemic," he says.
More from Money:
7 Best Student Loan Refinance Companies
45% of Student Loan Borrowers Expect to Go Delinquent When Payments Resume
Trendy Student Loan 'Hack' Backfires on Borrowers After Biden's Forgiveness Plan Fails