Prices for Used Teslas and Other EVs Are Dropping More Than Gas-Powered Cars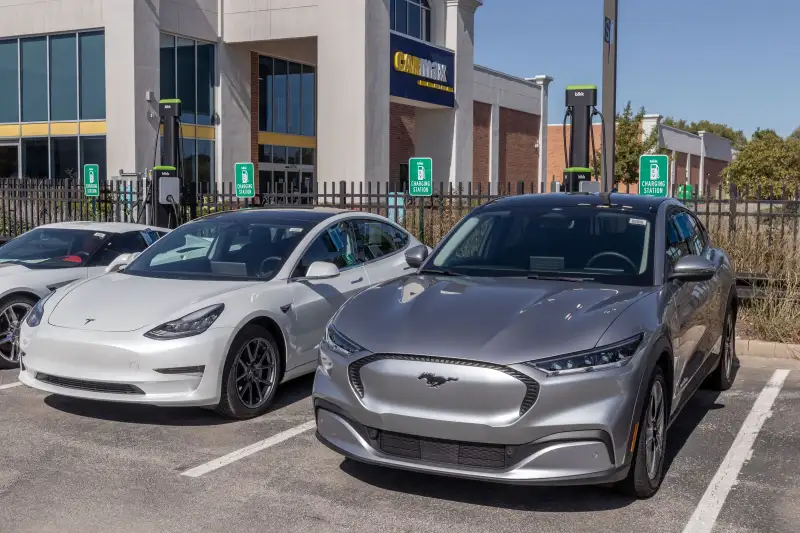 Used car prices keep getting cheaper — especially Teslas.
Prices for used Teslas fell significantly in January after the automaker slashed MSRPs on new models. Used electric vehicle sales overall are also picking up in general as a result of lower prices and new tax credits.
In the second half of January, used 2020 and 2021 Tesla list prices were down 4.8% compared to the beginning of the month, prior to Tesla's announcement of price cuts, according to a new report from iSeeCars.com, a car search company.
The drop extends a downward trend in used Tesla prices that began in the fall. Lower gas prices have made purchasing an electric vehicle somewhat less compelling and high auto loan interest rates for used car purchases have brought used prices down across the board.
Used Tesla Model 3 prices fell 16.8% from September and December and then dropped another 5.2% after the price cuts, according to the report.
Why it matters
Price cuts on new cars like the ones recently announced from Tesla and Ford on EVs are considered rare in the auto industry, but it's not surprising that used EV prices have fallen in tandem. Naturally, car shoppers judge how much they're willing to pay for a used car based on what it would cost to buy a new one.
Still, it's notable that used Teslas just became significantly more affordable. Between the beginning of January and the latter part of the month, the average price of a used Model 3 dropped by $2,354 (-5.2%), while Model Y prices fell by $2,816 (-5%).
During the same time period, the average price of a used electric vehicle was down $924 (-1.8%). The new tax credits can make the price of a used EV up to $4,000 cheaper, but there are some key restrictions, including a max purchase price of $25,000 that excludes many used EVs.
The average price of used plug-in hybrids, which are also eligible for tax credits, declined by 3.8% in January, a steeper decline than the drop in used EV prices.
Prices for used gas-powered cars dropped during this same time period by a smaller percentage (-1.5%) than used hybrids (-2.6%) as well as secondhand electric vehicles and plug-in hybrids.
The combination of the tax credits and the lower prices contributed to a 33% increase in used EV sales in January compared to December, according to Pat Ryan, CEO of car shopping app CoPilot.
Bottom line
For much of the pandemic, used car prices soared higher month after month. Buying a used Tesla is now becoming much easier and less expensive. On the other hand, if you bought a used car last year, it's quite possible that it's already lost quite a bit of value.
More from Money:
'Never Been a Better Time to Buy an Electric Car' Due to Price Wars and EV Tax Credits: Auto Expert
Used Cars Are Finally Getting Cheaper — and Even Lower Prices Are Coming Soon