Vegan Meatballs on IKEA Menus Soon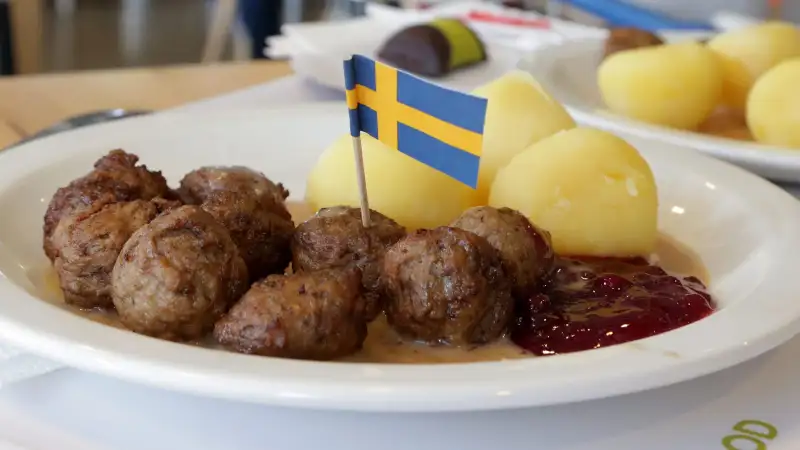 Behold the power of the veggie and animal lover lobby! The movement can claim two big victories this week. First, a planned GoDaddy Super Bowl ad was pulled after the "humorous" commercial—about a puppy that's lost, then sold online—was widely criticized for being offensive.
"As someone who feels incredibly strong about animal rights, I am extremely offended by this commercial," reads a Change.org petition that pleaded with GoDaddy to drop the commercial and attracted 40,000 online signatures in one day. "Go Daddy is encouraging private breeding/puppy mills while shelter animals wait patiently for their forever homes or worse—to be euthanized. They are also encouraging purchasing an animal online; the animal could be sold to someone who runs a fighting ring, someone who abuses animals, or to someone who cannot adequately care for the animal."
Then, on Wednesday, PETA (hat tip: Grubstreet) patted itself on the back for what was apparently the successful pressuring of IKEA into adding vegan meatballs to the menu. Last spring, it was reported that IKEA was developing vegetarian meatballs, but now it looks like the meatballs will be fully vegan—using no animal products whatsoever. They're expected to be available at IKEA stores this April.
Meanwhile, large quick-serve restaurant chains have also been expanding vegetarian and vegan options. White Castle rolled out veggie sliders a few weeks ago, while Chipotle pumped up sales of its new sofritas vegan burrito with a special giveaway promotion on Monday. The deal, which promised a free burrito in the future with the purchase of a sofritas burrito on Monday, sold out in some Chipotle locations.