Why This Video About a Dad Doing Laundry Has Everyone Talking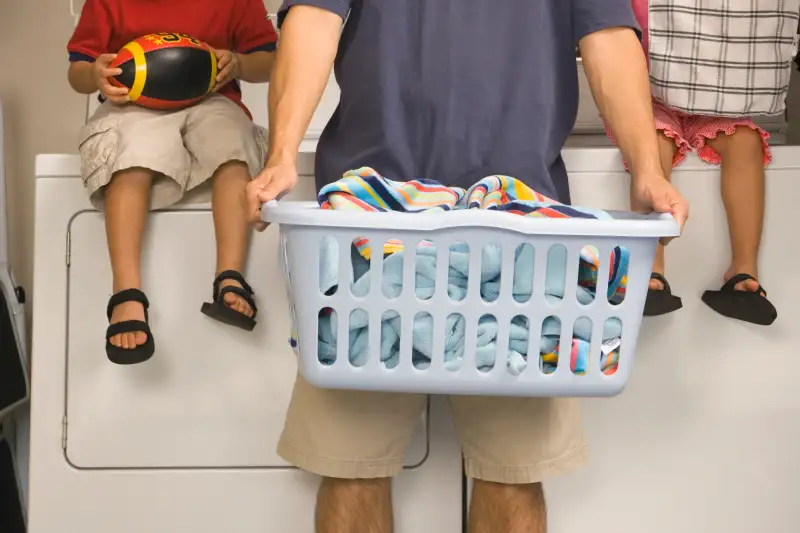 Hill Street Studios—Getty Images
A new commercial for laundry detergent brand Ariel, owned by Procter and Gamble, has been causing quite a stir online thanks to its touching portrait of gender inequality in the home and an endorsement from Facebook's chief operating officer Sheryl Sandberg.
The video, which had been viewed more than 7 million times as of 1:30PM ET on Friday, features a grandfather watching as his daughter deftly balances the demands of her job with her household duties. The daughter starts prepping dinner, pops in a load of laundry, and puts away her son's toys, all while speaking with her office on the phone and checking her laptop. Her husband, meanwhile, sits on the sofa, watching TV with his own computer on his lap.
Seeing his daughter juggle so many tasks leads the grandfather to remark that "it's not your job alone but your husband's, too" and the commercial ends with an image of him returning to his own home and insisting to his wife that he do the laundry, then the words "Why is laundry only a mother's job? Dads #ShareTheLoad" appear on the screen.
This depiction of the many more hours of unpaid labor women do globally touched a nerve for online viewers and Sandberg, who posted the video on Facebook with the comment: "This is one of the most powerful videos I have ever seen – showing how stereotypes hurt all of us and are passed from generation to generation. When little girls and boys play house they model their parents' behavior; this doesn't just impact their childhood games, it shapes their long-term dreams."
If today's kids are following in their parent's steps, then we're unlikely to see a more even distribution of household chores and childcare tasks. In every part of the world, women spend more time on unpaid work than men do. In India, women spend about six hours a day doing unpaid work, while men spend less than one hour.
In the U.S., we're much better at evening out the burden, but a big gap remains. Women here devote four hours a day to unpaid work, while men do about two and a half hours. American girls spend about two hours more on chores a week than boys, and are 15% less likely to be paid for them.