Customers Are Mad After Walmart Canceled Sales of Big TVs for $99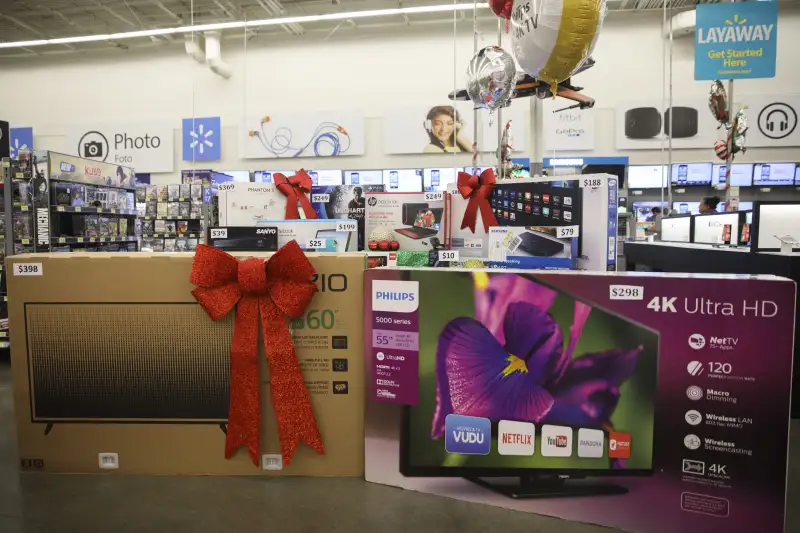 Bloomberg—Bloomberg via Getty Images
If it seems too good to be true, it probably is—especially if the item in question is a $99 TV.
A group of North Texas women learned the truth behind that adage on Black Friday, when Walmart cancelled orders they had placed on for Samsung TVs that had been discounted to just $99. One woman, Monique Daniels, said a friend told her about the discount on Walmart.com, NBC's Dallas-Fort Worth affiliate reported. She checked the Walmart app and after finding the deal, she shared it with her friends. The women all quickly bought TVs, thinking the deal was too good to pass up.
Daniels herself bought two 40-inch TVs and a 75-inch TV. These TV sets usually range in price from $300 to $2,000 each. "I didn't even intend to buy a TV," one of the women, Jennifer Campbell, told NBC 5. "I bought a TV because I was like, 'I'm stupid if I don't.'"
However, during the weekend, the women were baffled when they received emails saying their orders were cancelled. Walmart, they said, claimed the customers had canceled the orders themselves. The retailer later explained the cancellation as a "pricing error."
"We needed to cancel some customer orders on a certain TV item," Walmart said in a statement. "We've reached out to apologize to customers and offer them a gift card for the inconvenience."
The gift card was worth just $10, upsetting the women, who wanted the company to give them store credit for the full value of the discounted TVs. Walmart does have a disclaimer on its website saying that it may cancel or refuse orders in the event of a pricing error. It's offered $10 gift cards in the past to make up for similar mistakes.
A day after NBC 5 reached out to Walmart, the women received an email that the company would offer them a $25 gift card. They've also received full refunds for their $99 TV purchase.
If you stumble across a deal while online shopping that seems too good to be true, you should take screenshots of your purchase. You might also want to call the company to verify the authenticity of the sale.