Walmart and 4 Other Rare Retailers That Aren't Floundering Right Now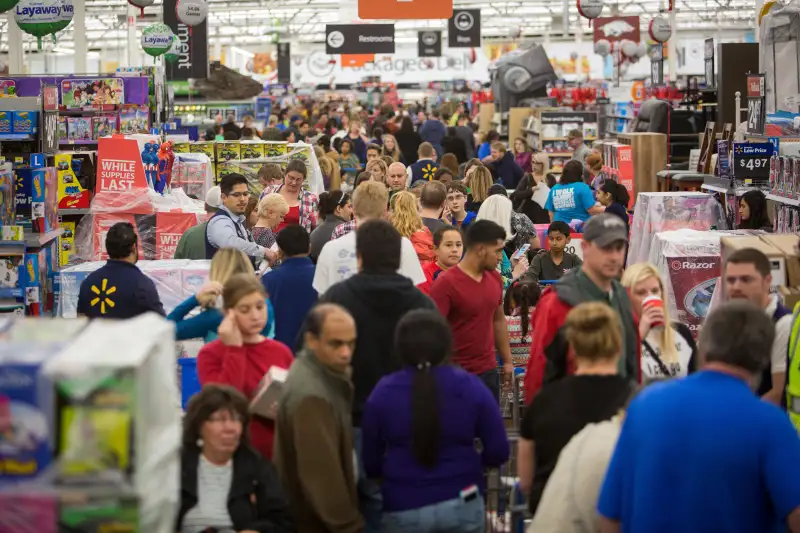 Gunnar Rathbun—Invision/Walmart
The first quarter of 2016 has been a "bloodbath" for a wide range of major retailers, with poor sales leading to plunging stock prices. The long list of struggling stores includes J.C. Penney, Macy's, Gap, Target, Kohl's, Dillards, and Nordstrom, a few of which recently reported their poorest comparable sales results since the Great Recession.
The consensus holds that Amazon, the all-powerful online sales machine that is aggressively pushing into the apparel market, bears most of the blame for why so many shoppers are avoiding the usual suspects at the mall. Apparently, shoppers are growing increasingly more comfortable buying clothing—in addition to pretty much everything else—online, and because the majority of American households are now Amazon Prime members they're assured of fast, free shipping on most apparel purchased on the site.
Still, not every brick-and-mortar-based retailer is floundering lately. Here are a handful that have instead been flourishing, at least partly by figuring out ways to provide service, products, and convenience that Amazon hasn't (yet) been able to match.
Read Next: Amazon's Big Private Label Push, and Why Name Brands Matter Less Nowadays
Walmart
Shares of Walmart stock jumped nearly 9% early on Thursday, after the world's largest retailer posted first-quarter results that far surpassed Wall Street's expectations. Same-store sales were up 1%, while analysts anticipated an increase of only 0.5%, according to CNBC. Sales of groceries were particularly strong, USA Today noted, especially in its smaller Neighborhood Market stores—interesting considering that the even smaller Walmart Express store format was killed off entirely earlier this year.
While Amazon is clearly trying to sell more groceries, most recently with the expansion of its own private label foods, most shoppers continue to prefer the convenience and hands-on experience in a local market or grocery store to online outlets for food purchases. And when shoppers head into Walmart for groceries, the increased foot traffic boosts sales of all items—because customers wind up buying a lot more than just food.
Home Depot
Sales of DIY materials and garden supplies continue to rise as Americans put more money into their homes, and Home Depot is one of the retailers realizing the benefits. Based on sustained strong sales, the company's stock is up 17% year over year. In some ways, Home Depot is in a great position due to the fact that shoppers remain fairly reluctant to purchase grass seed, paint, sink faucets, and such online. Yet in addition to solid in-store sales, Home Depot has been able to significantly improve in the e-commerce space, with online sales rising more than 20% in the first quarter.
T.J. Maxx
The company's flagship T.J. Maxx stores do only a sliver of their business online, and TJX's two other big retail brands—Marshall's and HomeGoods—don't even bother selling stuff on the web. Nonetheless, all three are thriving, meaning "the robust growth seen across the company is coming entirely from old-fashioned, brick-and-mortar retailing," as the Washington Post noted.
Read Next: The Simple Reason Jet.com Is Stealing Sales From Amazon, Walmart & Costco
Basically, the three off-price stores are succeeding by doing the one thing Amazon can't—namely, providing an in-person discounted treasure-hunt experience that shoppers can't get enough of. HomeGoods has been doing especially well lately for the same reason that Home Depot is booming: because people are spending more money updating and decorating their homes. And the company is planning on expanding big time, with the goal of increasing its number of stores by a whopping 50%, CNN reported.
American Eagle
While most of the brick-and-mortar apparel industry suffers, American Eagle just posted surprisingly strong results. To some extent, American Eagle has thrived because it has embraced "fast fashion," with quick merchandise turnover in stores to showcase the latest trends.
What's particularly refreshing is that one of the retailer's strongest performers has been its Aerie lingerie line. The "real" brand, which has generated tons of attention due to its refusal to retouch images in ads, boasted a 32% increased in sales in the first quarter of 2016, while analysts had expected a rise of only 15%.
Lowe's
Just as Home Depot is riding high on American consumers' increased spending on their homes, so has its home-improvement rival Lowe's. As Reuters reported, same-store sales surged 7.3% according to the company's most recent quarterly sales report, significantly above the 4.3% growth anticipated by analysts.