The Simple Reason Jet.com Is Stealing Sales From Amazon, Walmart & Costco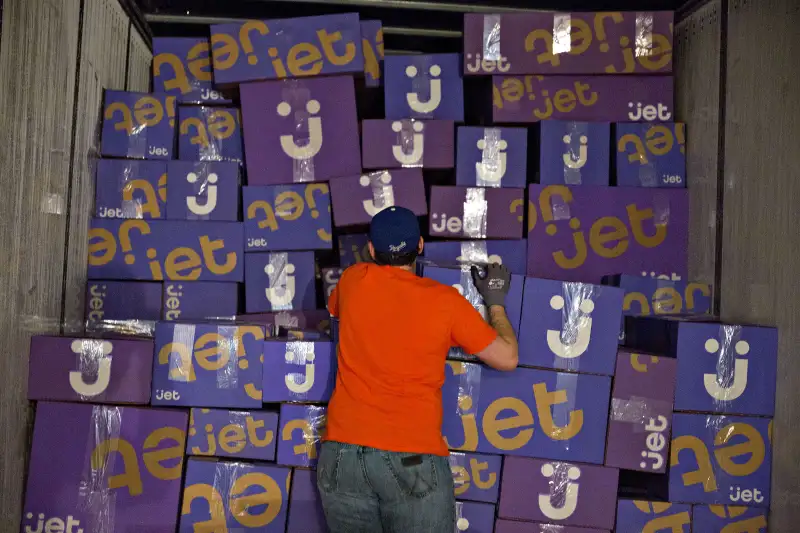 "Your margin is my opportunity." This quote has been a favorite of Amazon's Jeff Bezos for years, summing up the way Amazon does business and wins over customers: Figure out a way to do a job more cheaply and efficiently than the other guy, and you can sell stuff for lower prices and still make profits.
And yet increasingly today this business approach is probably better embodied in the e-commerce space not by Amazon but by the upstart Jet.com. The e-retailer, which launched last summer, is tiny compared with Amazon—heck, pretty much everyone is—yet it's been adding 350,000 customers per month and last week added fresh groceries to the long list of items it sells.
What's attracting customers to Jet.com is the same thing that first drew shoppers to Amazon: low prices. Jet.com originally pursued a strategy of significantly undercutting the competition on a wide range of goods, with a particular focus on standard household purchases like paper towels, soap, toothpaste, and pasta. As Jet.com CEO Marc Lore explained to the Associated Press in a recent interview, however, shoppers seem to be content with prices that are a mere 5% or so cheaper than elsewhere, so long they don't have to worry about hassles like getting charged for speedy shipping or annual subscription fees. So Jet.com eliminated the $50 membership fee it initially planned on charging, and it offers all shoppers free shipping with purchases of $35 and up—both of which compare very favorably to Amazon, which charges $99 annually for Prime membership and the privilege of free two-day shipping on most purchases.
"What we realized was that people didn't value the membership," Lore told the AP. "Basically, the fact that we were already cheaper than everywhere else when you shop smarter was enough to win everybody. The 4 to 5 percent (discount) was enough."
Read Next: Comparing Walmart, Amazon, and Jet.com's Free Delivery Policies
Many studies and unscientific price comparisons indicate that Lore is correct concerning the fact that Jet.com often beats Amazon on price, and that Amazon doesn't quite dominate the low price battle as it once did. Instead, Amazon's success is increasingly relying on the strategy of turning casual shoppers into Prime subscribers. Once they're members, their spending at Amazon tends to increase significantly due to convenience, habit, and the appearance of saving money via competitive (if not the absolute cheapest) prices and free two-day shipping. Prime's other perks, like free Prime Video streaming and unlimited photo storage, serve as incentives for paying subscribers to keep being paying subscribers, even after they realize that other sites may be cheaper than Amazon.
It's through this strategy that Amazon has gained a stranglehold on wealthy Americans in particular, with more than 70% of upper-income households subscribing to Prime. Again, in all likelihood these folks are making far more purchases via Amazon than the average shopper. And Amazon likes this group especially to be frequent customers because of the obvious: They have lots of money to spend.
Based on how phenomenally strong sales have been at Amazon, people don't seem to mind that prices have crept upward. But industry analyses like one done by Retail Dive have been wondering "whether Amazon Prime will stop caring about price" as prices at the site keep rising—and as sites like Jet.com undercut them.
Interestingly, Jet.com's business model flips the Bezo-ism on its head. It's based on the idea that Amazon's profit margin has become Jet.com's opportunity.
"Online, Amazon is the biggest player, and there is no one really close to them," Lore said to the AP. "We think there is room for a very large No. 2 in the space. I would love to get 10 percent share of the trillion dollar market in the next 10 years. That would be amazing."
Read Next: Blame Amazon for the Retail Slump
Jet.com may never become the "Amazon killer" it was hyped as, yet by consistently undercutting the Amazons, Costcos, and Walmarts of the world with 5% cheaper prices, it can win over many more customers and become a very powerful player in retail.
Whether Jet.com can be profitable in the long run using such an aggressive pricing strategy is one of the big unanswered questions in all of this. But for the time being, with Amazon's sales booming and low-price players like Jet.com expanding, one thing is clear: It's all bad news for traditional retail categories such as supermarkets and department stores, which have to figure out a way to compete with these companies.