The Latest Competition Between Walmart vs. Target Is All About Solar Panels, Not Low Prices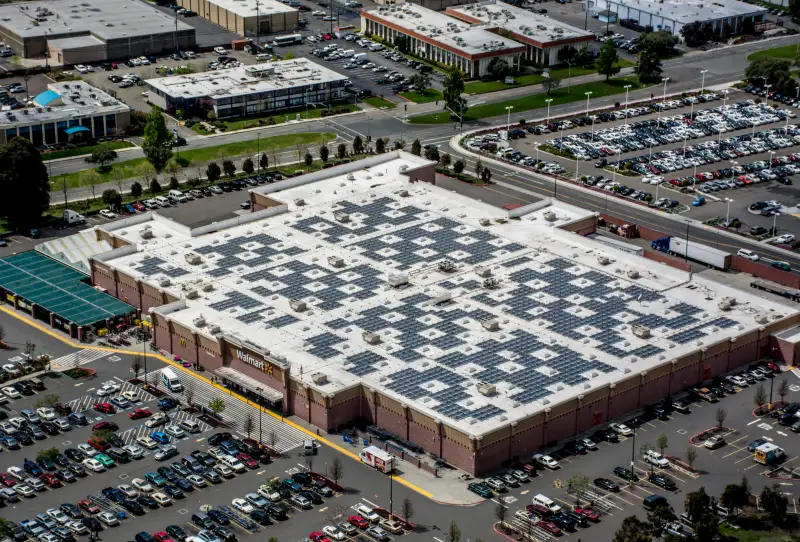 Steve Proehl—Getty Images
Walmart and Target have been competing against each other with low prices and cheap deals on consumer goods for years. Now the big-box retail kings are trying to one-up each other in a race to be the best corporate friend for the environment.
According to The New York Times, Target has set a, well, target to have 25% of its 1,855 stores be powered by renewable energy by the end of the year, with the ultimate goal being to have all of its stores go green. Target slowly began investing in renewable energy in 2011, and in 2015 added solar panels to the roofs of 150 stores. That number has since tripled.
Minneapolis-based Target has already installed solar panels on 500 of its stores. Additionally, Target's massive distribution center in Phoenix, Arizona has a display of solar panels shaped like the Target logo that is so large it can be seen from nearby flights. Target has ranked #1 in on-site solar capacity for three years in a row according to the Solar Energy Industries Association's Solar Means Business report.
Not to be outdone, Walmart has set "a long-term goal of using 100 percent renewable energy," and plans to have 50% of its operations be powered by renewable energy by 2025 through a combination of "on-site installations and purchases from external power providers," the Times reported. Walmart has more of a global presence than the domestic Target, and is investing in renewable energy around the world. For example in India, rooftop solar panels are on 90% of their buildings.
Giant companies such as Target, Walmart, Google, and Apple have become increasingly aggressive about investing in renewable energy and greening up their act, having purchased three times as much power generated from wind and solar panels last year as they did the year before. With government progress on fighting climate change at a standstill in America, consumers (and particularly millennial consumers who cite climate change as one of their chief overriding concerns) want businesses to take the lead in pursuing clean, renewable energy, surveys indicate.
The price of clean energy becoming more affordable too. The nonprofit American Council on Renewable Energy says "that solar power is 90 percent cheaper than it was 10 years ago and wind power is about 70 percent cheaper." This makes it easier for big companies like Target and Walmart to see it is a good investment.