Walt Disney World's Latest Upsell Is Quite a Bold Money Grab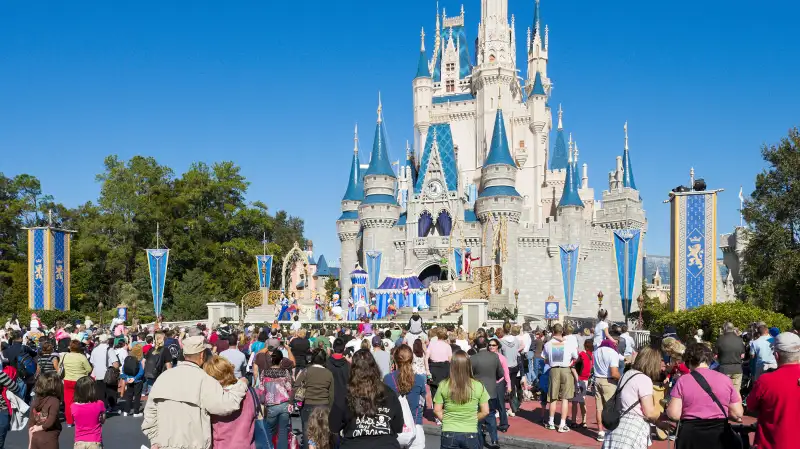 How much would you pay for your family to get breakfast and 75 minutes of access to three rides at Walt Disney World's Magic Kingdom before the park opens to the general public?
If you don't really care about money, or you think such a package is worth, oh, $250 or so—on top of the regular price of park admission—then Disney has a new deal for you.
Disney recently instituted a variable pricing scheme, in which admission to the Magic Kingdom in Orlando, Fla., costs $124 per day for adults and $118 for children ages 3 to 9 on peak visitation days, including all weekends, holiday periods, and the entire time kids are off of school in the summer. The popular "Park Hopper" option, which allows guests to visit more than one park in a day, costs another $40 to $50 per ticket.
And now, as the Orlando Sentinel reported, Disney has rolled out a new up-sell. It's called Disney Early Morning Magic, and it costs an extra $69 per adult (ages 10 and up) and $59 per child. What this buys on select Tuesdays and Saturdays starting April 26 is breakfast at the Pinocchio Village Haus inside the Magic Kingdom, as well as the privilege of hopping on a choice of three Fantasyland rides--The Many Adventures of Winnie the Pooh, Seven Dwarfs Mine Train, and Peter Pan's Flight—starting at 7:45 a.m. The park opens to regular ticketholders starting at 9 a.m., so Early Morning Magic buyers can get an hour and 15 minutes of rides in before the masses arrive.
Read next: Theme Parks Used to Raise Ticket Prices by $5–Now They're up $20 Overnight
Let's do some math. For a family of four (two adults, two kids), regular one-day admission on a peak day costs a total of $484 just for the Magic Kingdom, or $644 for tickets with the Park Hopper option. Add on the Early Morning Magic option ($256 for two adults and two kids), and the grand total comes to $900.
That's for One. Single. Day. And it doesn't cover lunch, dinner, lodging, or souvenirs. It also doesn't include other assorted Disney upsells like Princess tea parties (from $235 per child) or access to rides during special late-night events (another $149).
For the most part, commenters at independent Disney forums like WDW Magic and niche publications such as Theme Park Insider say they are appalled by Disney's Early Morning Magic upsell. Here's one sample:
And another:
These are the thoughts of diehard Disney fans who tend to hit the theme parks for big vacations at least once a year, mind you.
All that said, will people pay up? In all likelihood, many will. They won't pay because they think Early Morning Magic represents a good value. Most likely, they will pay because the regular Disney theme park experience is painfully, frustratingly crowded, and the opportunity to experience the Magic Kingdom with minimal crowds—even just for three rides, even for a mere 75 minutes—is worth almost any price to them.
Read next: Harry Potter Theme Park Tickets at Universal Studios Sell Out for Opening Day
The scenario is similar to the one faced by airline passengers: Many eagerly pay fees for "perks" like decent legroom and seat reservations not because they believe the prices charged by airlines for these amenities are reasonable, but because they want to avoid the uncomfortable alternatives provided with the base price of the product.
This can obviously leave a bad taste in the mouths of customers. It goes without saying that people feel better about paying extra when they cough up more cash to have more fun, rather than to simply avoid pain.