The Story Behind Warren Buffett and Alex Rodriguez's Unlikely Bromance
Money is not a client of any investment adviser featured on this page. The information provided on this page is for educational purposes only and is not intended as investment advice. Money does not offer advisory services.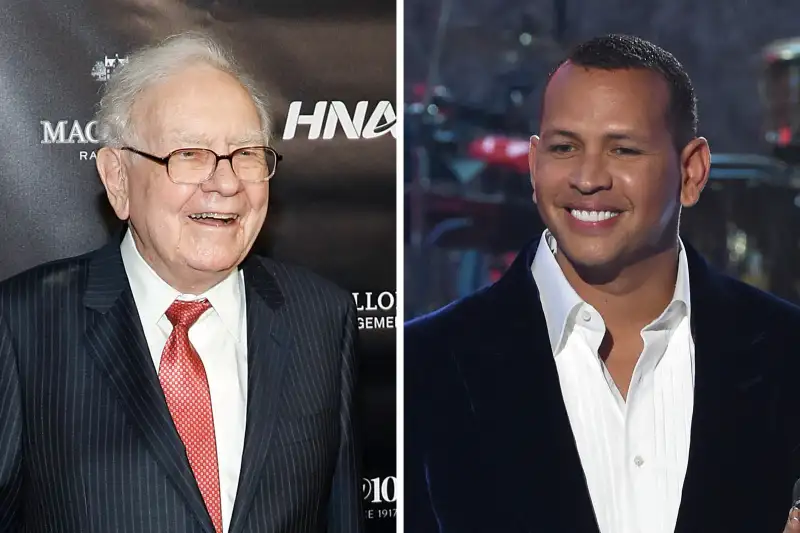 (left) Taylor Hill/FilmMagic—Getty Images; (right) Kevin Winter/One Voice: Somos Live!/Getty Images
At first glance, it's one of the oddest bromances in America: an 87-year-old investing guru from Nebraska and a 42-year-old former Major League Baseball star who has dated Madonna and Jennifer Lopez.
But they both happen to be among the best ever at their positions: Warren Buffett, the longtime chairman of Berkshire Hathaway and regular on the list of the world's richest people; and Alex Rodriguez, the 3-time MVP whom BaseballReference.com ranks as the 16th-best player in history. And yes, they are friends who are very fond of each other.
Rodriguez first interaction with Buffett occurred after the Omaha "oracle" underwrote Rodriguez's disability policy when he signed with the Texas Rangers in 2002 for a record $252 million contract. Rodriguez initially had no idea that Buffett was involved, but when he heard about the episode years later, he reached out to Buffett and asked for a meeting to talk about business, CNBC reported. Buffett agreed and has become a mentor and pal to Rodriguez ever since.
Buffett is clearly a big fan of Rodriguez. He tells Bethany McLean in a new profile of Rodriguez for Vanity Fair that Rodriguez possesses a "money mind," meaning: "He instinctively knows many things about dealing with money that other people never learn and to some extent can't be taught."
"A-Rod would have done very well in business if he had never seen a baseball," Buffett says.
Rodriguez says in the story that the best advice Buffett ever gave him was to use non-recourse debt, instead of bonds that involve personal obligations.
The other lesson was about cash.
"Cash is like oxygen: you need it, but you don't need too much of it," Rodriguez says. "You'd rather have your money in great businesses."
Buffett has also served as a general-life-advice dispenser to Rodriguez as well.
"He said, 'I have two things for you,'" Rodriguez says. "I asked, 'Do you mind if I take out a notebook?' Warren said, 'Go ahead, but you won't need it. Number one: Be the best baseball player you can be. Number two: Always be a gentleman. Be the best guy you can be.' . . . That was simple, but it was so genius."
How big an influence has Buffett been on Rodriguez? GQ recently reported that Rodriguez seems to be taking style tips from Buffett lately, wearing suspenders just like his mentor from Omaha.
Vanity Fair does not estimate Rodriguez's current net worth, but in recent years Forbes put his career earnings at $545 million, or the 16th highest-paid athlete of all time. Presumably, Rodriguez's baseball earnings (and career milestones) would be even higher had he not bee suspended for a season amid allegations of steroid use.
After retiring from baseball, Rodriguez has achieved significant success in the business world. He now oversees an investing firm, called A-Rod Corp., that has holdings in industries including "real estate, sports and wellness, media, and entertainment."
"I don't have your traditional formal education," Rodriguez says in the Vanity Fair story. "Mine comes through reading and passion and grit and collecting a lot of information from my mentors. I've never been afraid to say, 'I don't know. Can you explain that to me?'"