How to Watch Tonight's 'Monday Night Football' 49ers vs. Packers Game Online for Free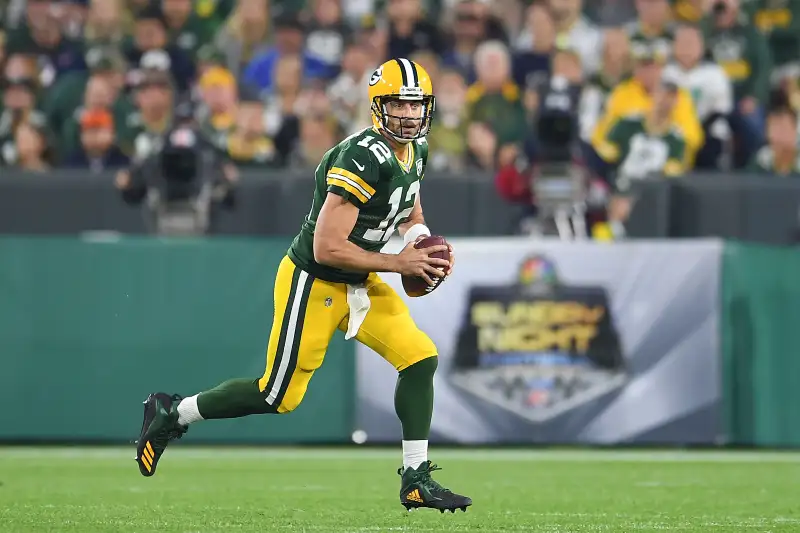 Stacy Revere—Getty Images
Tonight's "Monday Night Football" matchup of the San Francisco 49ers vs. Green Bay Packers is being broadcast on ESPN, with a kickoff scheduled for 8:20 p.m. ET.
NFL fans can watch "Monday Night Football" even if they don't have a cable TV package with ESPN. There are a few different strategies to watch tonight's 49ers vs. Packers game for free — online or on TV. Here's what you need to know.
How to Live Stream "Monday Night Football" for Free
You're in luck if you were hoping to be able to live stream NFL games including "Monday Night Football" on your phone.
Download either the Yahoo Sports app or the NFL app, and you'll be able to live stream many NFL games for free during the 2018 season. Both apps give you free live streams of the Sunday NFL games that are broadcast on Fox and CBS in your area, as well as nationally televised primetime games such as ESPN's "Monday Night Football," NBC's "Sunday Night Football," and Fox and the NFL Network's "Thursday Night Football."
Be warned, though, that the apps only allow free NFL game live streams on your phone. The apps cannot be used for streaming games on a larger screen, such as a tablet, laptop, or connected TV.
How to Watch "Monday Night Football" for Free Online
Streaming a football game on your phone is hardly the optimal viewing experience. If you'd rather watch the Packers vs. 49ers game tonight online for free and don't have cable, consider signing up for a free trial of a streaming TV service that includes ESPN in packages.
Streaming TV services operate similarly to satellite or cable TV packages in that they bundle a group of pay channels together for subscribers. But streaming TV customers generally pay lower monthly bills compared to cable subscribers. And streaming TV customers can watch online channels on any device they want, including tablets and smart TVs.
The streaming TV services Hulu Live, DirecTV Now, Sling TV, PlayStation Vue, and YouTube TV all offer free trials that last about a week for new subscribers, and they all include ESPN with basic packages. New subscribers can register today and watch the 49ers vs. Packers "Monday Night Football" game online for free tonight — and then still have a few more days to try out the service.
Streaming TV package prices start at $25 to $45 per month, after the free trial ends. If you don't want to become a paying subscriber, remember to cancel before the trial period is over. If you miss the deadline, you'll be charged in full for the first month.
Packers vs. 49ers Betting Odds
As for the Green Bay Packers and San Francisco 49ers matchup tonight, the Packers are 9.5-point favorites to win. At 2-2-1, the Packers have not asserted themselves as one of the NFL's best teams this year. Their two-time NFL MVP quarterback Aaron Rodgers has struggled with injuries, and the Packers have looked inconsistent this season, with a shutout 22-0 win over the Buffalo Bills one week and a 23-31 loss to the Detroit Lions the next.
Yet tonight's "Monday Night Football" game is being played in Green Bay at Lambeau Field, and the Packers are undefeated at home so far in 2018. Factor in also that the 49ers are a lowly 1-4 this year, and they have lost their starting quarterback Jimmy Garappolo to a season-ending knee injury, and it's easy to see how the Packers are big favorites to pull off the victory tonight.
We've included affiliate links into this article. Click here to learn what those are.