Here's One Thing Donald Trump and Barack Obama Actually Have in Common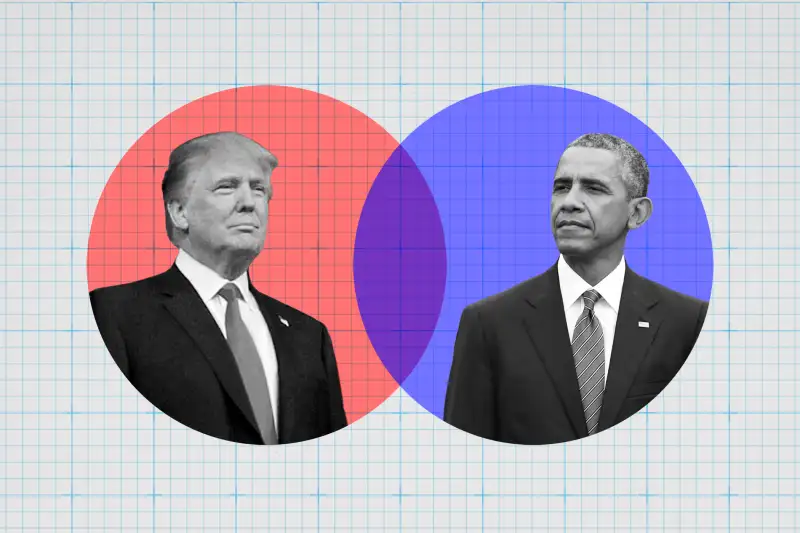 Sarina Finkelstein (photo illustration)—Getty Images (2); Reuters (1)
President Barack Obama and presidential candidate Donald Trump may not have much in common, but here's something they do: Both transferred out of their first colleges.
Obama began his higher-ed career at Occidental College in Los Angeles. He spent two years there, 1979 to 1981, before transferring to Columbia University in New York City, where he graduated in 1983. He seems to have left Occidental with no hard feelings. On the school's website he recalls it as "a wonderful, small liberal arts college," adding that, "those first two years really helped me grow up."
Less well known, and unmentioned in the brief biography on his campaign website, is that Trump, too, was a transfer student. He spent his first two years, 1964 to 1966, at Fordham University in New York, then transferred to the University of Pennsylvania, from which he graduated in 1968. In his book Trump: The Art of the Deal, he explains that, "I began by attending Fordham University in the Bronx, mostly because I wanted to be close to home. I got along very well with the Jesuits who ran the school, but after two years, I decided that as long as I had to be in college, I might as well test myself against the best."
Both men represent a little-discussed trend that continues to this day: Nearly 40% of college students transfer at least once. (For some advice on the subject see "3 Smart Moves for Transferring to Another College.")

In fact, politicians may be helping drive up the percentage. Among the current crop of presidential candidates, Democrat Bernie Sanders transferred from Brooklyn College to the University of Chicago, while Republican Marco Rubio transferred from Tarkio College in Tarkio, Mo., to Santa Fe Community College in Gainesville, Fla., then to the University of Florida, also in Gainesville. Republican Rand Paul took a slightly different route, dropping out of Baylor University in Waco, Texas, after being accepted by the med school at Duke.

NEWSLETTER: COLLEGE_PLANNERSign up for COLLEGE_PLANNER and more View Sample
And it's not just this year's slate of candidates. Former Vice President Dick Cheney transferred from Yale to the University of Wyoming. Former presidential candidate Mitt Romney transferred from Stanford University to Brigham Young.
The all-time transfer champ, however, may be former vice presidential candidate Sarah Palin, who seems to have spent much of her free time in college filling out applications to other colleges. Palin started out at the University of Hawaii at Hilo but quickly switched to Hawaii Pacific University in Honolulu. She then transferred to North Idaho College in Coeur d'Alene and then to the University of Idaho in Moscow. Still not done, she moved on to Matanuska-Susitna College in Palmer, Alaska, before transferring back to the University of Idaho, where she finished (whew!) in 1987.