These 2 Words in Frances McDormand's Oscars Speech Could Actually Change Hollywood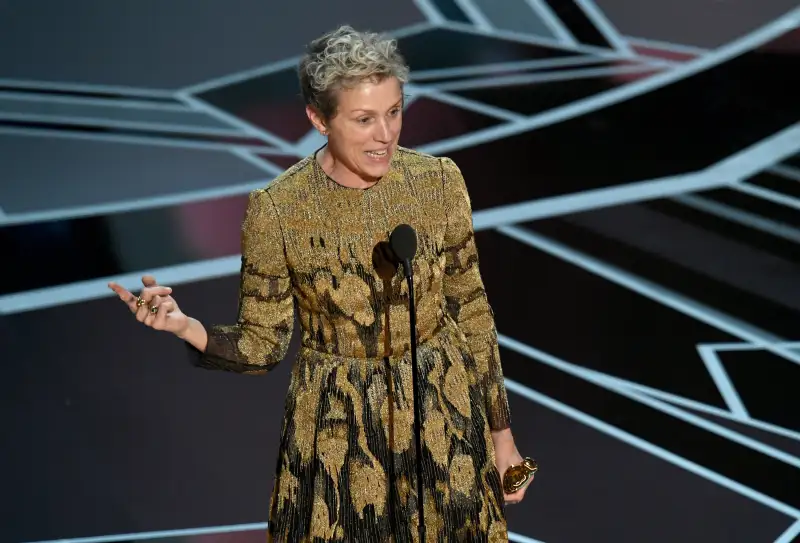 Kevin Winter—Getty Images
Frances McDormand deserves some kind of award for her 2018 Oscars speech.
The 60-year-old actress won for her leading role in Three Billboards Outside Ebbing, Missouri, playing a strong-willed mother of a murdered daughter who responds to local police inaction. The heavy favorite leading up to Sunday's 2018 Oscars, McDormand — a Hollywood veteran who previously won best actress for Fargo in 1997 — had an immediate, commanding presence on the stage.
Gently placing her brand-new statuette on the floor, she asked all female nominees in any category to stand up in solidarity with her following a night where the #MeToo and Time's Up movements took center stage at the 90th annual Academy Awards. She reminded the bigwigs in the room, "We all have stories to tell and projects that need financing." She ended her speech by saying, "I have two words to leave with you tonight. Ladies and gentlemen: inclusion rider."
McDormand is, in all likelihood, the first Oscar winner to end their speech with a reference to contractual law. But what exactly is an "inclusion rider"? That became a viral question on the internet as soon as she walked offstage, with searches about inclusion riders and its meaning spiking more than 5,000% on Google since Sunday night.
The easiest way to think of it is as a call for equality in a given project — a rider is a stipulation in a contract. Musicians, for example, include tour riders in agreements with venues to make sure they're provided with what they need and want. But an inclusion rider in this sense refers to a clause in a contract requiring equal representation for minorities in a production.
The comedian and 2 Broke Girls creator Whitney Cummings chimed in on Twitter, with this explanation and why it's a smart move:
As McDormand suggested, if this became common, it could help turn the tide in Hollywood financing so that projects inclusive of women and people of color get made — and, of course, so that those people get paid.
It's common in any major movie or TV production for especially famous actors to include specific language in their contracts that negotiates for pay, the addition of certain team members, or even (yes) digital retouching of themselves.
Stacy Smith, the founder and director of the University of Southern California's Annenberg Inclusion Initiative at the Annenberg School for Communication and Journalism, explained the matter succinctly in a TED Talk in 2016:
"A-listers, as we all know, can make demands in their contracts, particularly the ones that work on the biggest Hollywood films. What if those A-listers simply added an equity clause or an inclusion rider into their contract? Now, what does that mean? Well, you probably don't know but the typical feature film has about 40 to 45 speaking characters in it. I would argue that only 8 to 10 of those characters are actually relevant to the story. Except maybe Avengers. Right? A few more in Avengers. The remaining 30 or so roles, there's no reason why those minor roles can't match or reflect the demography of where the story is taking place. An equity rider by an A-lister in their contract can stipulate that those roles reflect the world in which we actually live. Now, there's no reason why a network, a studio, or a production company cannot adopt the same contractual language in their negotiation processes."
What Smith is saying is that by using these legal channels, actors can work with studios to ensure that major productions reflect the diversity of the world in which they're rooted, without infringing on the central creative vision of a project. About half of the United States (and the world) is female, according to the 2010 Census. Non-Hispanic whites account for 61.3% of the US population, the Census estimates, while Hispanics account for 17.8%, African-Americans 13.3%, and Asians 5.7%.
Meanwhile, a recent USC report found that, among top 2016 films studied, 31.4% of speaking roles were female. In those same movies, 70.8% of speaking roles were white, 13.6% black, 5.7% Asian, and just 3.1% Hispanic, a dramatic underrepresentation of that group.
If viewers—and, more importantly, studio heads—take McDormand's shoutout seriously, then inclusion riders have the potential to truly change those proportions and the salaries for women and minorities working in Hollywood. Her two words could mean a lot.