What Does Pet Insurance Cover?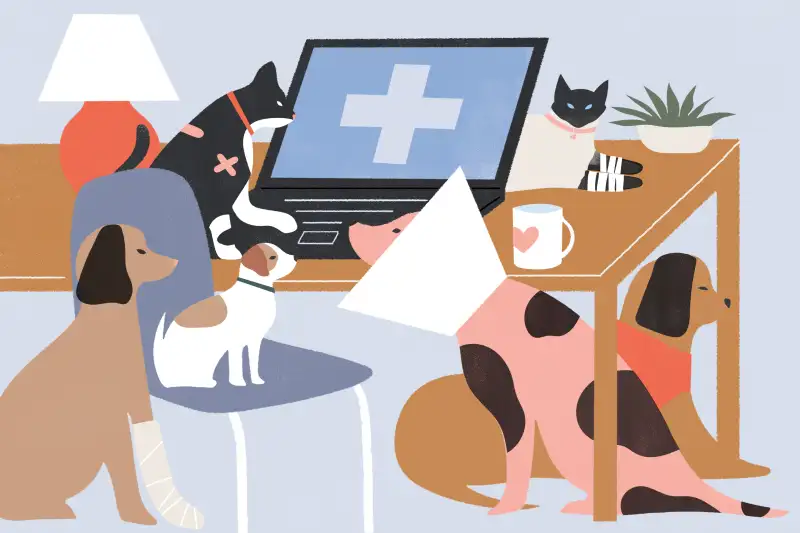 Pet insurance coverage ranges widely by provider and it often covers less than what pet owners would expect. Interest in pet insurance has grown over the past year, but not all pet insurance policies are created equal. Some companies may offer comprehensive policies at competitive prices, while others might only have basic plans, with any extra coverage available as an add-on.
This guide breaks down what is and isn't covered by most pet insurance policies. If you want to know which companies offer the best pet insurance coverage options, check out Money's top pet insurance picks for 2021.
What is Covered by Pet Insurance?
In general, most pet insurance plans will cover unexpected injuries/accidents, unexpected illnesses, surgery, medication, tests/diagnostics, and emergency care and exam fees. However, the details will depend on the type of coverage and the provider you choose.
Pet Insurance Type
What it covers
What it doesn't cover
Accident-Only
-Physical accidents, including poisoning, foreign-body ingestion, cuts and lacerations, fractures, bloat, and surgery.
-Preexisting conditions
-Illnesses
-Intentional injuries
-Routine veterinary care
-May exclude older pets
- May not cover poisoning in certain circumstances
Accident & Illness
-Mild to severe illnesses, including allergies, cancer, asthma, and digestive issues.
-Hospitalization, treatment, surgery costs, and prescription medication.
-Can cover alternative therapies
-Preexisting conditions
-Routine veterinary care, including vaccinations, dental cleaning, among others.
-May exclude pets over a certain age limit.
-Can exclude certain prescription medications.
Wellness
-Exam fees, vaccinations, routine lab work, spay/neuter operations, among others.
-Any pet-related illnesses or accidents
Types of Pet Insurance Coverage
Insurers mix and match their policies into three main coverage areas: accident-only coverage, accident and illness coverage, and wellness coverage. Specific benefits and restrictions within each area differ by company, which is why we cover pet insurance costs separately.
For instance, although all the companies we've researched cover hip dysplasia, some impose an age limit on treatment and will deny coverage to older dogs. Others have no restrictions for the same condition.
1. Accident-only coverage
Pros
More affordable monthly premiums
Only covers injuries from an accident
Best for young, healthy pets unlikely to develop a hereditary condition
Cons
Less coverage
Illnesses and routine care are still out-of-pocket expenses
Lowest reimbursement level for procedures
What is covered by accident-only insurance
Accident-only policies reimburse the cost of treating injuries or illnesses caused by mishaps, whether they're the animal or its owner's fault. You're also covered for certain breed tendencies that can lead to accidents like eating non-food stuff that requires expensive surgery to remove.
While the cost to remedy such behaviors won't subsequently boost your monthly premiums, the track records of certain breeds for self-harm, like their medical pre-dispositions, may affect how much you'll pay to insure them.
What isn't covered by accident-only insurance
Any accident that can be traced back to the pet owner, such as intentional injuries, or any that result from organized sports will not be covered. Likewise, any accident resulting from a pre-existing condition won't be covered either.
Accidents: What Is and Isn't Reimbursed
| | |
| --- | --- |
| Covered | May not be covered |
| Motor-vehicle accidents | Poisoning |
| Ingesting foreign bodies | Intentional harm to the animal |
| Sprains and lacerations | Injuries in organized fights or races |
| Broken Bones | |
| MRIs and x-rays for diagnostic | |
Based on information gathered online by Money staff from the websites of the pet insurance companies, supplemented by research of other types.
Not all policies cover poisoning and flea or tick bites, since that is often the result of owner negligence. Additionally, accident-only policies don't cover routine care, such as vaccinations, spaying, or neutering. As with any type of coverage, consult company policies to check what is and isn't covered.
2. Accident and illness coverage
Pros
Covers injuries from accidents
Covers vet-diagnosed sickness or disease
Good fit for breeds that commonly experience health care problems
May include optional wellness rider for an extra fee
Cons
Monthly premiums are higher than for accident-only coverage
Often won't cover routine care, like check-ups and teeth cleanings
Reimbursements are capped per accident and per illness
What is covered by accident and illness insurance
Although some insurers have illness as its own category, it's far more common to bundle it with accidents. Accident & Illness policies cover a gamut of illnesses, from the minor — such as vomiting and diarrhea, even if due to unidentified causes — to the serious, like cancer. They can also cover all veterinary examination and consultation fees, hospitalization, treatments, surgery costs, and prescription medications.
Unfortunately, some policies omit certain types of prescriptions — such as those for behavioral problems — and put the pet owner on the hook for exam fees. Most of these insurance policies also cover hereditary and congenital conditions that are breed-specific, like torn ligaments. However, this is only true so long as your vet identifies the problem after the policy is in place. If your dog suffered any of these conditions before enrollment, they will be considered "pre-existing" and won't be covered.
Some policies cover specific conditions, but only after a waiting period elapses. For example, an insurance company might pay for surgery to alleviate hip dysplasia, but only if treatment happens at least six months after the policy takes effect.
Other serious illnesses that are usually covered
Virtually every pet accident & illness policy covers cancer and specialty care of any kind. Here are other specific conditions, both chronic and inherited, for dogs and cats that you can typically expect coverage for, although not every insurer may include every single one.
| | |
| --- | --- |
| Dogs | Cats |
| Hepatitis | Polycystic Kidney Disease (PKD) |
| Arthritis | Feline Lower Urinary Tract Disease (FLUTD) |
| Skin allergies | Inflammatory Bowel Disease |
| Hip dysplasia | Hyperthyroidism |
| Elbow dysplasia | Diabetes mellitus |
| Hypothyroidism | Type II diabetes (linked to obesity) |
Based on information gathered online by Money staff from the websites of the pet insurance companies, supplemented by research of other types.
Comprehensive coverage – what is and what isn't included
Comprehensive plans are a variant of regular accident and illness coverage that tack on wellness coverage, sometimes as a separate plan or as an add-on. This can include alternative therapies, and a whole host of additional covered treatments, from behavioral therapy, acupuncture, and chiropractic care, to laser therapy and hydrotherapy. Some plans also cover specific dietary supplements and foods needed to treat your pet's health condition.
The one caveat — despite the name, comprehensive coverage usually won't include routine checkups, vaccinations, or flea and heartworm treatment.
3. Wellness coverage
Pros
Reimburses for preventative (routine) care
Usually zero deductible
Cons
Usually isn't a standalone policy, but an add-on or rider
What is covered by wellness insurance
Often referred to as "preventive care" coverage, wellness coverage is available as an add-on or "rider" to a broader policy or, with some carriers, as a separate stand-alone policy.
Many routine veterinary care procedures are typically included. Other services like grooming and training services can sometimes also be included.
Wellness: What Is and Isn't Reimbursed
| | |
| --- | --- |
| Covered | May not be covered |
| Vaccination | Pregnancy or other breeding/ whelping expenses |
| Flea/tick and heartworm preventatives | Routine anal-gland expression |
| Microchipping | Grooming or training |
| Spay/neutering surgery | |
Based on information gathered online by Money staff from the websites of the pet insurance companies, supplemented by research of other types.
How Does Pet Insurance Work?
Pet health insurance works a bit differently than traditional insurance. Whenever you visit your licensed veterinarian, if the medical expenses are covered by your pet's insurance plan, the pet insurance provider will reimburse you for a percentage agreed via your insurance plan.
As with human health insurance, there is a deductible, typically between $200-$1,000, that you choose, and that you have to pay before the insurance kicks in.
Pre-existing conditions
As a rule, insurers don't cover pre-existing conditions and every insurer has a different definition of what constitutes one. Your pet insurance company may offer you a policy even if your pet has a veterinary diagnosis, it just won't cover you for anything related to a pre-existing or chronic condition.
Waiting periods
The reason for waiting periods is simple: they prevent pet owners from rushing to insure their animals after any diagnosis or symptom pops up. The traditional waiting period for pet insurance policies is 14 days, except for hip dysplasia and other conditions that have their own specific periods.
Policy Limits
Most policies require that you choose certain coverage limits. These include an annual limit on reimbursed expenses, typically within a range of $5,000 to $30,000 — the higher the limit, the higher the premium.
It's rare that a policy pays the entire expense for any care since covered costs are usually a set percentage — typically between 70%, 80%, or 90%. As with many other insurances, you must also select an annual deductible to be paid upfront before reimbursement kicks in. These normally range around $250, $500, or $1,000.
Finally, many insurers have age limits to coverage, meaning after a certain age, coverage will stop on an existing policy. Likewise, some pet insurance companies won't take out new policies on pets over a certain age limit.
Pet Insurance Coverage FAQ
Is pet insurance worth it?
Whether pet insurance is worth it or not ultimately depends on your budget as a pet parent and your pet's health needs. If your pet is young and healthy, pet insurance may not be as necessary — though the older they get, the more expensive to insure. If your pet is older and its breed has a history of illnesses, pet insurance could be a help in the long run. Before committing to a pet insurance policy, always consider its overall costs, and compare it to the potential veterinary bills you might incur. If the difference is considerable, chances are that your pet can benefit from pet insurance.
How much is pet insurance?
The cost of pet insurance will depend on the pet type, age, breed, and gender, in addition to the type of policy, co-pay, deductible, and reimbursement level you prefer. Premiums will also vary depending on where you live. Policy rates for cities with higher costs of living, like New York or California, are prone to cost more. Most companies offer online insurance quotes.
How much is pet insurance?
Pet insurance premiums vary greatly but aren't necessarily expensive. The North American Pet Health Association (NAPHIA) estimates that dog insurance costs an average of $585 per year for accident & illness and $194 for accident-only plans. Cat insurance averages $349.93 for accident & illness and $126.08 for accident-only.
Does pet insurance cover hip dysplasia?
Accident-only plans cover vet bills like toxin ingestion and physical injuries, while illness plans cover illnesses like ear infections, cancer, and hereditary conditions such as hip dysplasia. Embrace, a pet insurance agency, is a great example of a unique policy since its Accident & Illness plan includes protection for pre-existing conditions they consider "curable". The company determined specific curable pre-existing conditions if they don't recur for at least one year.
What is the best affordable pet insurance?
Accident-only and wellness plan policies are the most affordable pet insurance plans, mainly because they are less comprehensive. However, purchasing one of these policies will only cover specific aspects of your pet's health, like fractures and cuts for accident-only, and routine labs for wellness-only plans. If you want a more comprehensive policy, you will have to pay more.