What to Know Before You Choose an ASC for Same-Day Surgery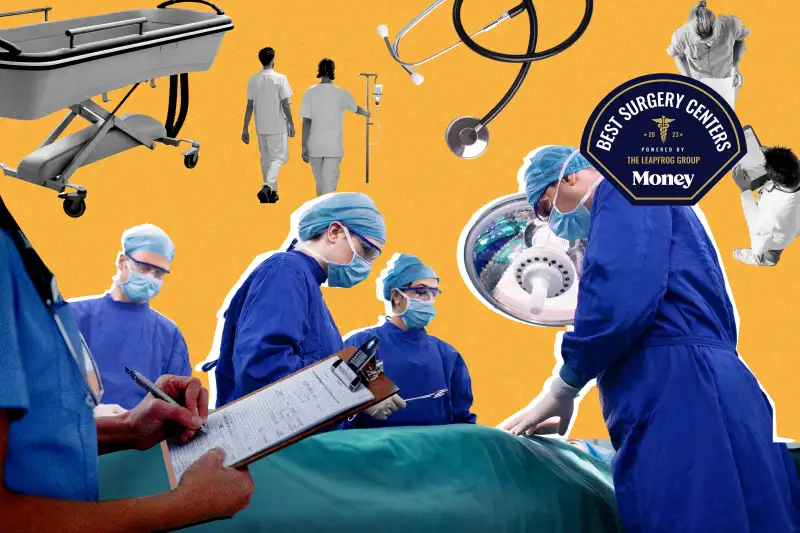 Eddie Lee / Money; Getty Images
If you've ever had an outpatient procedure like a colonoscopy, cataract surgery, or even arthroscopic knee repair, you may already be familiar with ambulatory surgery centers, or ASCs. That's because more than half the surgeries in the U.S. are now outpatient procedures — typically performed either in an ASC or in a hospital outpatient department (HOPD). They are a more cost-effective, safe way to provide high-quality, state of the art care and give patients a better experience without uncomfortable hospital stays for many conditions.
Many patients now have a choice on where to receive elective surgery, but have had limited guidance about important issues like safety, quality, staffing and other key criteria that is easy to understand and use. Our list of Best Hospitals can help you find HOPDs, and our Best Ambulatory Surgery Centers can help you with your decision-making about ASCs. Both provide independent, publicly reported, user-friendly information.
What to know about same-day surgery
ASCs and HOPDs both offer same-day surgery, but differ in things like ownership, insurance reimbursement and the type of specialized care offered, according to the Ambulatory Surgery Center Association (ASCA). Many patients find ASCs, which are stand-alone facilities, provide as good or better quality of care compared with hospital-owned facilities. They can also be a convenient alternative to dealing with hospital administrative processes and the higher cost associated with hospital outpatient departments.
"ASCs have proven to be just as safe as an HOPD and are often more able to custom tailor the experience," said Beth Russell, executive director of the Knoxville Orthopaedic Surgery Center, a freestanding ASC. She pointed out that patients generally pay much less in out-of-pocket costs for the same procedure compared to an HOPD, based on Medicare and other insurance reimbursement.
ASCs specialize in the procedures they perform, so they can concentrate on patient safety and the patient experience, according to the ASCA. And just like hospital outpatient departments, they must adhere to rules and regulations at the local, state and federal level. Most are certified by Medicare, as well as by various independent healthcare rating agencies. Additionally, ASCs are required to maintain a strict sanitary environment: Every ASC must establish and maintain programs and procedures for preventing infections.
Customized care gets high marks from patients
Before choosing any surgery center, patients should ask whether the facility is Medicare certified, accredited and affiliated with the ASCA, and whether credentialed physicians are board certified or board eligible, according to Russell. Additionally, find out how the facility measures up to patient health and standards, including infection rates, and ask about the average length of stay for your procedure, Russell suggested.
The number of ASCs varies widely by state — from about 848 in California to eight in West Virginia — but this trend is growing throughout the U.S., according to the ASCA. Cost-effectiveness, convenience, the ability to tailor technology to fewer specific procedures, more customized care and dedicated surgical teams result in high patient satisfaction.
"Because ASCs specialize in the procedures they perform, they can concentrate on optimizing safety and quality outcomes for patients," according to United HealthCare, one of the largest insurers in the U.S. United HealthCare found in a report that if half of all joint replacements were performed in an ASC instead of a hospital outpatient department, it would mean 500,000 fewer hospitalizations, at a savings of about $3 billion a year.
Staff training, surgical checklists are among top criteria
The list of Best Ambulatory Surgery Centers was compiled from a new survey conducted by The Leapfrog Group. It allows consumers to choose a specialized ambulatory surgery center with properly trained staff and clinicians, one that follows evidence-based guidelines such as use of hand hygiene and surgical checklists, and that offers improved experience for their patients, including top performance on preparation for surgery, recovery and communication.
Additionally, Leapfrog has a policy regarding "Never Events" — medical errors that are so serious they should never happen to patients. Examples include operating on the wrong body part or a transfusion of the wrong type of blood, and performance related to certain surgeries including bariatric surgery and hip replacements. Should one of these events occur, Leapfrog asks ASCs to commit to several basic principles, including waiving all costs related to the event and to follow-up care.
Finding the best cost for surgery in an ASC
Medicare's procedure price lookup tool allows you to comparison shop for common surgeries, including certain orthopedic operations, colonoscopies, endoscopies, dental, eye and other outpatient procedures. Remember that insurance providers, including traditional Medicare and Medicare Advantage plans, may have different coverage eligibility and rules. You may be responsible for certain co-pays, deductibles, or co-insurance, depending on your plan. Check with your insurer to make sure that the hospital outpatient department or ambulatory surgery center is in-network if your plan requires it, and that you obtain any necessary referrals or prior authorizations.
Once you have a general idea of cost, ask your physician whether they use an ASC; then check out Money's list of Best Ambulatory Surgery Centers to make sure you are getting the best quality and care available at the lowest cost.
More From Money:
The Best Hospitals in the U.S. Right Now
Best Hospitals and Surgery Centers for Billing Ethics
An Expert Guide to Hospitals and Saving Money