The Cost of Bariatric Surgery in 2023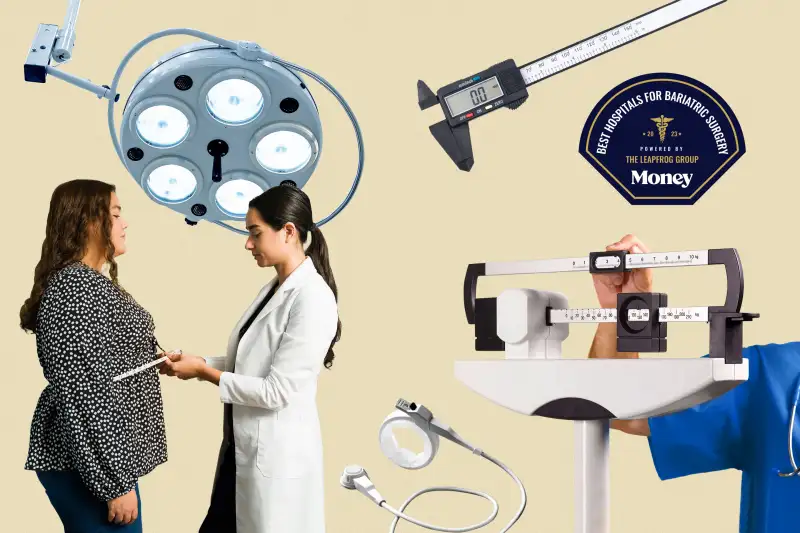 Combatting America's obesity epidemic requires a multifaceted approach. Treatments range from lifestyle, diet and exercise, to medications and bariatric surgery. Currently, more than two in five adults — 42% — are considered obese, meaning their body mass index (BMI) is 30 or higher. Another 9.2% of Americans are severely obese, with a BMI of 40 or above. Rates are even higher for Black and Hispanic adults (49.9% and 45.6% respectively). And there's no one "correct" solution for everyone.
While obese people often encounter social stigma, even more concerning are the effects that excess weight has on your body. Obesity increases the risk of Type 2 diabetes, heart disease and even some cancers. It's also more likely to lead to sleep apnea, high cholesterol and joint pain. Certain infections can be more severe in obese patients, including COVID-19.
Obesity is also an expensive disease — costing around $173 billion in medical expenses in 2019 dollars. Compared to people at a healthy weight, annual medical costs were $1,861 higher for people with obesity.
When diet, exercise, or weight loss drugs haven't worked and excess weight is causing serious health problems, it may be time to consider bariatric surgery, according to Dr. Dana Telem, Chief of General Surgery at Michigan Medicine in Ann Arbor.
"Bariatric surgery is highly effective, yet underutilized for treating people with obesity and obesity-related medical conditions," Telem said. "It's not that people are giving up or didn't try hard enough, or taking the easy way out. This is a durable and definitive treatment for obesity."
About 250,000 bariatric procedures are performed each year in the U.S.
The cost of bariatric surgery
Bariatric surgery costs can vary widely depending on your location, medical needs and insurance, but generally range from around $7,500 to more than $30,000 before insurance. The more complex the surgery, the more expensive it is: A less-risky lap band procedure will cost less, on average, than the more-complicated Biliopancreatic Diversion with Duodenal Switch.
Remember you will likely have coinsurance or a copays for both the surgeon and the hospital and may also be billed for additional services, such as anesthesia or post-operative follow-up care. Make sure you fully understand all of the costs involved before, during, and after the procedure — such as whether hospital room and board costs are included, whether you will need to purchase specialty foods, medical devices or pay for post-operative home care, if needed.
How bariatric surgery works
Bariatric surgery works by changing the structure or position of the stomach and small intestines. These changes affect hunger, how full you feel and how fast your body burns calories. Numerous studies show that surgery results in better weight loss and Type 2 diabetes results compared with non-surgical interventions, regardless of which type of bariatric surgery is performed.
The earlier you do surgery and head off obesity-related diseases, the greater the survival advantage that you're giving yourself, according to Dr. Dana Portenier, Chief of Bariatric Surgery at Duke Health Systems in Raleigh-Durham, North Carolina. "The average 45-year-old that has bariatric surgery has about eight years extra of life when compared to those who don't have surgery," he said. Most insurance will pay for the procedure as long as a patient meets certain criteria.
The American Society for Metabolic and Bariatric Surgery (ASMBS), criteria for surgery include:
adults with BMI ≥35 regardless of other concurrent conditions;
adults with Type 2 diabetes and BMI ≥30
adults with a BMI of 30–34.9 who have not achieved long term weight loss or positive changes in other coexisting health conditions using non-surgical options.
"The biggest question they need to be asking themselves is, 'Am I ready to make the lifestyle and other adjustments that I need to be and remain successful with the surgery?' " said Dr. Telem, a bariatric surgeon and member of Leapfrog's national expert panel.
A big misperception is that this is a magic bullet — you get the surgery done and everything's great, she said. However, it really comes down to whether you are ready to commit and use this tool to be successful in the long term. "If you're only willing to make lifestyle improvements for six weeks, it's not going to work."
Different types of bariatric surgery
Some procedures limit how much you can eat by reducing available space in the stomach; others change how the body absorbs nutrients to a greater or lesser extent.
Surgical options depend on factors such as desired weight loss; probability of weight regain, commitment to pre- and post-operative lifestyle and behavioral changes, coping with eating challenges and the best fit for an individual's health conditions, according to Dr. Portenier.
"It just shouldn't be that you just show up having decided to have surgery next week because your friend had it," he said.
Bariatric surgical options
The lap band: The surgeon inserts an inflatable, adjustable band around the stomach to create a small pouch. Adjustments may be necessary as many as six times a year.
Sleeve gastrectomy is one of several more common procedures, but may result in higher degrees of weight regain, Portenier said. A portion of the stomach is removed, reducing it to about one- fifth of its original size. This impacts both quantity of food ingested and nutritional absorption.
Roux-en-Y Gastric Bypass is among the most popular surgeries performed in the United States. It is most effective in reducing potential cardiac problems like stroke, heart attack and high blood pressure. The surgeon creates a small pouch in the upper section of the stomach, which reduces food intake, then divides the small intestine into two parts. The lower part is attached directly to the smaller stomach pouch, so fewer calories are absorbed. The upper part of the small intestine is reconnected to a new location so that food can be fully digested.
OAGB, or One Anastomosis gastric bypass staples the stomach to create a long pouch. Only a small portion of the stomach is left to receive food. The surgeon then reroutes (bypasses) a large portion of the small intestine. It is a less onerous process than traditional gastric bypass. The procedure is also known as the mini-bypass.
Duodenal switch is somewhat similar to gastric sleeve surgery. However, a second procedure divides the small intestine into two tracts and food bypasses most of the small intestine, reducing the number of calories and nutrients absorbed. It is the least commonly performed procedure, with the highest rate of complications — about 1%. Patients lose and tend to keep off the most weight, but it also requires the most demanding lifestyle and nutritional changes.
Finding the right program
"There are really good surgeons all over the U.S. and that's where The Leapfrog Group survey and accredited Center of Excellence designations can be really helpful, because you know they've gone through a rigorous process," said Dr. Telem.
Find a surgeon who is experienced in performing the type of surgery you're considering, she suggested. Ask whether the practice has a system in place to take care patients over the long term, since this is a lifelong change. And opt for a hospital with ASMBS accreditation, which indicates that they have an in-depth checklist of items that need to be in place to support bariatric patients and that they are meeting all the quality standards. Another tip: look at the total number of these procedures performed at the hospital as well as how by the surgeon. More volume means greater likelihood of quality systems and processes in place to care for bariatric patients, as well as more experience in conducting the specific type of surgery that's right for you.
Many programs now offer a full spectrum of obesity treatment, so don't just look for a practice that wants to operate right away, Portenier recommends. If you do opt for surgery, make sure they take a comprehensive long-term approach with supports and services that will not only help you lose weight, but keep it off over many years.
More from Money:
An Expert Guide to Hospitals and Saving Money
Best Hospitals in America
Best Hospitals for Bariatric Surgery