This is How You Write a Perfect Post-Interview Thank You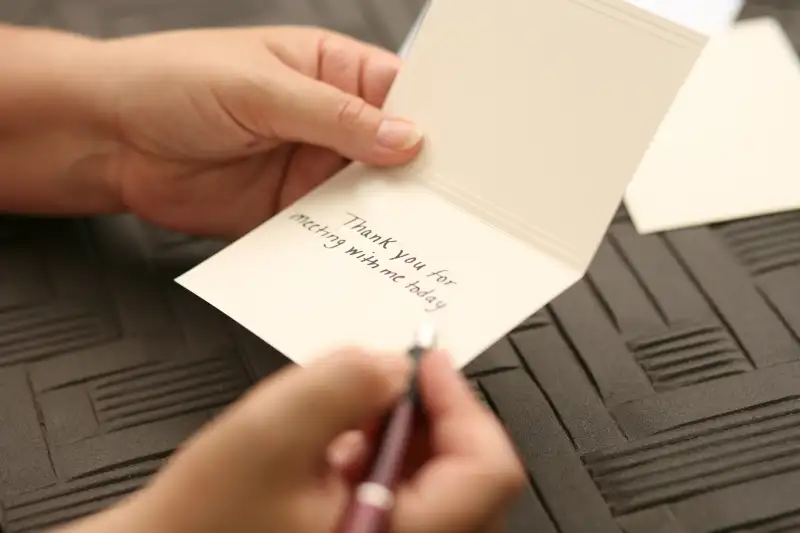 Janice Richard—Getty Images
In my recruiting experience, I came across very few thank you notes—which is a shame.
A thank you note is one more opportunity for candidates to stay front of mind with employers. Sending a timely thank you note shows professional courtesy and follow-through (one hiring manager I worked with knocked out candidates who didn't send a thank you!). Plus, a well-crafted thank you note is a marketing tool that can promote your candidacy after memories of your interview have faded.
The best thank you notes go beyond simple gratitude. Here's what a productive thank you note includes:
1. Personalization by Name and Quote
Don't just write to HR or your immediate hiring contact.
If you have met several people, write an individual letter to each and every interviewer, and quote or paraphrase something specific they said. "Dear Alan, thank you for taking the time to meet with me. I particularly enjoyed hearing about your upcoming project with Really Cool Builders…" If you have a panel interview and meet several people all at once, still write individual notes.
A personalized thank you deepens your relationship with that person and enables you to maintain that relationship separately long after the hiring process plays out.
2. Reiteration of Your Strengths
If a particular interview response seemed to resonate or there was something you discussed that elicited strong interest, build on these items in your thank you note.
You might share another related example or point to additional ideas along the theme of what you discussed. This reminds the interviewer(s) why they liked you. "My experience working with creative at Really Funky Advertising seemed to dovetail exactly with what you need for your designers. In another role at Really Inventive Copy, I supported the creative team…."
3. Shoring Up of Your Weaknesses
At the same time, if there was a hiccup in the interview—a question you stumbled on or a strength you failed to highlight—address this in the thank you.
Let's say you were asked for an example of when you worked with finance and operations, as opposed to creative, and you didn't think of anything or you gave one example but thought of a better one after the fact. Include the additional information in the thank you: "I'm excited that the opportunity gives me the chance to work with creative, finance and operations. At Really Stylish Retail, my role as the planning analyst meant I supported our finance team on forecasting, budgeting and trend analysis. This also involved the operations team as I reviewed inventory levels and logistics…"
4. A Suggestion to Meet Again
When you're introducing new information, include enough so that they realize you have more to say, then invite yourself to a future meeting so they can hear more about it: "As you can see from these additional roles we didn't get to discuss, I have more to share and would love to schedule another meeting to go into detail.…"
In addition to more of your own experience, you might add an idea you have or point to a relevant article and suggest you discuss these further.
One final note: People often ask me whether to send the note via mail or e-mail. I say the latter. E-mail ensures that the note will reach recipients in a timely manner.
If you'd prefer to mail a note—to use nice stationary or to include additional material—I'd still send a quick e-mail first, alluding to the upcoming material then follow up with the hard copy.
Snail mail can take a really long time to wind its way through large corporate entities. One time, a thank you card I'd sent to a mentor arrived months after I'd mailed it—and right before our next scheduled lunch!
Caroline Ceniza-Levine is co-founder of SixFigureStart® career coaching. She has worked with professionals from American Express, Condé Nast, Gilt, Goldman Sachs, Google, McKinsey, and other leading firms. She's also a stand-up comic. This column appears weekly.
Read more from Caroline Ceniza-Levine: