A Chef With Over 350,000 Instagram Followers Says Her Favorite Cheap Recipe Is a 50-Cent Pasta Dish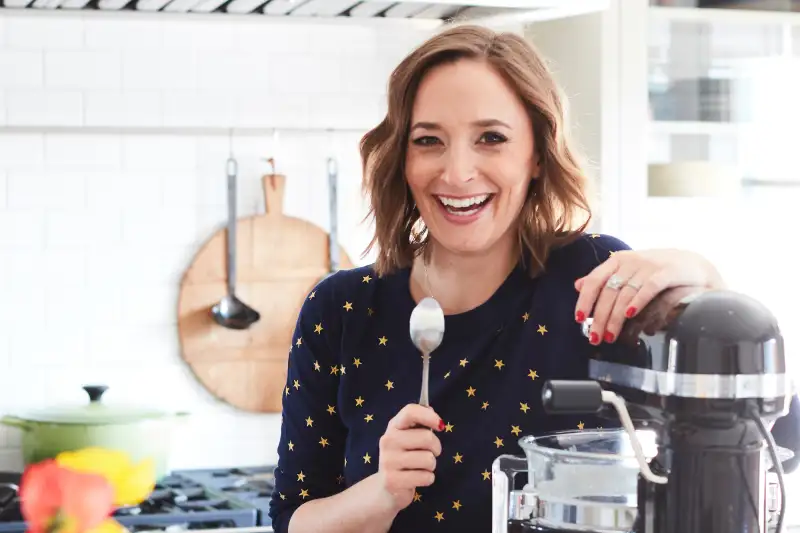 Long before avocado toast became a millennial joke about frivolous spending, it was just a go-to breakfast meal for Gaby Dalkin. The chef and blogger behind the simple, fresh recipes on "What's Gaby Cooking?" loves the fruit so much, she wrote an entire cookbook about it in 2013.
Since then, Dalkin has written a new, broader cookbook, debuted a line of salsas and seasonings for Williams-Sonoma, and eaten approximately 1,825 avocados—one a day.
Money talked to Gaby about the intersection of, well, money and cooking. She suggested ways to budget for a dinner party, gave us tips for buying knives, and revealed her cheap guilty pleasure. The following interview has been edited and condensed for clarity.
How much do you spend on groceries each week?
It ranges, but I would say probably $150 to $175 a week.
And is that for personal consumption or recipe testing?
That includes me and my husband. We eat everything I recipe test, so I would say $20 are allocated to our Kombucha addiction, and the rest of it is recipes that I'm either testing or just whipping up for dinner.
Are there times when a recipe crashes and burns?
(Laughs.) I wish I had a better answer for you, but luckily, I've been doing this for so long that I don't have many crashes and burns any more. Back in the day, when I first started, I'd buy a nice piece of fish and it wouldn't turn out well, and I was like, 'That was a waste of $20. We've gotta suck it up and eat it.'
What's a cheap guilty pleasure?
Something store bought or something I make?
Either.
I make this pasta. It's just spaghetti noodles with a ton of olive oil and 10 cloves of garlic sautéed, and I'll toss it together with red pepper flakes. It probably costs, I don't know, 50 cents per serving.
Matt Armendariz—© Matt Armendariz Photography
Oh, that's easy. I can do that.
Yeah, I call it garlic crack sauce pasta, and it just makes me happy. It's also what I grew up eating.
Do you have any budgeting tips for people who've just started to cook at home?
I think planning your menu is really helpful. I do menu planning every week on my blog, on Sundays. I know exactly what I need, and I'm not going to buy anything that will end up going to waste.
And then, cook in patterns. So let's say, for example, I am making easy shredded Mexican chicken Sunday night for tacos, but then I know I'm going to have leftovers, so I'm going to make enchiladas that next night. Stretching out protein is really helpful when you're budgeting.
If I gave you $20 to plan a last minute dinner party for four people, what would be on the menu?
Taco night, for sure. I'd do some sort of a salad, probably lettuce and tomatoes with some other vegetables, and I'd make a cilantro vinaigrette. I would do ground chicken taco meat and then have lettuce wraps or charred tortillas. And then all the fixings -- I'd grate up some cheese, have different salsas, maybe some sliced avocado.
I actually did a dinner party for 30 a couple weeks ago. I had three hours to prepare, and I was like, 'oh my God, it's taco night.' I did the whole thing for like $75, not including drinks. I felt very financially efficient.
Absolutely. You could spend that much on just a nice cut of meat.
Oh easily. I was a private chef for a number of years, so I've done so many dinner parties and menus in my day. The key to it all is how many people are coming and how much do you want to spend per person? Then design a menu around that.
If I wanted to blow it out, we would have roasted salmon or sea bass. But tacos are a really great way to feed a crowd on a budget, and everyone is still jazzed -- because who doesn't like tacos?
I know a lot of your recipes have avocados. How many do you eat each week?
I probably eat an avocado a day. My first cookbook was all about avocados. I was obsessed back then and I've continued the obsession to this day.
You know, people say millennials spend too much on avocados.
Well I'd tell them to come live with me because I'd change their lives. The thing about avocados is you have to buy them rock hard and let them ripen at home, because otherwise you risk getting an avocado at the store that's too ripe and then up open it up and it's brown and mushy and you've wasted anywhere from 75 cents to $2.
How much should someone spend to stock a pantry from scratch?
That's something we just did because we just moved kitchens. I'd say you need probably $100 worth of pastas and grains, oils and vinegars, salts and seasonings. And then from there you can build out. I found I didn't have any of my Asian sauces or spices for the first couple of weeks, for example, because I hadn't been cooking any kind of food that needed them.
Trader Joe's is incredible, because you can go get pasta for 99 cents and a bag of quinoa for $1.99. Olive oil is $6.99 there. You can get a lot for your buck when you're stocking up.
One of my co-workers is getting married this year and recently did a registry, so he's got all these questions about kitchen utensils. Like: How much do you really need to spend on a good set of knives?
Ah, that's a great question. When you do all those registries they tell you you need a set of like seven knives, which is total B.S. I use two knives, and I'm a professional chef -- I went to culinary school. I probably dropped about $200 on my chef's knife. Then you need a paring knife, which is way less, like $70 or $80. Both of them are Global. They're my favorite knife brand.
That's literally all I use, and a good pair of kitchen scissors.
What are the kitchen tools you've splurged on?
My Vitamix blender is the biggest workhorse in my kitchen. I have two containers to use on top of it because I use it so often. That's my biggest splurge.
And then I have this All-Clad Dutch oven that's the most all-purpose pot that I have. It was kinda expensive. It was $350, but I use it for everything, so I get my use out of it.
You're on a 21-city book tour for What's Gaby Cooking: Everyday California Food. What do you eat when you're on the road?
I always want to explore cities through their food scene. So there's this one restaurant in Pennsylvania, I think it's Philadelphia, that's an incredible Lebanese restaurant that I'm dying to try. So I'll probably splurge and eat all pita bread at night.
But during the day, I try and do smoothies for breakfast, which is my normal routine when I'm home, and a big loaded salad for lunch. I try and do two meals as closely as I can to what I have at home and then I can blow it out on lunch or dinner.
I know you used to be a picky eater. Is there anything you would not eat, even if I paid you, say, $1,000?
I could probably do a lot for a million dollars. (Laughs.) But not a thousand.
I don't eat any kind of offal, like I don't eat intestines or brain or anything weird like that. I just draw the line there.
Is there a dish that's not worth the time or money to do it at home? Something you should just go out for?
Homemade pasta. It's just so messy. I don't want to do that at home. So if there's homemade pasta on a menu, I'll order it.
On the other hand, I almost never order chicken when I'm out, because it's so easy to make chicken at home. The one exception is when I'm in New York, there's a restaurant called Barbuto, and their chicken is life-changing -- so I order the chicken there every time.
Oh! I live in New York City. I'll have to check it out.
You should go. Their chicken and their brussels sprout salad are life. Literally.