Bottle of McDonald's Big Mac Sauce Up for Auction Almost at $100,000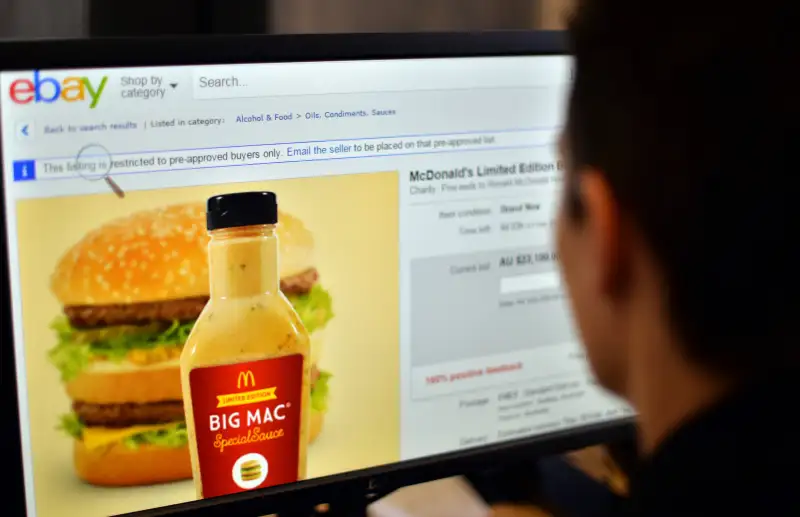 SAEED KHAN—AFP/Getty Images
To celebrate the upcoming 50th birthday of its Big Mac, McDonald's is auctioning off some of its Big Mac sauce. According to its eBay listing, it's the first time Big Mac sauce has been publicly sold in the UK. With supply that scarce, you might think the listing would be at $100 or something.
But apparently there's a massive demand—the price is at £63,900.00 with over a day remaining. That's almost $92,194.
Of course you don't just get the sauce. You get a sauce dispenser, which alarmingly resembles a caulk gun, albeit a shiny one in a slick black box.
The proceeds of this 740 mL bottle of sauce will be going to McDonald's charity and will be sent by refrigerated courier to the winner. As such, it's only available to mainland UK and Northern Ireland residents.
The bottle has approximately 1,850 calories, according to the nutrition facts, and is made up of: water, rapeseed oil, spirit vinegar, gherkin, sugar, modified starch, free range egg yolk, spices (contains mustard), salt, glucose-fructose syrup, xanthan gum, natural flavorings, calcium chloride, paprika extract, potassium sorbate.
This isn't the first time this has been available around the world. According to BurgerBusiness.com, Australians got this stuff for a deal: McDonald's sold bottles for just $4.99 each. This, of course, jumpstarted a second-hand market where bottles were being scalped for $100.