When to Buy Travel Insurance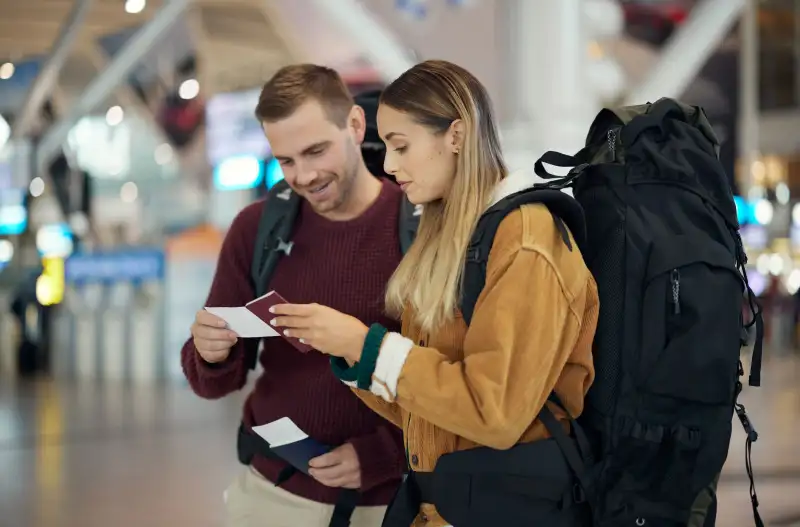 Traveling is costly, and life is full of unknowns that can disrupt your plans without notice. That's why knowing when to buy travel insurance is essential, as it can financially protect you from unforeseen events during a trip. Read on to learn how and when to buy travel insurance.
When can I Buy Travel Insurance?
Travel insurance covers many travel-related issues, primarily things out of your control. For example, you can't control when you get sick or an airline loses your baggage or delays your flights.
However, travel insurance can provide a hedge against these unknown financial risks. Therefore, learning when to buy travel insurance for a trip is of the utmost importance. Below, we'll go over when you can purchase travel insurance.
Before or shortly after booking your trip
Buying travel insurance before booking your trip can be beneficial in certain situations, especially if you have a pre-existing medical condition. This is because most travel insurance companies have associated restrictions. For example, the company might require you to buy travel insurance within two weeks of booking your flights if you have health issues.
Pre-purchasing travel insurance in advance can also eliminate the possibility of missing the deadline to get a refund of your trip deposit if you have a health situation that prevents you from traveling.
However, in most cases, the best time to buy travel insurance is shortly after you book. That way you pay less for your plan and can choose the right types and levels of coverage based on your planned activities and trip costs. You'll also know the terms of your travel arrangements, particularly which travel expenses are refundable and which are not.
Last-minute travels
If you experience a situation that requires last-minute travel, you can still buy travel insurance up to the day before your trip, but it will likely cost more. While coverage options may vary by insurer, you should be able to purchase a travel medical policy and coverage for your luggage and missed connections.
You can also get trip cancellation or interruption coverage up to 24 hours before your trip. Just keep in mind that while you may still be able to purchase a policy if extreme weather starts at your destination, it likely won't cover you against weather-related losses.
Before paying more for last-minute coverage, remember that you may not need travel insurance for every trip. Insurance is more crucial for overseas travel than for domestic trips. Not only are international trips typically more expensive and complicated — therefore more could go wrong and you'd have more to lose — but your regular health insurance policy is also unlikely to cover you abroad.
During a trip
Most travel insurance companies don't issue policies for trips that are already underway. Nevertheless, you can still get coverage through some companies, although exclusions will apply. You can also purchase international medical coverage if you're a U.S. citizen residing abroad for an extended period, typically six or more consecutive months out of the year.
How to Buy Travel Insurance
If you're ready to purchase travel insurance, here are a few tips to help you buy a policy.
Research the best travel insurance companies
Start by researching the best travel insurance companies. Consider the company's reputation with customers, financial stability and years in business to ensure you're making a good investment. You should also compare coverage options and costs to get the best possible deal on the policy you need. Not all travel insurance companies offer all types of coverage and coverage limits and exclusions may also vary by plan.
Decide on the type and level of coverage you need
Once you have a list of different, trusted insurers, determine what kind of coverage you need and how high your coverage limits should be.
Common coverage options include the following:
Emergency medical coverage - Travel medical coverage can reimburse you for emergency medical services you receive while abroad (not routine visits) as well as emergency evacuation and transportation if you need to be taken elsewhere to receive treatment.
Trip interruption or cancellation coverage - Trip cancellation or interruption coverage can reimburse you if you cancel or interrupt your trip for a covered reason, including illness, a death in the family, jury duty, job loss, work-related events and weather events.
Cancel for any reason travel insurance (CFAR) - This option allows you to cancel your trip for any reason other than those listed as covered under your policy and get reimbursed for a portion (generally 50% to 75%) of your trip's prepaid, non-refundable expenses. Most travel insurers only offer this option if you buy the policy within a short window after booking your trip, and other requirements may apply.
Obtain travel insurance quotes
To get travel insurance quotes online, you must first provide some personal and trip details. Some of the information required includes your main travel destination and mode of travel, your travel dates, your age (and the ages of anyone else you're purchasing coverage for), the total cost of your trip and the date of your initial trip deposit or full payment.
Once you provide your personal and trip details, you'll typically be offered several plan options with different levels of coverage. But before choosing a plan, verify whether you already have some form of travel insurance through your credit card so you don't pay for unnecessary coverage.
You should also look into the cancellation and refund policies for the flights and accommodations you've booked. If your airline or hotel offers free cancellations or refundable deposits, you probably don't need trip cancellation coverage.
Compare coverage options and costs
The cost of travel insurance varies by company and the level of coverage (and coverage options) you choose. Exclusions and limitations also vary by policy, so read your plan details carefully.
On average, travel insurance costs between 4% and 8% of the full cost of your trip. Nevertheless, policies can be more expensive than that if you purchase add-ons such as CFAR coverage or coverage for adventure sports and other high-risk activities.
Read through the entire policy
Again, reading your policy details is essential to understand exactly what and how much the plan will cover. For example, most policies won't cover medical and other expenses related to accidents you suffer while participating in high-risk activities like skydiving. Neither do most plans cover cancellations or emergency evacuation due to natural disasters or injuries that result from alcohol or drug abuse.
Your policy document also lists your coverage limits, which is how much the plan will pay toward covered claims. Limits vary by coverage type and may be expressed as percentages or dollar amounts. For example, your emergency medical component may cover up to $200,000 in medical treatment, while your emergency dental component may only cover up to $500.
Purchase the travel insurance plan that works for you
Once you have a few travel insurance quotes, you can compare plans and choose a policy based on your needs and budget. After you make your selection, you can pay for your policy with your credit card or through a third-party payment processor, the option is available. You should then receive copies of your policy documents, including policy details and exclusions, your coverage commencement and termination dates, and details on how to file a claim.
Annual Travel Insurance: What it Is and How it Works
Frequent travelers can avoid the hassle of buying travel insurance coverage before each trip by purchasing an annual policy. Annual travel insurance covers all your trips for a stated period — generally one year. These plans are ideal for people who take multiple trips a year, especially internationally, or frequently make last-minute travel arrangements.
Annual plans are more cost-effective and convenient for avid travelers. To buy a policy, you must provide your travel insurer with some personal details. Older travelers may be offered more limited coverage or have to pay a higher premium, depending on the company.
Travel Insurance FAQ
How early can you buy travel insurance?
You can buy a travel insurance plan up to 180 days before a trip. However, every insurer has different rules and restrictions, and pre-purchasing a policy isn't always the best option.
If you know you'll be traveling several times this year, buying an annual plan may be a more cost-effective option. You can buy a plan now, and it will cover every trip you take for the next year.
If you decide not to buy annual coverage, you should aim to buy your travel insurance within one to two weeks after booking your trip. At that point, you'll know the costs and potential risks and can cover those with the appropriate types and levels of coverage.
How long will a travel insurance policy cover you?
A typical travel insurance plan will cover you for the duration of your insured trip (based on the travel dates you provide the insurer). Annual plans, on the other hand, generally last one year from the date of purchase.
When is it too late to buy travel insurance?
The deadline to buy travel insurance depends on the insurance provider. Most travel insurers only offer single-trip insurance plans up to the departure date, so you must buy the plan before leaving on your flight.
However, a few companies let you buy travel insurance coverage after leaving for a trip. Just remember that coverage may be more expensive and you likely won't be covered against problems you've already encountered. For example, you won't be covered for health emergencies you suffered before purchasing coverage.
Summary of When to Buy Travel Insurance
Travel insurance can help you reduce some risks inherent in traveling, such as medical emergencies and trip cancellations. To decide when to buy travel insurance, consider your upcoming plans, including the activities you have planned and your non-refundable travel expenses.
Travel insurance can be especially helpful for people who travel abroad often or have scheduled an expensive vacation and have a lot of pre-paid, non-refundable expenses. It's also beneficial for people with medical conditions. Conversely, healthy individuals who travel infrequently or generally only travel within the U.S. may not need travel insurance. If you buy a plan, the best time to buy one is right after booking your trip.