Why is Iced Coffee More Expensive than Hot Coffee?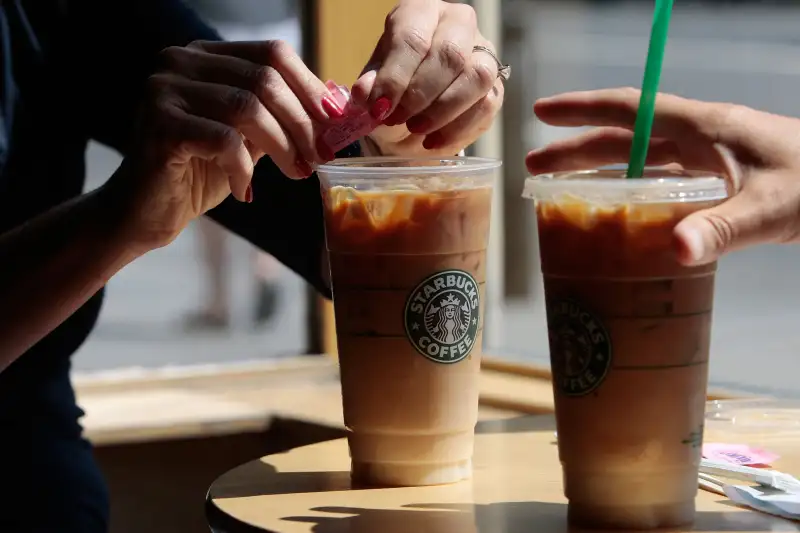 Chris Hondros—Getty Images
It's iced coffee season, and for people who go to coffee shops, that means a bigger coffee budget. Depending on where you get it, iced coffee can be as much 60% more than its hot counterpart.
At Starbucks, a grande cup of Nitro Cold Brew—introduced just this week—averages about $3.60 across the U.S. As CNBC observes, that's more than the company's regular cold brew, which cost $3.25 for a grande when it debuted last year, and over a dollar more than a regular hot dip coffee of the same size.
To many people, this hot/cold differential amounts to severe, actionable injustice because they don't understand why a cold version has to be pricier than its hot equivalent. It's such a contentious issue that an Illinois woman is suing Starbucks for filling her iced coffee cups with too much ice. Although it may seem like cafés are simply refrigerating hot coffee and marking it up unfairly, this isn't what's happening.
It's not easy to tell whether iced coffee is more expensive to make, according to former barista Cale Guthrie Weissman and reporter at Fast Company, but the current trend toward "cold brew"—which is not as simple as just brewing hot and throwing it in the fridge--has made the process extremely expensive.
Cold brew coffee, for the uninitiated, is coffee brewed with cold or room-temperature water instead of hot water. Since the lower temperatures mean extraction is slow, it can take hours to make—often half a day—and requires more coffee. A standard water to coffee ratio might be 17:1. For cold brew, it might be 4.5:1. This coffee, labor, and time simply makes the process more expensive than a quick hot brew, where the water says goodbye to the grounds in a matter of minutes.
What is left after the process is a coffee concentrate that is usually cut down with water. But despite the dilution, Weissman notes the amount of product from a bag of coffee is less than its hot equivalent. And to top it all off, plastic cups cost more than paper cups. Plus straws.
Another reason: Ice. It may be water, but it's not free by any means.
"Ice is a fortune," Michael Pollack of Brooklyn Roasting Company told Gothamist last year. "If you think we go through coffee fast, double that for ice. We actually store ten gallon refrigerator boxes of ice, because our needs are so tremendous."
As many coffee professionals frequently note, cold brew isn't considered "the best" method, despite its popularity. In fact, there are just some compounds in coffee that only hot water can extract. The current gold standard of iced coffee is essentially a pour-over setup with the reservoir already containing ice.
The coffee drips through hot, fully extracting the grounds, and then instantly cools on ice. Care must be taken to make sure the coffee is both cold and not overly weak from dilution, but when the balance is struck it usually wins the blind taste tests.