Why Stocks Could Fall Again as Companies Start Reporting Earnings
Money is not a client of any investment adviser featured on this page. The information provided on this page is for educational purposes only and is not intended as investment advice. Money does not offer advisory services.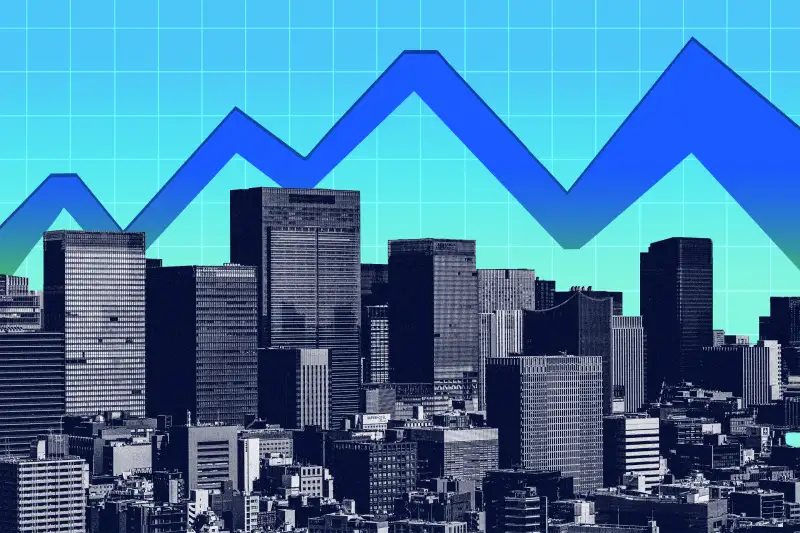 Eddie Lee / Money; Getty Images
Stocks had an unexpectedly strong start in 2023, but investors are bracing for potential losses as major companies begin reporting their earnings results from the first quarter.
Each quarter, public companies are required to release data on their revenue and sales, as well as company-specific metrics, like Netflix's subscriber numbers. Those numbers — and whether or not they meet or miss analysts' expectations — can be major drivers of stock performance.
Experts aren't optimistic heading into this season of reporting. Most are predicting that S&P 500 earnings-per-share between January and March dropped roughly 7% compared to the same period last year, according to Goldman Sachs. That would be the largest drop since 2020.
"The corporate earnings recession is likely upon us," Wells Fargo global equity strategist Chris Haverland wrote in a research note this week.
An "earnings recession" typical refers to when most corporate profits are down from a year earlier for two quarters in a row. Because earnings per share of S&P 500 companies fell 4.6% in the fourth quarter of 2022, according to FactSet, another decline this quarter would put U.S. companies squarely in that territory.
Why strategists predict earnings fell in the first quarter
Shrinking profit margins are the main reason for the expected decline in earnings, says Jeffrey Buchbinder, chief equity strategist for LPL Financial.
"Corporate America is just not as profitable as it was a year ago," he adds.
Inflation is still pushing costs up, and rising interest rates make borrowing money more expensive for businesses. The result is that companies are having to spend more to make a profit — even if revenues are growing. That's bad news for company earnings and, as a result, stock prices and investors.
The biggest declines will come in the healthcare and technology sectors — two industries that saw revenues soar during the pandemic, Buchbinder says.
Recent turmoil in the banking sector means that investors will be paying especially close attention to bank stocks. Citigroup, JPMorgan Chase and Wells Fargo will be among the first banks to report earnings later this week.
Forward guidance drives stock performance
While earnings expectations certainly drive price movements in the stock market, there's another piece of the puzzle: forward guidance. When public companies release their earnings results to shareholders, they also release information about how they expect to perform in the future.
Even if a company beats earnings expectations for the previous quarter, the prospect of negative performance can send stocks falling.
"Guidance probably matters more than actual results," Buchbinder says.
Earnings could recover later this year
The good news for investors is that earnings won't fall forever. In a note to clients last week, strategists from Goldman Sachs suggested that this latest round of earnings could "represent the trough in S&P 500 earnings growth," if analysts' predictions are accurate. The strategists expect earnings to start rising again by the third quarter of this year, and anticipate a whopping 14% earnings growth by the first quarter of 2024.
Brad McMillan, chief investment officer at Commonwealth Financial Network, echoes that view: "The prospects for the rest of the year continue to look positive," he wrote in a blog post last week.
"While we do have headwinds, the current economic slowdown and adjustment in interest rates should put the economy and markets in a better place," McMillan added.
This is one reason financial advisors generally recommend mapping out a long term investing strategy and sticking to it, even during rocky periods in the stock market. That way, investors will be well positioned to take advantage of an eventual recovery.
More from Money:
Will the Stock Market Rally Continue? Here's What to Expect After a Strong First Quarter
Why Analysts Are Predicting Another Stock Market Plunge