Why Wall Street Thinks Trump Can Win
Money is not a client of any investment adviser featured on this page. The information provided on this page is for educational purposes only and is not intended as investment advice. Money does not offer advisory services.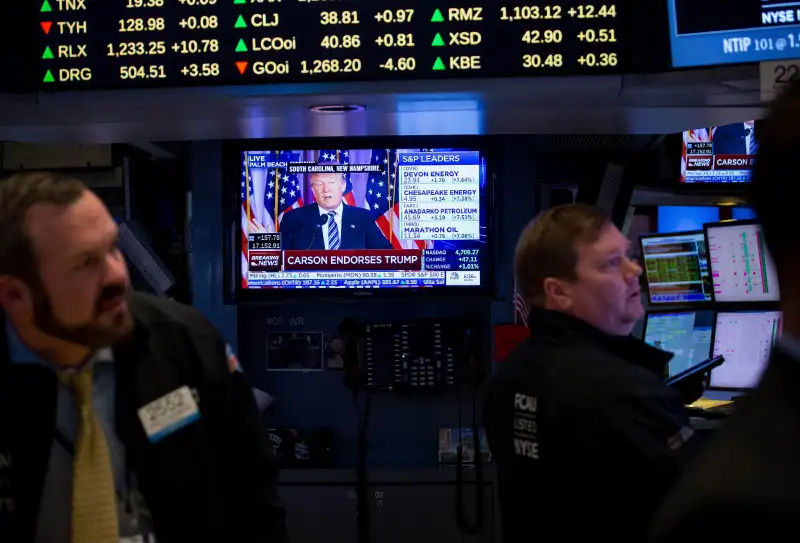 Michael Nagle—Bloomberg via Getty Images
If you look at polls tracking the presidential race — and the forecasting models that rely on them — most say Hillary Clinton is likely to win Tuesday's vote. In fact, one well-respected forecaster is so confident in a Clinton victory that he promises to eat a bug should Donald Trump win more than 240 electoral college votes.
Yet in recent days, something has been bugging investors on Wall Street, who on balance favor Clinton.
And that's the real possibility that Trump can pull off a surprise.
Consider that the S&P 500 index of U.S. stocks has been on a losing streak for the past nine days. This is hardly the type of reaction you'd see if the party currently in power was cruising to an easy win.
The nine-day slide represents the longest slump for Wall Street since the fall of 1980, which happened to coincide with the arrival of another unknown quantity to Washington — Ronald Reagan.
Polls may reflect some general feelings of the electorate, but the stock market represents the point of view of people who have real money on the line. And historically, the latter has been a terrific predictor of election results.
Why are investors so worried?
Look at stock prices just prior to the vote
Whenever the S&P 500 has lost ground in the last three months before a presidential election, the party in power generally loses the White House. The most recent examples took place in 2008, with the election of Barack Obama; in 2000, with George W. Bush's first victory; in 1992, with Bill Clinton's win over George H.W. Bush; and in 1976, with Jimmy Carter's win over Gerald Ford.
In fact, since the end of World War II, this indicator has failed only one time, with Dwight Eisenhower's re-election in 1956.
This year, the S&P 500 has slumped 2.2% from Aug. 1 through October. 31, "implying but not guaranteeing, a Republican victory on November 8," says Sam Stovall, chief investment strategist for CFRA. He adds that a Trump win "could trigger a further decline in prices," due to the greater uncertainty surrounding a potential Trump presidency.
While Clinton is a known quantity in Washington, Trump is a wild card. While he promises to cut taxes aggressively, which the investment community typically favors, he also threatens to start trade wars with major trading partners such as China and Mexico and says he wants to re-negotiate trade deals like the North American Free Trade Agreement that many on Wall Street support.
Look at consumer confidence
Another solid predictor of who will win the presidential election is consumer confidence.
James Stack, editor of the InvesTech Research newsletter, has studied trends in consumer sentiment over the past half century. He found that in presidential election years in which the Conference Board's consumer confidence index rose more than 7 points from January through October, the incumbent party has always retained the White House.
In election years where consumer confidence gained less than 7 points leading up to the vote — or actually fell — the party in power lost the White House in four out of five instances.
Well, between the start of January and end of October this year, the Conference Board's consumer confidence index rose barely 2 points, which bodes well for Trump and poorly for Clinton.
Of course, none of this means that Trump will necessarily win. But it shows that despite what the polls say, there is some historical rationale for Wall Street's sinking feeling.