What Women Should Know About Health Care Under Trump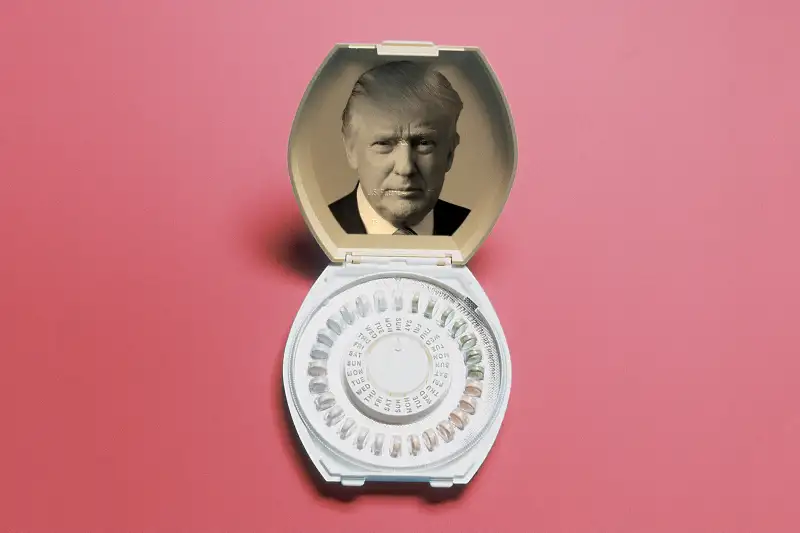 Photo illustration by Sarina Finkelstein for Money; Getty Images (1); Reuters (1)
Soon after the election, many websites and commentators encouraged women to seek out IUDs now before President-elect Donald Trump takes office and repeals the Affordable Care Act, as he has vowed to do (IUDs and other forms of birth control are covered under the current law). But would a Trump presidency necessarily mean that birth control would no longer be covered in full by your health insurance plan?
Much is unknown about what would happen if President-elect Trump were to repeal the Affordable Care Act once he reaches office. Because Republicans do not have the 60-vote supermajority in the Senate necessary to fully repeal the law, they would likely repeal parts via budget reconciliation. This would likely include provisions such as the individual mandate, the employer mandate, and the subsidies that make policies more affordable. More on that here.
But birth control and other aspects of women's health care, including breast pumps, mammograms, newborn care, and screenings for cervical cancer, are considered preventive care, which under Obamacare must be covered at no cost to you. If you receive private health care coverage, i.e., through your employer, "it's not clear that particular provision would be able to be repealed through the budget reconciliation process," says Cynthia Cox, associate director of the Kaiser Family Foundation. "It would more likely need to be part of a full repeal of the law." This also applies to plans purchased through healthcare.gov or directly from an insurer.
In other words, you don't have to stock up on birth control just yet.
Additionally, if you purchase private insurance coverage now for 2017, it is unlikely your benefits will change during the year if the law is repealed. Depending on what happens, they could in 2018. Other services that fall under preventive care include domestic violence screening and counseling, well-woman visits, STI counseling, HIV screening and counseling, and more.
However, if you are on Medicaid, the preventive service coverage rule does directly affect the federal budget, according to Cox. Therefore your birth control coverage could be halted.
Other implications of repealing Obamacare are more clear-cut and would leave many women paying more for care, or having less access.
Read Next: What Happens If Trump Repeals Obamacare?
The Republicans' "Restoring Americans' Healthcare Freedom Reconciliation Act of 2015," which appears to be their framework for repealing parts of the ACA, would also halt Medicaid expansion and defund women's health organizations like Planned Parenthood, through which millions of women access cancer screenings, primary care, STI testings, and birth control, and all other forms of health care (and in the case of Planned Parenthood, abortions).
Additionally, because the GOP's plan would stop funding marketplace subsidies, plans purchased through the exchange would become much more expensive, and some women would likely opt out of health insurance coverage altogether.
It's worth noting that Vox's Sarah Kliff reports birth control coverage could end if Trump encourages his Department of Health and Human Services to redefine preventive care. None of the experts interviewed by Money mentioned this as a possibility.
Again, the timing on all of this is not at all clear. However, it's unlikely that coverage would be taken away overnight. It it more probable that significant changes would occur in 2018.
If the ACA Is Repealed in Its Entirety
If the entire law were repealed, women would incur serious costs. "Without changes in the law and the implementation and enforcement of the Affordable Care Act, women will continue to face unfair and discriminatory practices in the health insurance system," the National Women's Law Center reported in 2012.
It's important to note that a full repeal is unlikely, at least on Day One. "I don't think it's reasonable to assume that that would happen," says Tom Barker, co-chair of Foley Hoag's health care practice and former acting General Counsel of the Department of Health and Human Services. Repealing the entire law would destabilize the entire health care industry, according to Cox, not to mention be politically unpopular.
But, theoretically, if the full law were repealed with no replacement, millions of men and women would lose coverage altogether. Depending on the state, insurers would also be allowed to "gender rate" plans, charging women more than men for insurance, as they did before the passage of the ACA. Maternity services would not have to be covered on the individual marketplace (the Pregnancy Discrimination Act requires that large group plans cover maternity care and would not be impacted, according to Alina Salganicoff, director of Women's Health Policy at the Kaiser Foundation).
Additionally, insurers could stop covering birth control, breast pumps, and other preventive care, which have obvious costs. In a recent study, the Kaiser Family Foundation found that out-of-pocket prescription costs are on the decline, thanks in large part to birth control coverage. Repeal could reverse that trend. And insurers could once again deny coverage based on your having a preexisting condition, including pregnancy.
The ACA also amended the Fair Labor Standards Act to stipulate that employers must give nursing mothers a "reasonable" break time to pump for their breastfeeding child, and that they be given a private room to do so (not including a bathroom).