Hottest, Weirdest, World Cup Collectibles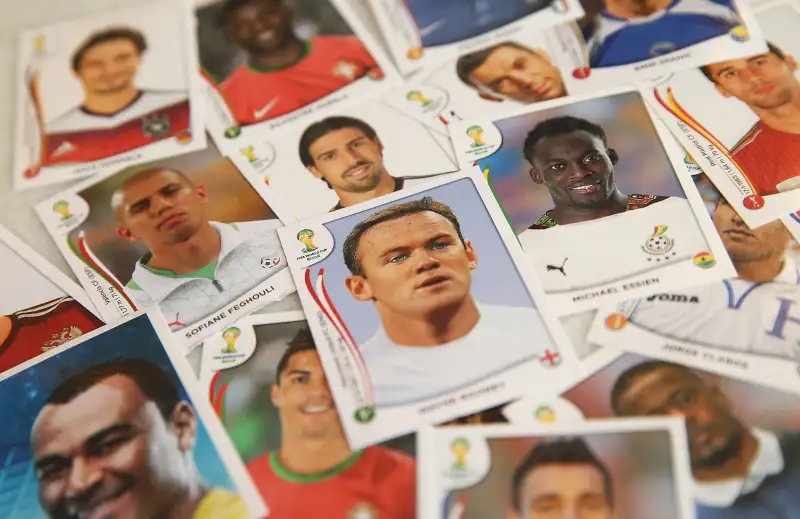 Among the surprising (and not so surprising) World Cup merchandise that's been popular with fans thus far in the tournament, here's a list of the most interesting, best-selling collectibles:
Official Adidas World Cup Soccer Ball
OK, not much surprise here. The official Adidas Brazuca World Cup ball was expected to be a monumental big seller, and it appears that it will be just that. Adidas says that it is on pace to sell more than 14 million Brazuca World Cup balls worldwide this year, priced from $12 to $160 in the U.S. That's one million more balls than the company sold during the last World Cup, in 2010 in South Africa.
Panini World Cup Stickers
The Italian firm Panini has been making and marketing stickers and sticker albums for the World Cup since 1970. There's a sticker featuring every player participating in the tournament, and the 2014 edition has a total of 640 stickers for fans to collect.
And collect they do. A pack of World Cup stickers sells for 99¢, and researchers estimate that a collector would have to buy nearly 900 sticker packs to complete an album on one's own. But given the enhanced sticker-swapping possibilities offered by social media, there have been individuals like a 35-year-old British fan Russ Cockburn, who became the envy of collectors when he completed his book in just six weeks with an outlay of less than $200, thanks to Facebook and Twitter.
In any event, soccer merchandise sellers around the world—including sporting goods stores in U.S. locations ranging from Staten Island, N.Y., to Richmond, Va.,—report strong sales for sticker albums and sticker packs. FIFA also hosts an online sticker album app that's attracted more than 2.5 million users.
Colorful Cleats
As the New York Times Fashion & Style section noted before the World Cup even began, the traditional "color" for cleats (black) has been replaced by pink, purple, bright red, and pastel blue, with some neon stripes and fluorescent tones here and there. Virtually all the players in the soccer apparel world are embracing colorful cleats—namely, Nike, Adidas, and Puma.
The latter has taken the trend to a particularly odd extreme, with the Puma Tricks collection. They're the cleats worn by players such as Italy's Mario Ballotelli, and even in the marketplace's colorful footrace they stand out because one shoe (left) is blue and the other is pink. Nike is pushing a lineup of futuristic red and neon yellow-green cleats, and Adidas is leaning on the zebra pattern and neon colors featured in various Messi Battle Pack shoes, including one pair that retails for $230. That doesn't even include the special shoes just unveiled by Adidas for Lionel Messi's 27th birthday. Only 27 pairs of the neon-rainbow-splotched cleats have been made, and anyone who gets their hand on a set should know that they're worth a lot more than $230.
As for Nike, on Saturday it introduced a special new edition of the Hypervenom Phantom cleats, which are bright gold in color--and have a price tag that suggests they're made of actual gold to boot: $545.
Oh, and will any of these cleats actually, you know, help you play better on the soccer field? Who knows. But it's all but guaranteed that the feet at your local soccer field will be featuring a lot more neon in the near future, if not already.
Germany World Cup Jerseys
Adidas, which is based in Germany, reports that it has already sold 80% to 90% of the World Cup jerseys it had when the tournament began. By the time a champion has been crowned, the sports apparel giant anticipates more than eight million jerseys sold—roughly one-quarter of which will feature the colors of Germany. The company will sell more than two million Germany jerseys, regardless of how the team fares in the rest of the World Cup. "If Germany wins, we still can sell a few more but this will not materially change our results," Adidas CEO Herbert Hainer said this week, according to Reuters.
Flags (of Winning Teams)
A popular flag store in Philadelphia has noticed a direct correlation of country flags sold … when the country's team is about to play a big match, and especially when the team is winning. For instance, the flag of Algeria, which advanced to the second round for the first time ever with a win over Russia, was a hot seller for a while. On the other hand, once-strong sales for the flags of Spain and England have tanked after their teams were eliminated, as have a wide range of jerseys and other merchandise featuring the disappointing squads.
Jerseys (of Hot Players)
Early in the tournament, the top-three best-selling player jerseys, according to U.S. sports apparel specialist Fanatics.com, belonged to Brazil's Neymar, the World Cup's leading scorer; Robin Van Persie, the Dutch forward who scored what most observers say is by far the best goal of the tournament, an epic header against Spain; and the captain of the U.S. national team, Clint Dempsey. Recently, Fanatics.com reports that Mexico's Chicharito has pushed into the site's top three for jersey sales, and sales for gear for Mexico's team in general has spiked 180%. Now that Mexico has been eliminated, presumably sales will decline, though perhaps not as steeply as merchandise featuring Spain and England.
Jerseys (for Dogs)
Among the many kitschy souvenirs being hawked by vendors in Brazil, one store in Sao Paulo said that its surprise hottest seller has been a $14 dog shirt with Brazilian colors and the #10 on the back—the number of Brazil's leading scorer, Neymar.
World Cup Condoms
Global sporting events like the Olympics are associated with increased demand for condoms, so it makes sense that when the sexiest country of all hosts the World Cup, it'd spur on enough condom sales to fill a rainforest. Sure enough, the World Cup-themed Prudence brand condoms, which sell in a three-pack for around $1.39 in Brazilian pharmacies, have been hot sellers. According to Agence France-Presse, the first 850,000 packs of condoms, which were supposed to last three months, sold out in 15 days.
"I think there must be foreigners who will take it home as an inexpensive souvenir," said Daniel Marun, the Brazilian director of DKT International, a family-planning nonprofit that ordered the condoms—which happen to taste like caipirinha, Brazil's famous cocktail.
Whatever condom-selling records are set during the 2014 Brazil World Cup, get ready for it to be broken in two years, when the country hosts the 2016 Summer Olympics.