The 20 Worst Airports to Travel Through During the Holidays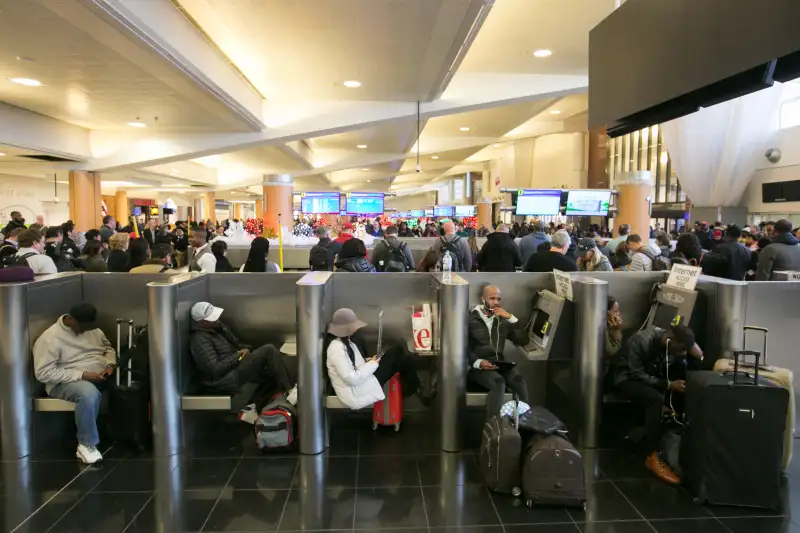 Jessica McGowan—Getty Images
It's a familiar scene around the holidays—thousands of stranded passengers milling around the airport waiting for the next flight out.
While those winter blizzards are certainly a major (if unpredictable) factor in grounding flights, the worst airport for flight delays and cancellations this holiday season is actually Hartsfield-Jackson Atlanta International in Georgia, according to research from InsureMyTrip.com, a travel insurance retailer. And that's even before this week's power outage in Atlanta caused thousands of delays on Sunday.
According to InsureMyTrip, 2017 marks the first time in five years that Chicago O'Hare doesn't top the list of airports with the most flight cancellations. Weather was top reason for cancelled flights in 2017, accounting for more than 45,000 cancelations this year. But ground control and the airlines themselves accounted for more than 30,000 cancelations too, the company found.
Here's a list of the 20 airports with the most flight cancellations thus far in 2017. InsureMyTrip predicts that these airports will also be the most stressful in the days ahead because the likelihood of seeing your flight cancelled during the holidays is so high.
If you are looking to avoid delays and cancellations on your next trip, try to skip the airports above. What if that's impossible? You could at least try to book a direct flight that departs early in the morning, says Charlie Leocha, chairman of the consumer group Travelers United.
"Definitely fly early in the day," Leocha says. This will help lessen the risk of the domino effect, as flight delays pile up as the day wears on.
Your airline can also make a difference. Southwest, for example, is the only airline that does not make customers pay a change or cancellation fee. "For bargain prices they treat customers like full fare fliers when it comes to changes," Leocha says.
It may also help to read up on airlines' on-time statistics for flights, something all U.S. carriers are required to include with their routes. Most airlines have a link to that information on or near the flight number.
If you are worried about a cancelled flight, you can always purchase trip insurance prior to departure too. There's even an app for that. Travel + Leisure recommended Freebird as one of the top apps for 2017. Starting at $19, you can insure your flight, and if it's cancelled or delayed by more than four hours, the app allows you to immediately book on any airline with no fee.
To some extent, though, travel delays and long waits at the airport are inevitable at this time of year. "The holidays see the once-a-year travelers come in droves with their families," Leocha says. "That is what causes the problems—lack of knowledge about flying—more than simply the large number of travelers."