You Actually Can Get an Oscar Without Winning One. How 11 People Managed to Claim Gold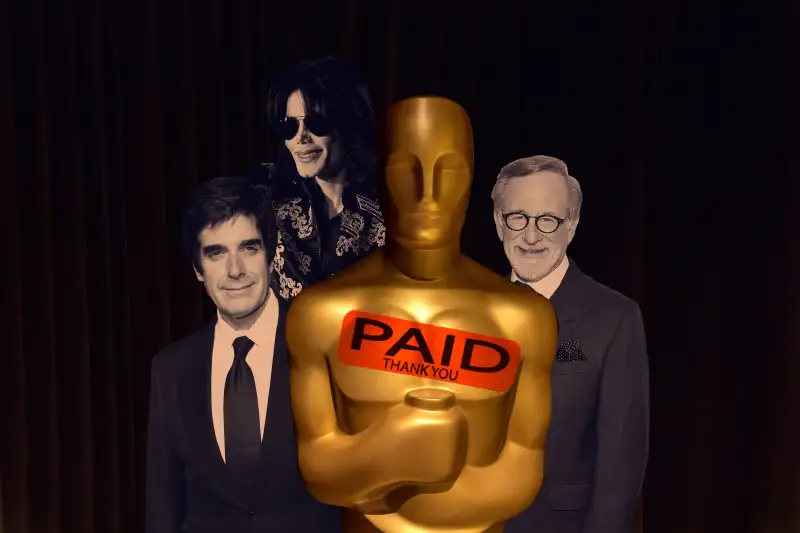 At the 91st Academy Awards this Sunday, the Academy of Motion Picture Arts and Sciences will give out iconic gold Oscar statues in about two dozen categories. Movie stars, composers and directors will leap from their seats, walk to the stage and give teary speeches. They'll take photos and drink and go to post-ceremony parties, likely never even considering the fact that the trophy they're clutching might one day belong to someone else.
That's right — Oscar winners aren't the only ones who have Oscars.
The academy has awarded just over 3,000 awards since its first ceremony nine decades ago, making the gold statues extremely rare. They're also extremely hard to get, especially because the academy came up with regulations in 1950 that explicitly tell winners they "have no rights whatsoever in the Academy copyright or goodwill in the Oscar statuette or in its trademark and service mark registrations." Oscar winners are forbidden from selling or disposing of their trophies unless they've first offered to sell it back to the academy for $1.
And it's not just for the filmmakers — the provision also applies to "the heirs and assigns of Academy Award winners who may acquire a statuette by gift or bequest."
But Oscars do get out, especially the ones that were awarded before the $1 rule was implemented. Forbes reported in 2006 that about 150 statuettes had been on the market at one point or another due to reasons like debt, death and collector interest.
As you watch the 91st Oscars, read the stories of people with Academy Awards they didn't win.
Michael Jackson
In 1999, Jackson paid more than $1.5 million for a 1939 Oscar for Best Picture. The trophy originally belonged to Gone With the Wind producer David O. Selznick and had been valued at about $300,000, according to People. A spokesman for Sotheby's, which brokered the sale, told BBC News at the time that Jackson was fulfilling a "lifelong desire to own that particular object."
The Guardian reported in 2001 that the king of pop was keeping the statue at one of his homes in California. But after Jackson's death in 2009, it went missing.
"The estate does not know where the Gone With the Wind statuette is," Jackson attorney Howard Weitzman told The Hollywood Reporter in 2016. "We would like to have that Oscar because it belongs to Michael's children. I'm hopeful it will turn up at some point."
Beatrice Welles
The daughter of Orson Welles inherited his 1942 Oscar for Citizen Kane after his death, and she wrote to the academy when it disappeared. They gave her a duplicate and asked her to sign the $1 agreement. But when the trophy was found — a cinematographer had it all along — Welles sued to take possession of it, according to the New York Times. Ironically, she then got sued by the academy when she attempted to auction it off.
Welles eventually offloaded the original Oscar. It sold for about $862,000 in 2011.
Leslie Epstein
The son of Philip Epstein, a Casablanca writer, told The Hollywood Reporter in 2016 that he leaves his dad's Oscar in a safe.
David Copperfield
The magician bought Michael Curtiz's 1943 Oscar for Casablanca in 2003. He paid $231,500, NBC News reported. The trophy was resold in 2012.
Steven Spielberg
Spielberg has three Oscars himself, but he's also bought three of them. In 1996, he purchased Clark Gable's 1934 award for $607,500. In 2001 and 2002, respectively, he paid $578,000 and $180,000 to get two of Bette Davis' trophies. He donated all of the statuettes to the academy.
"The Oscar statuette is the most personal recognition of good work our industry can ever bestow, and it strikes me as a sad sign of our times that this icon could be confused with a commercial treasure," Spielberg once said.
Mario Cortesi
Forbes reported in 2006 that a Swiss man named Mario Cortesi had a couple of Oscar statuettes. He didn't want to give any details.
"I bought the Oscars for myself," he told the magazine. "They are not an investment, and they are not on display."
Kevin Spacey
In 2001, Spacey bought an Oscar won by composer George Stoll in 1945. He paid about $157,000 for it and then promptly gave it back to the academy, according to BBC News. (Spacey won two Oscars, in 1996 and 2000. He has since been accused of sexual assault.)
"I respect the academy and the integrity of the awards it presents," Spacey said at the time. "And I feel strongly that Academy Awards should belong to those who have earned them, not those who simply have the financial means to acquire them."
Christopher Riordan
Riordan, an actor, was gifted two of director Lewis Milestone's Oscar trophies. He kept them on a nightstand until 1991, at which point the academy took them back, according to the Los Angeles Times.
Marcheline Bertrand
Angelina Jolie gave her mom her Best Supporting Actress Oscar trophy in 2000. But when Bertrand died in 2007, Jolie couldn't find the trophy.
"Nobody knows where it is at the moment," Jolie told The Telegraph in 2009.
William Kaiser
In 1989, Kaiser paid $21,250 for art director Lyle Wheeler's 1959 Oscar, buying it from a couple who won it in a storage unit auction. Kaiser then returned the trophy to Wheeler in a ceremony at the Hollywood Roosevelt Hotel, where the first-ever Oscars were held, the Los Angeles Times reported. Wheeler died in 1990.
Thieves
Several statuettes stolen from their winners later turned up. That was the case for actress Margaret O'Brien, director Frank Capra and actress Whoopi Goldberg, the last of whom recovered her trophy after it was found in a trashcan.
But there are others that haven't resurfaced. Stolen Academy Awards belonging to actresses Olympia Dukakis and Hattie McDaniel are still missing... for now.