10 Easy Ways to Make Extra Money in Retirement, According to a Business Coach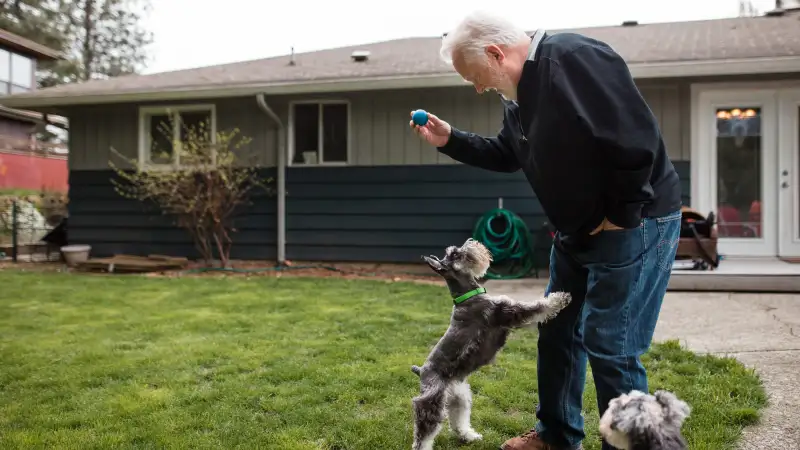 Jonathan Tollefson—courtesy of Rover
Do you want to make additional income in retirement? Or maybe you just want something to do now that you have more time on your hands, and it wouldn't hurt if that something made you extra cash while you're at it.
Either way, the good news is that you've got plenty of options that don't involve dealing with an alarm clock or a commute. And you don't need fancy skills, software, or even a super-fast WiFi connection. I have personally made thousands of dollars using the side-hustles below and have since coached thousands of students to do the same.
First though, a word of caution: If you're already collecting Social Security, the amount you earn from these side jobs can potentially affect how much of your benefits are taxed. If your individual combined income is between $25,000 and $34,000, you may have to pay income tax on up to 50% of your benefits, whereas if your income is more than $34,000, then up to 85% of your benefits may be taxable. (These income thresholds are higher for married people filing jointly.)
Here are a diverse range of options, all of which you can enjoy from the comfort of your own couch!
1. Rent spare rooms
If you still live in the home where you raised your children and now find yourself with a spare room or two, rock that empty nest by renting out those rooms for some extra income.
Sites like Airbnb and HomeAway do the heavy lifting for you by connecting you with interested renters. What's more, you're in control. You decide what price to charge, what dates your room is available, and what rules renters need to follow.
2. Freelance
Freelancing marketplaces like Fiverr let you sell your services. Unsurprisingly, standard freelancing services like graphic design, writing, translation, and video editing are in high demand.
However, if you want to sell more "fun" services, you'll find a market for that, too. Scrolling through Fiverr for offers made in just the past week, here are a few creative services that have done well:
I will record a sports voiceover like the ESPN guy for $20 — 44 sales made already
I will send a xl glitter bomb to your enemies for $5 — 20 sales
I will sing the happy birthday song in my unique style for $5 — 183 sales
3. Pet-sit
What's even better than cute, furry animals? Getting paid to take care of them.
Sites like Rover and Petsitter make connecting with potential clients a breeze. You'll be able to pet-sit, provide doggy day care, dog board, and even house sit while earning up to $1,000 per month.
4. Be a mock juror
If you dreaded jury duty during your corporate days, you're definitely not alone. However, here's a type of jury duty you won't hate.
You can get paid anywhere from $10 to $60 per hour to help lawyers prepare for cases by serving as a juror in online mock-trials through sites like OnlineVerdict. Once you answer a questionnaire with basic demographic and geographic information, you'll be invited to be a mock juror on cases for which you're eligible.
5. Make things and sell them on Etsy
Are you good at knitting, jewelry-making, scrapbooking, crafts, or baking? If so, Etsy might be your chance to monetize that hobby you've spent the past few years or even decades perfecting.
It's is a marketplace similar to eBay except it focuses on vintage and hand-crafted goods. On Etsy, your goods will be shown to over 34 million buyers who spend more than $2.8 billion per year on the platform.
6. Take paid surveys
CrashCrate connects companies looking for feedback on their products and services with people willing to provide that feedback for a price. You can also make money on CrashCrate by taking surveys, referring others, playing games, and watching videos. (Seriously!)
It also has a very active community with over 5 million members, so you'll probably make some new friends along the way too.
7. Become a career coach
Make those corporate years count! Share your hard-earned career advice and interview tips with those at the beginning of their careers. If you don't want to go to the trouble of starting and building your own career coaching business, career guidance platforms like The Muse do the heavy lifting for you by connecting you with potential clients.
8. Offer virtual assistant services
A different way to make those corporate years count is by becoming a virtual assistant. Intuit estimates that almost half the workforce will be self-employed by 2020. As a result, the demand for virtual assistants to support this group will be increasing as well!
Virtual assistant services cover a wide variety of areas, from social media, to administrative support, to customer support, and more. You can get started by joining VA staffing companies such as VirtualAssistants.com and PriorityVa.
9. Join a virtual call center
If you enjoy speaking with people are are missing the social interactions from your corporate days, you might want to look into joining a virtual call center, like LiveOps. Not only do you get to make calls from the comfort of your own home, but you also get to set your own hours and decide how much you want to work to make what you want.
10. Teach English
If none of the freelancing ideas above felt like a good fit for you or you're not sure you have any marketable skills, don't despair.
There's at least one skill you do have, that you probably take for granted, which is guaranteed to sell. It's your ability to speak English. Kukuspeak lets you monetize that skill by connecting you with Chinese students who want to learn English. That's a market of over 1 billion potential customers.
Luisa Zhou is the founder of LuisaZhou.com, which teaches people how to leave their day job and start their own online business using their skills and experiences. She's helped hundreds of students launch businesses that generate anywhere from 30K to 100K in less than a year.