Meet the Oldest Yoga Teacher in the World, a 100-Year-Old Former Actress and Model Who Says 'There's Nothing You Can't Do'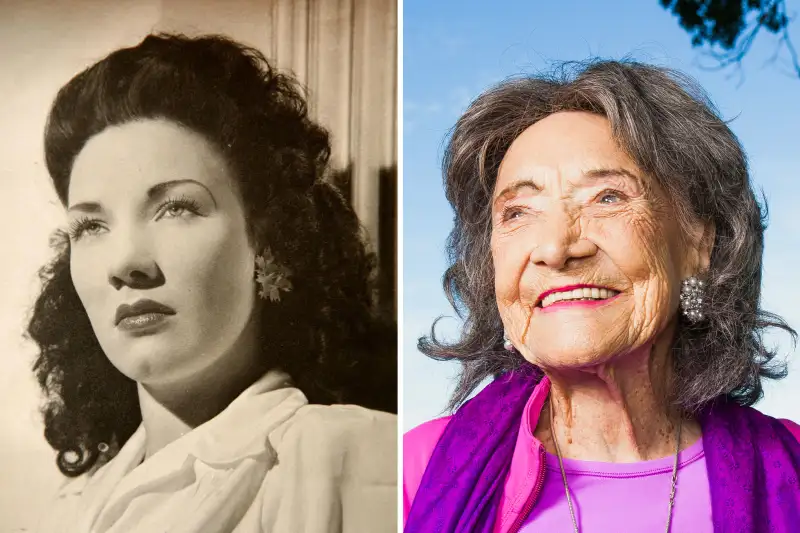 (left) Courtesy of Tao Porchon-Lynch; (right) Photograph by Patrick James Miller for Money
When the fortune cookies arrived after lunch, the 100-year-old yogi cracked one open, her blue eyes twinkling, and read the inscription aloud:
"Age can never hope to win while your heart is young."
Indeed, age has met its match in Tao Porchon-Lynch, who at the century mark is a fierce lover of life, if a dainty eater. (Her lunch consisted of a few bites of a fried crab roll appetizer.)
"I wake up in the morning and I tune into the inner breath, and I tune into the life force that's in everything," says Porchon-Lynch, who is based in White Plains, New York, and opened the Westchester Institute of Yoga in 1982, when she was in her mid-60s.
"I think, 'This is going to be the best day of my life.'"
Sure, her phrases could be mistaken for platitudes. But coming from a centenarian who radiates joy while pretzeled into all manner of poses—including headstands while propped on her elbows—they're the real deal.
If you want to be as carefree as Porchon-Lynch in retirement, you need to do some planning now. Americans are living longer than ever, leading the world in a centenarian boom, according to the Pew Research Center. And while Porchon-Lynch may seem to get by on love and light, a healthy and secure retirement doesn't just happen. Her success comes from her ability to stay active and engaged into her 100s—and working, too.
Here are Porchon-Lynch's secrets for a dream "retirement":
Watch Your Posture
Arijit Sen/Hindustan Times—Getty Images
Porchon-Lynch took up yoga around age nine in her native India, which was colonized by France at the time. After joining the French Resistance in World War II, she moved to Hollywood. There, she worked as a model and actress and also taught yoga to Golden Age Hollywood actresses like Debbie Reynolds and Kathryn Grayson.
These days, she still keeps an active teaching schedule. On a Saturday morning in September, Porchon-Lynch taught a class at the Rubin Museum of Art in New York City. She gave her 60-some students instructions that sounded like an anti-aging mantra: "Don't let your foot sag, don't let your toes sag."
Her own posture, of course, was flawless. Dressed in fuchsia Lycra, with fingers and toenails painted to match, she stood erect and flexed her fingers skyward. "Always know that energy moves upwards—it doesn't move down into your feet," she said.
And she reserved some special advice for the desk jockeys in the class: "All of you who do a lot of desk work, you want to make sure you're in alignment," she said. Don't slouch into your chair.
It wasn't just idle chatter to fill the air in between sun salutations. Musculoskeletal problems such as back pain are a leading cause of disability claims. Yoga strengthens core muscles, which can help alleviate back pain.
Achieve Balance
Eric Liebowitz/NBC—NBCU Photo Bank/Getty Images
Yoga also helps with balance, which can help prevent falls in older adults, says Barbara Resnick, a registered nurse, professor at the University of Maryland School of Nursing, and past president of the American Geriatrics Society. Falls, and the resulting broken bones, can be very debilitating for older adults. Many never recover fully after breaking a hip.
Porchon-Lynch, on the other hand, broke her hip in February. While she apologized to her class for being "a bit one-sided" due to her injury, she had largely recovered. In addition to yoga, Porchon-Lynch is currently training for a competitive ballroom dancing competition—with a partner about 70 years her junior.
Porchon-Lynch's physical strength and agility going into her fall no doubt assisted her recovery, says Resnick, who was not involved in her treatment. "She is very resilient, and that is the key to successful, healthy aging," Resnick says.
Resilience is crucial to a rich retirement; inflating health-care costs can blow a hole in any retiree's budget.
Many older adults give up on exercise, Resnick says, because arthritis and other aches and pains can make it more difficult to move. But it's critical to push past this and carry on, she notes, "If you keep it up, you don't lose it." In addition to its many physical benefits, exercise boosts emotional health, Resnick adds.
Open Your Heart
Don Emmert—AFP/Getty Images
After her class at the Rubin, Porchon-Lynch perched in a chair and received a long line of students eager to take a picture with her. She beamed at each one, never showing fatigue after her 75-minute class. She wanted every student to know that "there is nothing you can't do."
Porchon-Lynch believes that you get back the energy that you put out into the universe. She would seem to be living proof that radiating positivity will bring about a charmed life. Her mantra? "Smile at the world and it will smile back at you."