This 105-Year-Old Martini Lover Has Been Retired for Almost 40 Years. Here Are Her Smartest Money Moves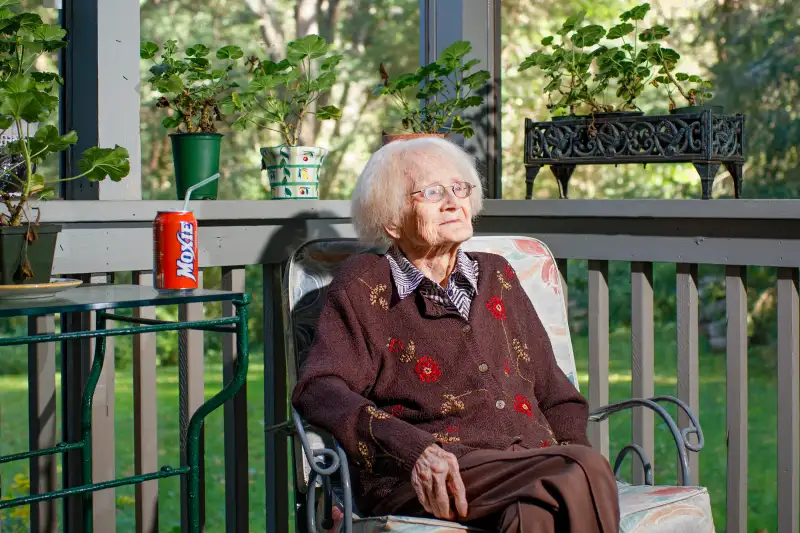 Photograph by Leah Fasten for Money
Patricia Lyons Harrington recalls applying for a credit card in the 1950s, when she was a single, middle-aged school teacher in Boston. The company turned her down, since gender discrimination was as common in credit transactions as in other aspects of society.
More than a decade later, the tide began to turn, and the same company sent her a solicitation. "I said 'no thank you,'" recalls Harrington, 105.
Well past the century mark, Harrington retains the feisty spirit that helped her forge her own career and manage her own money at a time when most of her peers married and stayed home to raise children. Today, the former music teacher lives with her nephew and his wife in a separate apartment in their home in Essex, Mass., where former students still come to visit her.
Harrington enjoyed a martini before dinner — classic, one olive — until she lost her taste for them a few years ago, but she still drinks Moxie. She's consumed New England's signature soda for about 100 years, and the name suits her.
Here are Harrington's secrets to a rich life at age 105:
Start Saving Early
Harrington started socking away quarters as a girl of about 13, storing each one she found in a vase. Today, some people do the same with each $5 bill they come across, and the amounts are roughly equivalent: back in 1931, when Harrington started her habit, a quarter was worth just under $5.
She continued saving quarters into adulthood, and she says the money became her travel fund. She taught and supervised teachers in the Boston public schools until retiring at age 67 and took her trips during school vacations. Favorite European destinations included Malta, Italy, France and England. "I loved it all over there," she says.
Harrington married for the first time at 67, wedding a college beau who had been widowed. Her husband died about six years later, and Harrington moved in with her nephew, George Lyons, his wife, Ann, and their three young daughters. Harrington used $100,000 from her savings to contribute to the down payment on the house Lyons purchased for everyone to share.
Lyons worked with a lawyer to protect his aunt's investment in the house he bought. He'd heard of cases where a co-living arrangement went sour, and he drew up a contract so that Harrington didn't lose her investment if they decided to part ways. "As much as we loved each other dearly, it doesn't always work out," Lyons says.
But it did work out, and the extended family remains happily together 30 years later. "I love the set up," Harrington says.
Secure Guaranteed Income
Harrington has multiple guaranteed income sources to support her longevity. She has a pension from the Boston school system and about $1,700 in Social Security that she collects on her late husband's record. Even though she had her own career, she wasn't eligible for Social Security: certain state and local government employees don't pay Social Security payroll taxes and thus can't collect benefits.
Harrington also has an annuity she recalls buying from a salesman her school headmaster invited to speak to teachers when she was in her late 50s or early 60s. "I decided to buy one then and there," she says.
It was a good move. The deferred annuity started paying Harrington about $195 a month when she was in her 70s. This modest amount has added up over the decades: Lyons estimates that so far his aunt has collected tens of thousands of dollars more than she put into the annuity. Insurance companies can't have too many customers who live well into their 100s, or they'd go out of business. "They've lost money big time on her," Lyons says.
Nurture Your Passion
Harrington got her first music education as a child from the nuns of Notre Dame in the Roxbury neighborhood of Boston. "They were wonderful teachers," she says.
She followed their footsteps and began teaching music herself. "I loved the children and I loved the music," she says.
Harrington volunteered giving tours of Boston Symphony Hall until she was 85. These days, she can no longer see well, but Harrington can still listen to Mozart, Haydn and other favorite composers. She has a Google Home device and enjoys directing it to "play Frank Sinatra."
She participates in the New England Centenarian Study at Boston Medical Center and plans to donate her brain to Alzheimer's research. "It's not because I think I'm so smart," Harrington is quick to say. But she does believe her adaptability has helped her stay sharp at such an advanced age: "I can make changes and not be unhappy."