15 Totally Realistic Ways to Come Up With an Extra $1,000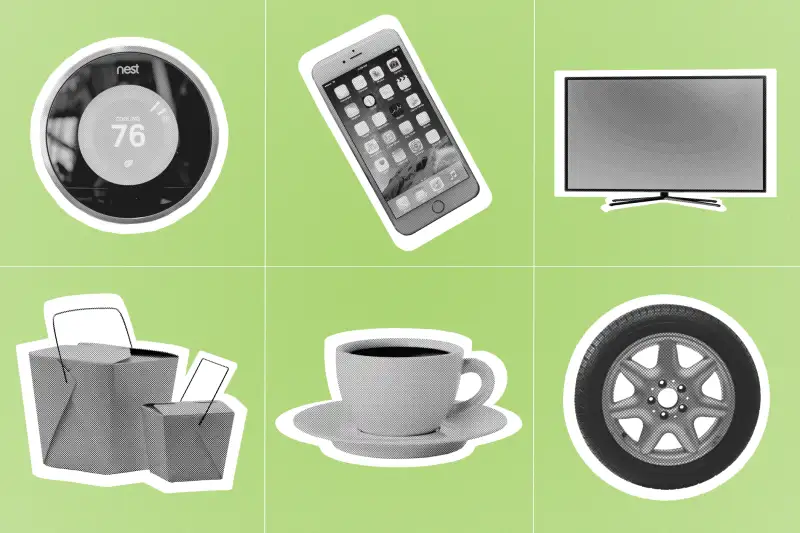 Photo illustration by Money; Getty Images (6)
It's all well and good to talk about what you'd do with an extra $1,000 if you had it, but that money probably isn't going to land in your lap anytime soon—you'll need to take the initiative and find ways to save or earn those dollars.
But that doesn't have to mean a period of extreme austerity—which is good, because denying yourself small pleasures is a good way to lose all resolve. The fact is, many of us can find fairly painless ways to come up with small change which, added together, become real money.
In other words, none of these ideas is necessarily going to net you an extra $1,000—though some of them really might. But that's why we're giving you 15: Pick a few and give it a try. You won't just be getting smarter about your spending—you'll be getting richer.
1. Cut the (cable) cord. Market research firm the NPD Group says the average American family with a pay and premium TV package shells out about $71 a month for the privilege, and that number can climb if you add on extras like high-end set top boxes and movie rentals. NPD also points out that cable services often come as part of a bundle that includes Internet, which brings the total average up to around $109 a month. Fortunately, there are more ways than ever to get your screen time without the killer bill. And you can increasingly mix and match so that you're paying only for what you really want to watch.
For instance, a combination of Hulu Plus with CBS Access and Dish Network's Sling TV will give you major network, basic cable, and sports channels for about $34 a month (another $5 a month for an upgraded Sling subscription will give sports fans even more options). If you're more into movies, or are an HBO junkie, subscriptions to a combination of Netflix (roughly $8 per month, a dollar more for HD streaming), Amazon Prime ($99 annually), and HBO Now ($15 per month).
Read Next: How to Watch All the TV You Want Without Paying for Cable
2. Dial back your data. The price of going over your monthly allotment can be steep, but that shouldn't scare you into paying for more data than you need. Although market researchers at the NPD group say smartphone users consume a bit less than 3GB a month on average, about three in 10 smartphone users are sippers rather than guzzlers, going through a relatively meager 500MB a month. Since a 5GB plan can cost in the neighborhood of $500 or $600 a year on the major carriers (and that's not including the price of phones or voice and text service), it's worth monitoring your and your family's usage for a month or two to gauge how much you really need. To lower your usage, take advantage of Wi-Fi when you have the opportunity. If you're a relatively light user but your kids spend all their time streaming video or games (both are big data hogs), a pooled or family plan might be an option. Then, tools like this interactive guide can help you find a plan, and a price, you can live with.
Read Next: 10 Things You Won't Believe Used to Cost $1,000
3. Stop subscriptions you don't use. Know when to fold 'em, as they say. Stop paying for the gym you're not going to go to and cancel the subscription to the highbrow magazine that just gathers dust on your coffee table. And while you're at it, give your monthly card statements a good once-over. Research company the Aite Group says forgotten-about subscriptions or offers, known in industry buzzspeak as "gray charges," collectively cost us $14.3 billion—an average of $61 per statement. The most common culprit is a free teaser offer that switches to a paid subscription after an initial introductory period, a marketing hook that costs us $6 billion a year.
4. Stop over-insuring your car... If your car is 10 years old or more, canceling collision coverage could save you up to 40%, according to Edmunds.com—a savings of up to $440 a year. The trade-off is worth it because you could easily wind up with a repair bill that's higher than the value of your car. "If your premium… is more than 10% of the value of your vehicle, you may want to consider dropping collision and comprehensive coverage," quote site Epiq Agency advises.
5. …and over-paying for insurance. If you're like three-quarters of drivers, you don't shop around for car insurance when your policy comes up for renewal. Unfortunately, this habit could be costing you. A study conducted by the Texas Office of Public Insurance Counsel finds that drivers who have been with their current insurer for more than eight years could save nearly 20% by shopping around and switching providers. Also, if your credit has improved, you swapped your driving commute for the train or your teenaged kid nailed straight As, you might be eligible for a lower rate.
6. Create a no-spending day. Everyone's heard the same advice about making your coffee at home and brown-bagging your lunch, so we're not going to repeat it; by now, you probably know that skipping the daily $4 espresso drink will save you $1,000 a year. But you don't need to deprive yourself entirely to save money. Instead, pick one day a week where you don't spend anything: no stops at the coffee shop or vending machine, no takeout dinner, no browsing online flash sales at lunchtime or swinging by your local big-box store for "just one thing" on the way home. Even if you never get on the bandwagon of making your own lunch every day, this will make you mindful of the "unconscious" spending you do regularly.
7. Don't go into debt over "unexpected" expenses. According to an American Express survey, nearly half of Americans said unexpected expenses disrupted their budgets in 2014. A similar survey conducted by Bankrate.com finds that nearly two-thirds of Americans dealing with unexpected expenses would have to tap their savings or borrow to make up the shortfall, both of which are potentially pricey alternatives. But if you think about it, a lot of those expenses aren't really so "unexpected"—we just don't do a good job of planning for infrequent-but-inevitable expenses like car repairs or going to the doctor. Just because an expense isn't something you pay for every week or every month doesn't mean it should be excluded from your budget.
Read Next: 5 High-Impact Home Improvements for $1,000 Or Less
8. Have a garage sale. No, it's not going to make you rich, but a weekend yard sale could put some money in your pocket and motivate you to clear out some of your clutter as well. Join forces with your neighbors to draw a bigger crowd and to split costs of any advertising and signs you post. Check with your town first to see if any permitting rules apply; you don't want a violation fine to cut into your hard-earned haul.
9. Get a programmable thermostat. About half of the energy you use at home goes to heating and cooling, the Department of Energy says. By installing a programmable thermostat, you can shave up to 15% off your heating bill, "A savings of as much as 1% for each degree if the setback period is eight hours long," the agency says. And, FYI, the Department of Energy says it's a myth that lowering or raising the temperature while you're not home will make your heating or cooling system have to "work harder" when the thermostat switches to a more comfortable temperature. (What will make your system less efficient is having junk blocking the vents or furnace—another reason to consider having that garage sale.)
10. Use a cash-back credit card. Here's the initial (bad) news: If you revolve a balance, no rewards in the world are going to offset the interest you're paying. If you don't pay off your balance every month, you should seek out the card with the lowest APR, not the best rewards. That said, look for a card that offers you 1% or more on everything and gives bonuses in certain categories where you tend to spend the most. And pay attention: If the issuer makes you sign up for monthly or quarterly bonus savings, set yourself a reminder and make sure you do just that so you don't lose the chance to max out your rewards.
11. Switch to takeout. Eating out can easily be a budget-buster, but there are ways to trim the fat, so to speak, without doing the cooking yourself. One of the easiest is to order takeout rather than dine in. Your savings obviously will vary depending on how you tend to spend, but you'll eliminate the 15% to 20% you would have spent on a tip and avoid paying a huge markup for beverages. Plus, one bonus that's good for your wallet and your waistline: You won't be there for a waiter to ask, "Can I offer you dessert?"
12. Keep your tires inflated. A tire gauge costs a few bucks, but it might be the best vehicular investment you can make. A study by Edmunds.com found that properly inflated tires will save most of us about $112 a year, although if your tires were seriously deflated, you could save more than $800 a year. Properly inflated tires improve your gas mileage and prevent your tires from premature wear. Read your owner's manual to get the recommended pressure. Check the pressure about once a month to stay ahead of any gradual losses, and don't rely on your car's automatic tire pressure sensors; they're not finely calibrated enough to catch small decreases that can add up to big losses.
13. Skip bottled water. The American Water Works Association says the average cost for a gallon of tap water is about half a penny. Compare that to the $1.21 average cost the International Bottled Water Association says you'll pay for a gallon of bottled water—and keep in mind, if you're buying those handy lunch box sizes or bottles with sport-tops, your per-gallon cost is significantly higher. Invest in a water filter and kick the bottle habit.
14. Sell your old phones. Instead of letting your old handset languish in a drawer after you upgrade, why not sell it? Big-box and electronics stores, as well as some cellular carriers, run trade-in programs, and sites like Gazelle, Glyde, and NextWorth function as virtual bazaars for secondhand phones. It's important to shop around, since offering prices can vary, and you'll score a better offer if your phone is in tip-top condition with the original accessories.
Want to save even more? Use sites like these the next time you need to replace a phone for yourself or a family member, or if you want to avoid being locked into a pricey contract. If you're willing to settle for an older model, such as the iPhone 5c, you could pay less than half what you would for a new handset.
15. Go vegetarian one day a week. Or at least skip the steak. Beef prices have been on a tear lately and this is one "bull market" that's expected to stick around for a while. "Retail beef prices continue to hold at record levels," the U.S.D.A.'s Economic Research Service says. In June, the average retail price for a pound of choice-grade beef was $6.11. Going veggie won't be a silver bullet for your budget—fresh produce can be expensive, and egg prices have shot up lately as a result of bird flu—but swapping out animal protein for much cheaper plant-based options like beans can be a simple and tasty way to lower your grocery bill.