Hooray for 2016! There's a Good Chance You Will Get a Fat Raise This Year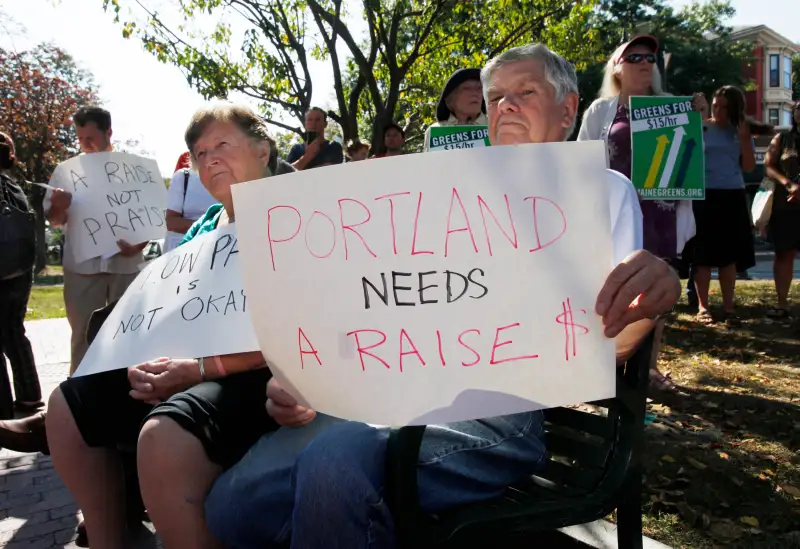 Page, Joel—Portland Press Herald/Getty
Since the Great Recession, wage growth has remained unimpressive to economists, and downright depressing to workers trying to get by. But according to some experts, 2016 should be different: Multiple factors point to the likelihood of significant wage growth this year.
Unemployment levels have been dropping, and the economy is doing well enough that the Federal Reserve has actually raised interest rates—for the first time since the iPhone came out—despite there not being any inflation to fight. The recovery from the worst recession since the Great Depression was long and hard, but it hasn't been in vain.
"We're at a turning point," Moody's chief economist Mark Zandi told the Minneapolis Star Tribune. "I think it'll be a breakout year [in 2016] for wage growth."
Read Next: How to Get the Raise You Deserve
Payroll companies, Federal Reserve researchers, and analytics companies like Moody's have been reporting wage growth, according to the Star Tribune, with average pay for full-timers going up 4.1% between the third and fourth quarters of 2015. This is twice what the BLS reported, which has data that gets moderated by new and part-timers.
Though jobs numbers and wage numbers are up, not everyone is so optimistic. In the same Star Tribune piece, Joe Biden's former chief economist echoed Thomas Piketty's notorious concerns that the labor force's share of GDP has been dropping for decades and that there's a larger pool of unemployed workers, all factors that could mute wage growth.
And, of course, it's hard to ignore the fact that the U.S. is six years into the recovery, and economic cycles since 1945 have averaged around seven years. As JP Morgan predicted recently, there's probably a recession coming.