5 Crazy Super Bowl Bets That Have Nothing to Do With Football — and How Much They'd Pay Out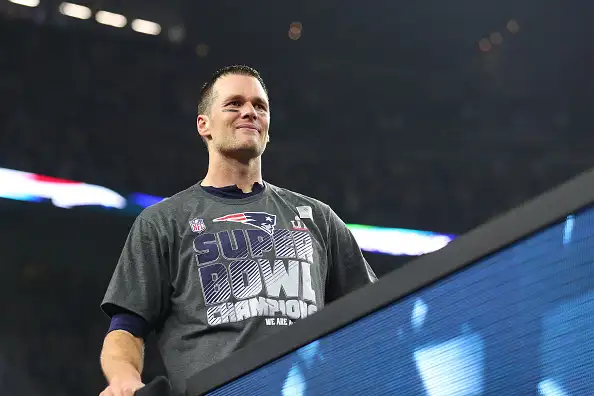 Tom Pennington/Getty Images
So maybe you don't care how many touchdowns Tom Brady throws, who wins the game MVP, or how many points the New England Patriots and Philadelphia Eagles will combine to score at Super Bowl LII this Sunday.
Thanks to the increasingly endless stream of "prop bets" — bets related to specific occurrences connected to the game ranging from who will score the first touchdown to what the coaches will wear — you don't need to be a football expert (or even fan) to financially invest in the festivities.
Props are nothing new, and there are hundreds of remarkably specific bets covering nearly every possible in-game development, along with plenty of cross-sports options. Nearly $4.5 billion will be (legally) bet on the event, and multiple sportsbooks cumulatively offer nearly 1,000 exotic wagers — from the oddly specific to the utterly absurd. And it's relatively easy to make a prop bet — various online sportsbooks offer their own slate of options, and of course you can always apply them to your own Super Bowl gathering.
Some prop bets have even become party staples — the first commercial (Bud and Bud Light are the favorites), the duration of the National Anthem (over/under: 2 minutes for P!nk), the pregame coin toss (tails does, in fact, fail), and the color of Gatorade to be dumped on the victorious coach (orange is favored at +125).
But here are a few other whacky wagers specific to the 2018 big game, according to Bovada, the popular online sportsbook that offers thousands of prop bets.
Will P!NK be airborne for the National Anthem?
Current Odds: Yes: 5/2 No: 1/4
We've seen P!NK sing from the skies before, but doing so while performing the recently politicized pregame ritual could be especially dramatic.
Speaking of P!NK, those interested in Super Bowl fashion choices could be in luck. For one, you can bet on the color of her hair. P!NK hails from Pennsylvania, so she could be pulling for the Eagles, making the "green" option particularly enticing at 10-1 (she was blond at the Grammys, for what it's worth).
You can also bet on the color of Bill Belichick's hoodie (if he decides to don his signature look), with current odds favoring gray at +120.
How will Justin Timberlake enter the arena?
Parachute at 50/1 doesn't seem that insane.
Zipline: 2/1
Car: 5/1
Motorcycle: 7/1
Jet pack: 15/1
Dog sled: 20/1
Parachute: 50/1
Field (anything else): 3/1
What will be Justin Timberlake's first song?
"Filthy" seems like a solid dark horse choice, considering his performance is a massive promotion for his upcoming album.
"Can't Stop the Feeling": +150
"SexyBack": +175
Field (any other song): +200
"Rock Your Body": +400
"Cry Me a River": +500
"Mirrors": +550
"Filthy": +750
"True Colors": +800
"Love Never Felt So Good": +900
"What Goes Around…Comes Around": +1000
"Senorita": +1250
"Suit & Tie": +1500
Who will be Justin Timberlake's guest during the half-time show?
An 'NSYNC reunion would certainly set the Internet ablaze, but Joey Fatone steadfastly denied the possibility.
T.I: 2/1
Jay-Z: 5/1 (He previously declined the halftime gig)
Beyonce: 6/1
Jimmy Fallon: 6/1
Timbaland: 7/1
Nelly Furtado: 8/1
Rihanna: 15/1
Drake: 20/1
Britney Spears: 22/1
Snoop Dogg: 25/1
Ciara: 25/1
Madonna: 40/1
'NSYNC: 100/1
Janet Jackson: 200/1
What will happen during the Super Bowl broadcast?
As always, there are loads of wagers on the broadcast itself, including whether "underdog" (-1000), "odds" (-1000), "point spread" (+360) are uttered by the announcers, and how many times "dynasty" (over/under 2.5) and "wardrobe malfunction" (over/under 1.5) will be mentioned. NBC's Al Michaels and Cris Collinsworth are on the call this year, and Michaels has an amusing history of acknowledging the betting community on-air.
Broadcast-based bets go beyond the announcers. For instance, the over/under for how many times Gisele Bundchen will be shown sits at 1.5, with "over" as the favorite (+110).
Furthermore, you can bet on whether President Donald Trump will make an appearance on the telecast ("yes" is currently at +360), while other Trump-related props focus on his potential tweeting during the Super Bowl.
The over/under for Trump tweets on Super Bowl Sunday is currently set at five, while the over/under number for tweets during the game is 3.5. Trump has been an outspoken critic of the NFL amid the widespread kneeling movement started by Colin Kaepernick during the National Anthem.
Of course, if none of this floats your boat, you can always just go all in on the Puppy Bowl. Currently, Team Fluff are the current favorites at -145 while Team Ruff are the (literal) underdogs at +105.