3 Ways to Invest in Gold if You're Worried About the Economy
Money is not a client of any investment adviser featured on this page. The information provided on this page is for educational purposes only and is not intended as investment advice. Money does not offer advisory services.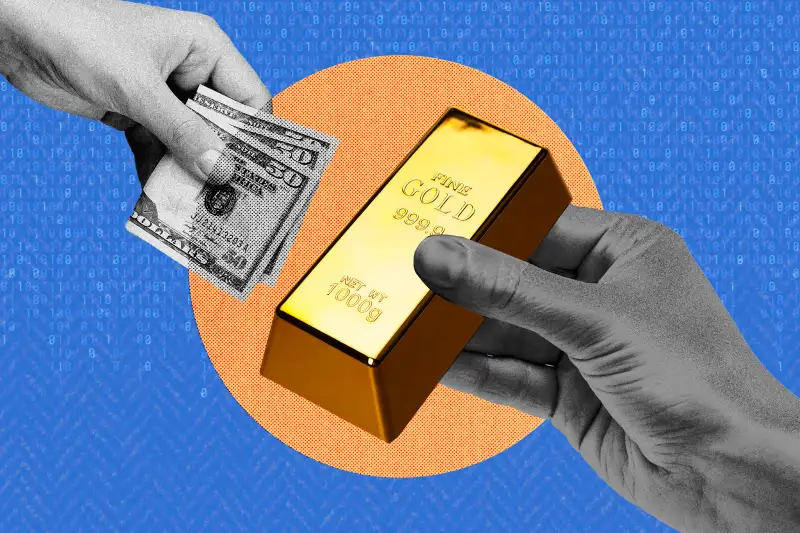 Eddie Lee / Money; Getty Images
Article Summary:
Many people are investing in gold to act as a potential hedge against inflation using 3 popular methods.
Gold ETFs can be traded like stocks through online platforms such as Public.
Gold IRAs allow investors to diversify their retirement funds while benefiting from similar tax advantages as traditional IRAs with companies like Goldco.
The least recommended option is to buy physical gold which often requires additional investment in security to protect your investment.
---
If you're one of the many people worried about the current state of the economy, an investment in gold may be a solid option to hedge against inflation and take control of your wealth. Below we highlight three popular methods you can use to invest in gold, as well as their benefits, and how to get started today.
Quickest Option: Gold ETFs (Like Stocks)
Gold ETFs act like stocks and can be traded and exchanged in a similar way. This also makes liquidity a benefit.
These "Exchange Traded Funds" are made up of gold-backed assets that allow people to invest in gold without actually owning the physical commodity itself.
Fees associated with Gold ETFs tend to be lower than those charged by gold mutual funds.
There are a variety of gold ETFs to choose from; some represent assets related to gold and others are backed by physical gold. A few of the most popular ETFs that are backed by physical gold include SPDR Gold Shares (GLD), Abrdn Physical Gold Shares ETF (SGOL), and iShares Gold Trust (IAU).
You can buy and sell Gold ETFs through a brokerage, in person, or through user-friendly investing platforms like Public.
How to Buy a Gold ETF
Open an Account

with Public or another broker. Public's process is straightforward and can be completed within minutes.

Fund Your Account

with money that you can use to buy Gold ETFs.

Place an Order: After you have selected the Gold ETF you want to invest in, place an order by entering the number of shares you want to buy and the price you're willing to pay. (It's important to note that the specific steps and requirements for buying a gold ETF may vary depending on your account type and the specific gold ETF you're interested in. Be sure to always review the company's guidelines and consult with a financial advisor if you have any questions or concerns.)
---
Retirement Fund Option: Gold IRA
A Gold IRA (Individual Retirement Account) is a self-directed way to diversify your retirement funds.
Tax advantages from a Gold IRA are similar to a traditional IRA in that it lets you invest in tax-preferred securities.
A Gold IRA account holds physical gold in the form of bullion, coins, or bars. Investors also have access to other precious metals, like silver, platinum, and palladium.
Many investors consider Gold IRAs as a way to protect their retirement savings from market fluctuations and inflation.
You can generally roll over part of another IRA or 401(k)
How to Buy Gold in an IRA
Speak with a specialist from a reliable Gold IRA company like Goldco. Top Gold IRA companies are typically transparent about their fees and offer unbiased educational resources and responsive customer support. Request Your Free 2023 Gold IRA Kit from Goldco by clicking here. (Includes a Printed Guide, as well as an Audio and Video Guide.)
Open & Fund Your Account by transferring money from an existing IRA, 401(k), or your personal savings.
Purchase Gold Through a Dealer: Once you've selected a gold dealer, your custodian will provide instructions on how to make the purchase and transfer the gold into your IRA account.
Store the Gold: Once the gold is transferred into your IRA account, it needs to be stored in a secure facility approved by the IRS. This can be done through a depository or storage company approved by your custodian.
---
Least Secure Option: Buy Physical Gold
The most tangible way to invest in gold is by buying physical gold in the form of coins or bullion.
Buying physical gold often requires additional investment in security to protect your assets.
Physical gold is a potentially more stable investment because it isn't susceptible to the same risks as other assets such as stocks and bonds.
Own a physical and valuable asset that can be easily passed on to others.
Gold bullion bars and rounds are generally sold and mailed to you by online gold retailers such as Moneymetals.
How to Buy Physical Gold
Determine what type of gold you want to buy: There are several types of physical gold you can buy, including gold coins, gold bars, and gold rounds.
Choose a Gold Dealer: Look for dealers with good reviews, and be sure to verify their credentials.
Purchase the Gold: Once you have found a reputable dealer and determined the price, make your gold purchase by visiting the dealer's physical store, ordering online, or by phone.
Store the Gold: You can choose to have the gold delivered to your home or stored in a secure facility, such as a safety deposit box or a depository.
Bottom Line
For centuries, gold has been perceived as a symbol of wealth and stability, and today is often considered a safer investment option, and a possible hedge against inflation. Whether you choose to invest in gold ETFs, a gold IRA, or physical gold itself, it's important to do your research and understand the risks and potential rewards of each method. Just as important, be sure to monitor your gold investment regularly to ensure it's performing as expected and to make any necessary adjustments.
*The information provided on this page is for educational purposes only and is not intended as investment advice.