Inside the Confusing, Unregulated World of Legal Weed Prices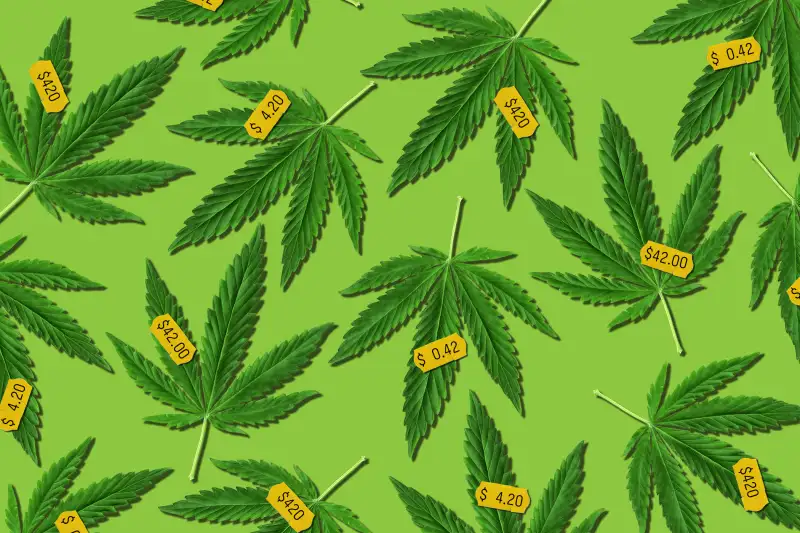 Photo illustration by Sarina Finkelstein for Money; Getty Images (2)
A year ago, Jonathan Rubin called a marijuana grower in Washington to ask how many strains he was planting. "Thirty," the man said. Last October, during the fall harvest, Rubin called again and asked how many strains he'd harvested. "One," the man said.
The man had decided to label all 30 strains with the same name.
"Whatever strain was the most popular and garnered the highest value, he could say, 'Hey, these are all that strain,'" says Rubin, chief executive officer of Cannabis Benchmarks, a Stamford, Connecticut, company that provides financial information for pot markets. "So anyone who is quoting prices around strains -- there needs to be a huge asterisk and a footnote."
The U.S. recreational pot industry, only about four years old, remains decentralized, diverse and kind of funky -- which means strain prices are all over the place, determined by criteria that are difficult to pin down. Every grower and dispensary has its own version of supply and demand, so the P.R. Blue Dream at Kushmart in Los Angeles costs $65 per quarter-ounce, while the Blue Dream at Lush in Denver costs $60 for the same amount. Those may or may not be similar products (although they are both sativas, a classification that tends to make users more aware and upbeat, compared to the more relaxed indica).
Vince Chandler—Denver Post via Getty Images
"I might sell you the same O.G. Kush for $10 a gram as the guy down the street selling for $16 a gram," says Alejandro Canto, owner of Diego Pellicer Washington, a large Seattle dispensary. "There's no systematic approach to it. There's nothing [like] 'it goes into a machine and calculates it.' This is still very hands-on in this industry."
Although online databases such as weedmaps and apps such as Buddy have sprung up to provide weed buyers with cost comparisons, Diego Pellicer determines prices mostly by internal testing and analysis. Variables such as terpene levels (which give marijuana plants their unique odors), THC content, whether the plant grew indoors or outdoors and whether the grower used organic or natural conditions can change the numbers. "The quality of the product is one of the biggest factors in this entire algorithm," Canto says.
Legal weed prices have dropped over the past few months, due to suppliers rushing into the business at a rate far higher than demand in the few legal-weed states. Plus, there's the problem of the black market -- the traditional way most people in the world buy weed, whether from a dealer or a "High Maintenance"-style stoner service -- which is far bigger than the legal market and can undercut prices at legal dispensaries. "If [dispensaries] set those prices too high, you can't out-compete the black market," says David Brown, communications director for Lift, a news site for Canadian pot consumers.
Many in the weed industry, which stands to explode as soon as California expands from medical to recreational marijuana in early 2018, are OK with the chaotic legal pricing. It accounts for not just strains, but oils, edibles and, in the case of Diego Pellicer, a $3,600 premium "gold leaf" pot cigar recently purchased by an unknown client. (Many in the weed industry predict the rise of a craft market, modeled after the boom in microbreweries and high-quality whiskey, but it's still in the niche phase; celebrity brands like Willie's Reserve and Leafs by Snoop tend to carry higher prices.)
"I don't know how people price it," says Leland Rucker, senior editor of Sensi, a new Colorado-based marijuana magazine. "But I do know some people are good at it and some people aren't."
Andrew Caballero-Reynolds—AFP/Getty Images
Others in the industry are anxious for pricing to become more sophisticated. The legal-weed business, estimated now at $6.7 billion a year, has spent the last couple of years pulling in speculators, such as the Amercanex Corp., a futures market formed last year by experienced Wall Street investors. "The only way you can buy and sell futures in a broad market is if you have a standard around grades and who pays what," Rubin says.
Even at the dispensary level, standards are important just to avoid confusing the customers. If Purple Kush becomes inexplicably popular in a city, or even an individual pot shop, owners might be inclined to jack up the prices -- even if what they're carrying turns out not to be Purple Kush at all, but some hybrid strain that kind of resembles it. Because the U.S. government position is that pot remains illegal, and states such as Colorado and Washington set minimal standards, there's nothing in place that's similar to the apple business, where grocers buy Macintosh and Gala for separate wholesale prices.
Josh Edelson—AFP/Getty Images
"I absolutely think we'll get there," says Brown of Lift. "The U.S. is still many years away from a cohesive federal system that would allow for that sort of research and development. But we're already seeing it." Adds Dr. Jeffrey C. Raber of The Werc Shop, a California product-testing company that consults with marijuana growers: "Some of us are hopeful that it becomes a much better, standardized, consistent, well-understood playing field [where] everyone can know why they're paying and what they're paying,"
But many small weed-business owners are in no hurry for pricing structures imposed by government, Wall Street or any other large outside entity. Adolfo Salazar, owner of Top Shelf THC in the San Fernando Valley, puts out weed products of wildly varying prices -- he sells pot in a can for $800 an ounce, which rapper 2 Chainz once featured on an episode of his GQ video.
"We're seeing a capitalist structure create itself in this world," Salazar says. "It's this crazy money dream that's happening from the traditional profiteers of marijuana to a more corporate interest. I tell people all the time: 'You're going to have a real problem on your hands once the real banks come in.' Once the real banks come in hard, it's over."