5 Professional Housecleaners on the Only Cleaning Products You Need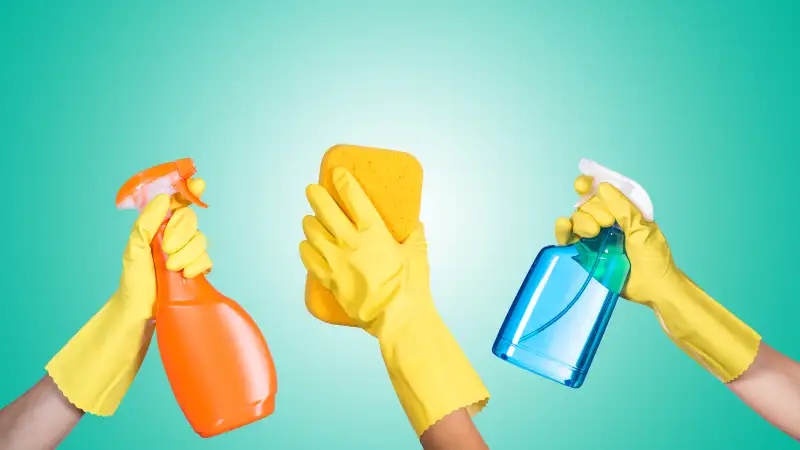 Cleaning your house is usually a classic catch 22: No one likes to do it, yet no one wants to live in filth either. Yet according to a recent study from Indiana University, a clean house can improve your mental and physical health, which can reduce sick days and scaring off your friends.
What's the best products on the market these days?
We spoke with five professional housekeepers for their expert advice on what's best for your home and your wallet.
Lysol
Cynthia Berry, who has worked as a porter for the MGM Grand in Las Vegas for nearly 30 years, says she's tried just about every cleaning product after "seeing it all." Her favorite? Lysol, for their smell factor. ($2 - $6). "It's a life saver," she says.
To buy: amazon.com
Dawn
Berry also says a cost effective secret to spotless glass surfaces like windows and mirrors is Dawn - not traditional glass cleaners like Windex. By combining warm water with a couple of drops of Dawn dishwashing liquid ($3- $5), she says she's able to clean even the foggiest of surfaces.
"There's expensive products that will clean glass really nicely, but this way actually saves you money and looks like you used a really high end cleaner," she says.
To buy: target.com
Mr. Clean Eraser
Economic cleaning supplies that have great value for their price are important for Sara Fjellman, a Springfield, Missouri-based housekeeper who has been in the business for 12 years. She says everyone needs a Mr. Clean Eraser ($5-$12).
"They're great on kids toys where dirt gets ground into plastic," she says. "You want to be careful on enameled or painted surfaces, but they are magical."
To buy: target.com
Vinegar
Fjellman also credits vinegar to being one of her staple supplies.
"You can get an entire gallon for $2.50," she says. "If you combine a solution of 50 percent vinegar and 50 percent water, it works as a disinfectant. I keep that in my kitchen to spray down my countertops because if there's any residue, it's not going to be soapy."
To buy: amazon.com
Pumie Scouring Sticks
Jennifer Hudson Odland, housekeeper and owner of Kingdom Cleaning in Port Angeles, Washington swears by Pumie Scouring Sticks ($2) for cleaning out hard water buildup in toilets.
"People spend a lot on lime scale removers and bleach, but I find that this works so much better," she says.
To buy: walmart.com
Zep
One product Tampa-based cleaner Dana Pettaway believes in is Zep ($15).
"It's all purpose so you can use it on wood, tile, travertine, granite and marble. You can use it on even painted surfaces that have a glossy surface," she says. "The price is a little higher than what you buy, but it's more convenient."
She dilutes the product to make it last longer.
To buy: amazon.com
Totally Awesome
Jessica Rehll, housekeeper and owner of Pittsburgh-based Groovy Maid, recommends LA's Totally Awesome cleaners. Rehll says it is not an all natural product, but it works really well as an all purpose cleaner. It can be found at stores like Walmart or the Dollar Tree.
"Comparing a name brand to off brand by reading and comparing ingredients will be more cost efficient," she says of looking beyond the usual suspects. "They're cheaper and are going to work just as well."
To buy: amazon.com
We've included affiliate links in this article. Click here to learn what those are.